Nonetheless had we thought to visit China, but any opportunity to be blessed to have a meet and greet with Jackie Chan couldn't be avoidable!
Similar was the day when destiny turned things for us. We had an exquisite wonder coming across to visit Shanghai and Beijing and all the more to be a part of an International event – Celebration of Jackie Chan's 60th Birthday. A completely not to be missed event.
Jackie Chan had been a childhood hero for me but to meet him in person was all together so different, It was such a WOW moment, a moment when I felt in love with him once again. And this time, not as an actor or singer or Martial art champion but as a noble soul, as a loving humble person, as a person with a motive to work for society.

How the meet and Selfie moment turned out :
So it was day 2 at China, post our excursion tour of Forbidden city, it was a chance to meet and greet Jackie Chan on his 60th Birthday. A lovely gathering, beautifully built up stages, live recording equipments, projectors displaying some precious moments of his life. Soon there came loud thunders, maddening crowd shouting, cheering, applauding Jackie Chan and amongst a big mad fanfare, here came Jackie Chan.
With a warm greeting, soon an Audio video of "Secrets of JC" began playing. Such a beautiful AV it was, describing him as a person, spreading his message of cleanliness drive and awareness for underprivileged children across the world to make their life a happy one.
The memorable Selfie Moment :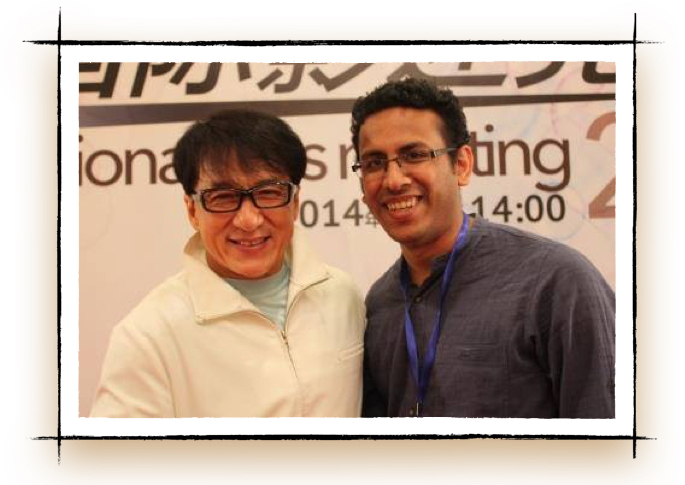 When Jackie Chan held my phone to click this amazing selfie that day, it became one of the most wonderful memory of my life, since it was a moment which triggered something in me.
It triggered tears in my eyes, thud of sudden silence set in. It was so touchy, no stardom, no big talks but just a normal humble person having the ultimate goal to serve humanity. That moment made me forget his "stunt-man" fame, but welcomed a soul who is into uplifting the poor little wonders on this earth.
For the first time, I got to know about "The Jackie Chan Charitable Foundation" & The Dragon's Heart Foundation". JC Charitable foundation provide scholarships, medical assistance, raise awareness on diseases as AIDS, Influenza & more and helps in natural disasters. Dragon's heart builds schools & helps poor children starting from food, to care and schooling. It even serves elderly people in need!
This memorable selfie reminded me of the Selfie Camera – Mobiistar, a selfie experience phone, with an amazing front, dual selfie camera. With their promise of "Enjoy More", this selfie camera captures something more, a 120° wide-angle shot. And this is sure to freeze that selfie moment forever in our lives. Look out more on  Mobiistar and get one on Flipkart right now.
The Self – Realization :
This was a moment which made me realize the need to do so much for the unprivileged lives on this earth. It got me to think once again that with millions of kids struggling for a pair of clothes on their body, are we doing enough to support them? This was a turning moment of my life and hence there can be no other selfie more memorable than this, since it re-ignited my goals in this life. We're all on this earth with some mission laid across by GOD and let that set in our lives soon.
Keep Loving and helping! Every life is beautiful and every moment is precious!