A small town full of hustle bustle of people, honking autos, vendors selling daily chores, narrow lanes, ample eateries, dhaba's, and all so very well connected. Rejoice the city in just 3-5Kms, stroll around by walk or take cheaply fared sharing autos!
Well, last winter got us ready to eulogize the exquisiteness this small town entails in itself. The most scintillating attraction "Golden temple", a temple not just to join hands & pray but a place which gives the feeling of uniqueness in itself. It shares exclusivity to bring together so many people under one roof  with the sense of "Seva" towards human race & an utmost ecstasy to begin with!

Bags were packed & we booked Delhi –Amritsar Shatabdi Train which usually takes close to 7 hours. Sun seemed like an orange ball hanging forcefully in the cloudy sky, trying hard to come out of the shelter & rise high. A gust of wind trashed against my face notifying me of the bony chill in the coming hours ?. Temperature at Amritsar was 2degrees on that day of January.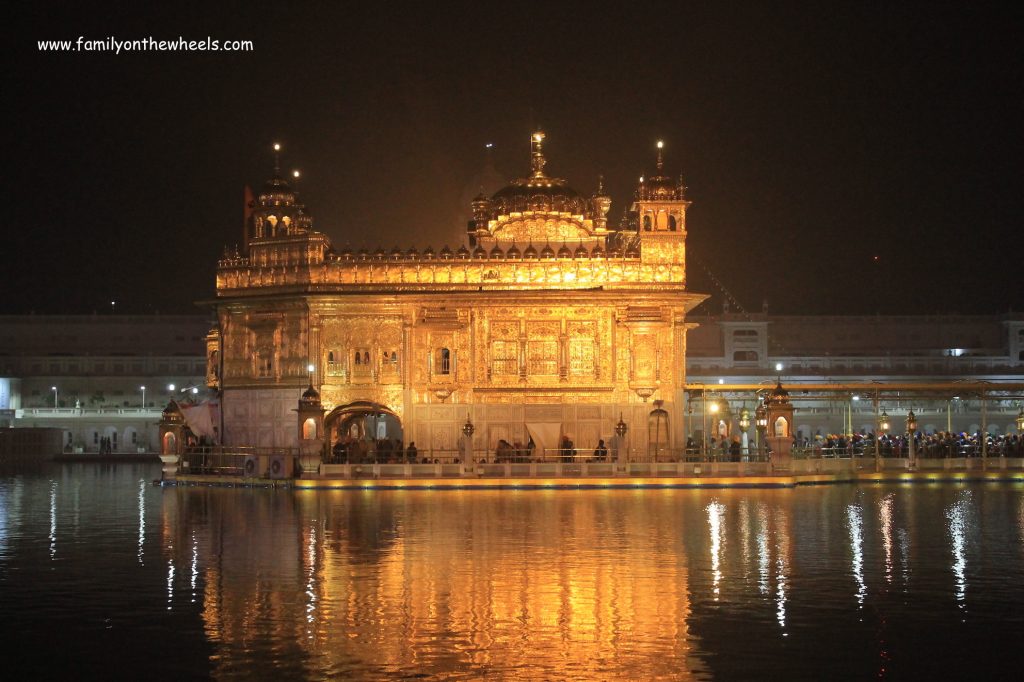 Holidays are revitalizing, refreshing & unwinding. My Soul just peps up !
After a relaxation of an hour at hotel, Night had fallen by 6:30pm. Looking on the straight road while walking towards the Gurudwara, we could certainly see glittering white & orange lights. In next few moments we were running towards it with broad smile to capture the sparkling beauty! Well that was the start of Golden temple.
Even at that time,"Sevaks" were cleaning the roads leading to the temple. People were selling balloons & toys. The lanes were buzzing with Punjabi Jutti shops on both sides, Kulcha wala's. Well it all seemed so glistening but controlling our senses we walked straight to the humongous temple premises. Covering our heads we headed down the stairs post cleaning our legs in a small marble water captive. The last stair made me stood still with a wish to click & capture this scintillating place not just in my DSLR but in my eyes forever. It ushered so much optimism out of the shiny temple & its reflection in the water. I guess fishes in the water would also have camouflaged orange golden in the praise of Golden Temple!
Aura of Golden temple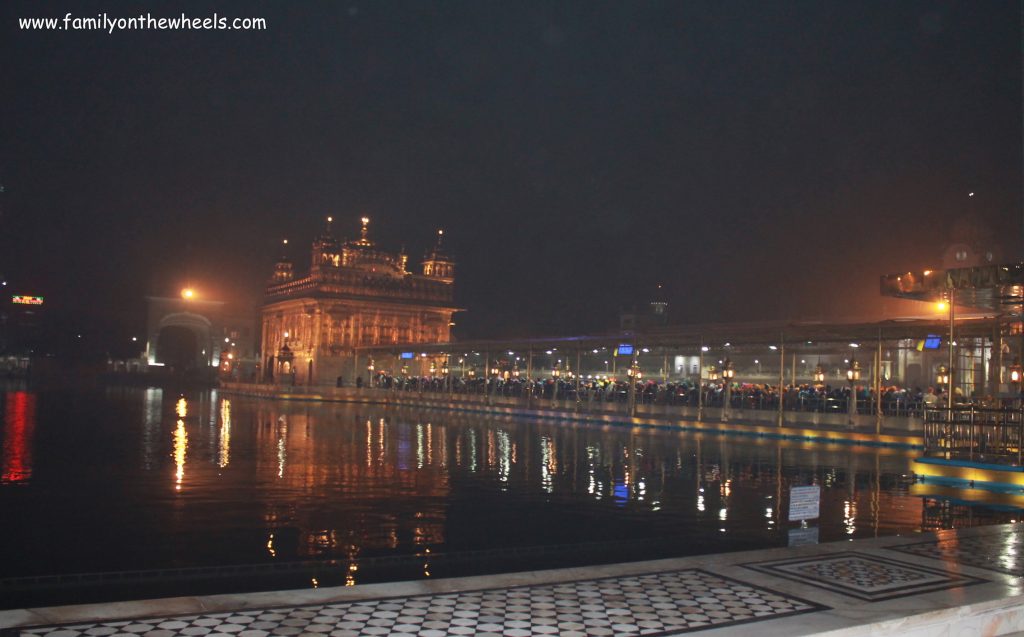 It was chilling & walking bare foot in the premises was all the more shaking us. As soon as we entered inside the main temple premises, the feeling automatically moved into a religious tone. Devotees singing, citing Grantha's, clapping & some even sitting in the chilly cold meditating outside. Simply amazed to see all this. The lovely carvings in Gold & precious stones in the main "Darbar sahib" made the environment so pure & artistic! I just wanted to confine every edge of this shrine into my eyes forever.
Also known as Harmadir Sahib, this is one of the holiest Gurudwara. The Holy book Guru Grantha Sahib is inside the Gurudwara & every night it is taken with pomp & show for "Sukhasan".

Food at Kesar Da Dhaba
Spending close to an hour, tasting of the delicious prasada (Halwa) ensured hunger pangs in #FOTW. We decided to hang up at "Kesar Da Dhaba" (specifically recommended by one our friends). Speedily catching a cycle rickshaw, we started into narrow lanes. Completely unaware of the roads but in next 20 odd minutes, we landed at this Dhaba. It is actually a place which gives you a feel of Dhaba. So many people, multiple groups occupying same table with huge steel thali's & katori's full of tongue teasing veggies. Panner, kadhi pakora, Rajma, daal tadka, malai Kofta; Butterly kulcha's, mixed naan's wow. We sounded, Yaar mazza aa gaya! Getting paneer was a treat for our lil one.
Figuring out the space was very difficult & we could get one in sharing only after the wait of some 10 minutes. Quickly ordering & without wasting the time, we relished the dhaba feel & good food. It was chilly cold, still we tried Lassi, which is the speciality of Amritsar! Thoroughly filled up to mouth, we finally decided to walk back towards hotel – Golden Tulip (3kms from this dhaba).
Walking back on the silent roads!
Enjoying the silent roads at 9pm (which seems to be start @Delhi during weekends), we knocked at our room in next 30minutes singing & playing with the help of GPS. We 3 were already in blanket & planning for next round of food in room. This twisty walk in the cold had actually made us feel hungry again. Foodies can't control & only post pouncing on a super delicious "Baked Pasta" at hotel, did we had a tight sleep!
Bright sunny next morning!
Rays peeping through the window curtains with the chirping of birds got us out of the comfort zones. Hush hush, a lovely spread of breakfast was awaiting. Chola Kulcha's, Sambhar Bada, Idli, Uttappam, Poha, Porridge, Bread Toasts with hot milk. Wow, we have an amazing appetite & palate, lol.
#FOTW planned to visit "Attari Border" aka Wagah Border [India – Pakistan Border]. So here we cracked the luck by getting VIP passes. VIP passes ensured no long walks, no crowd and helped FOTW witness a close march post by the Jawans of borders.

India – Pakistan Border : Wagah Border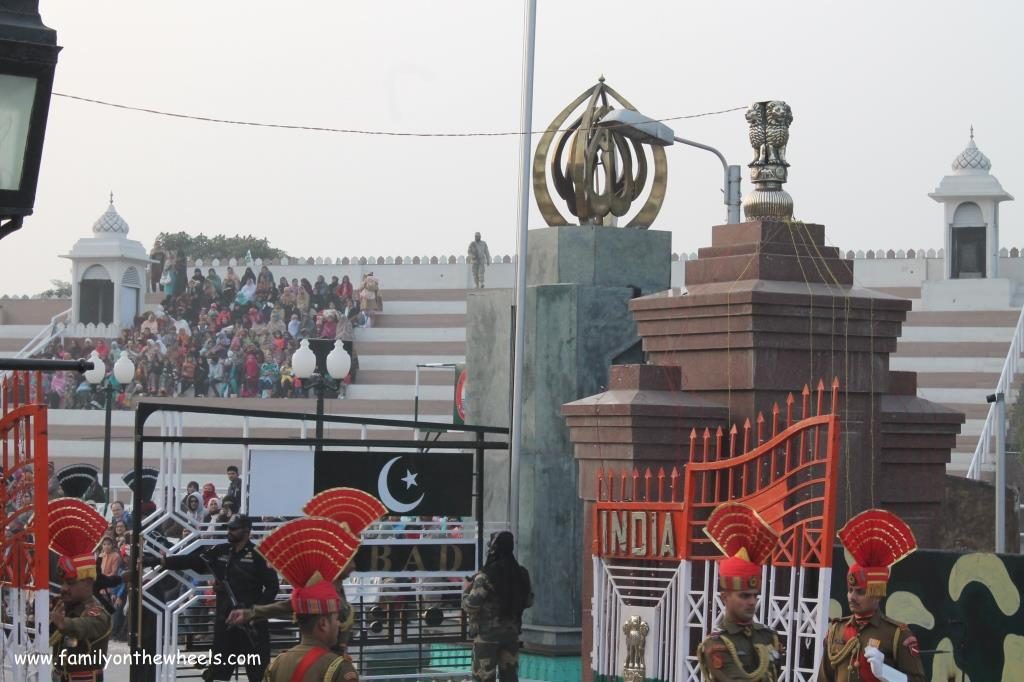 City's heart to Wagah is 45-50 minutes run. We collected our VIP passes from Gate2. Getting our faces painted with patriotism in full swing, we quickly cleared multiple security checks. We had to show the ID proof & VIP pass no. to some 3-4 security jawan's before getting ourselves into the 1st security check. Post 1st check (of us as well as Car), we finally went off at the VIP parking (just opposite Indo-Pak Trade border). For general people without passes, it needs to be close to 1-1.5Kms walk till the parking ground, post which there again is a security check.
Just a note to remember, No bags can be taken inside post the parking area. In case you wish to carry anything (Baby food in our case), it all needs to be held in hand since no poly/bags are allowed. Keep yourself free as much as possible & carry only water/utmost requisites.

Heart full of Patriotism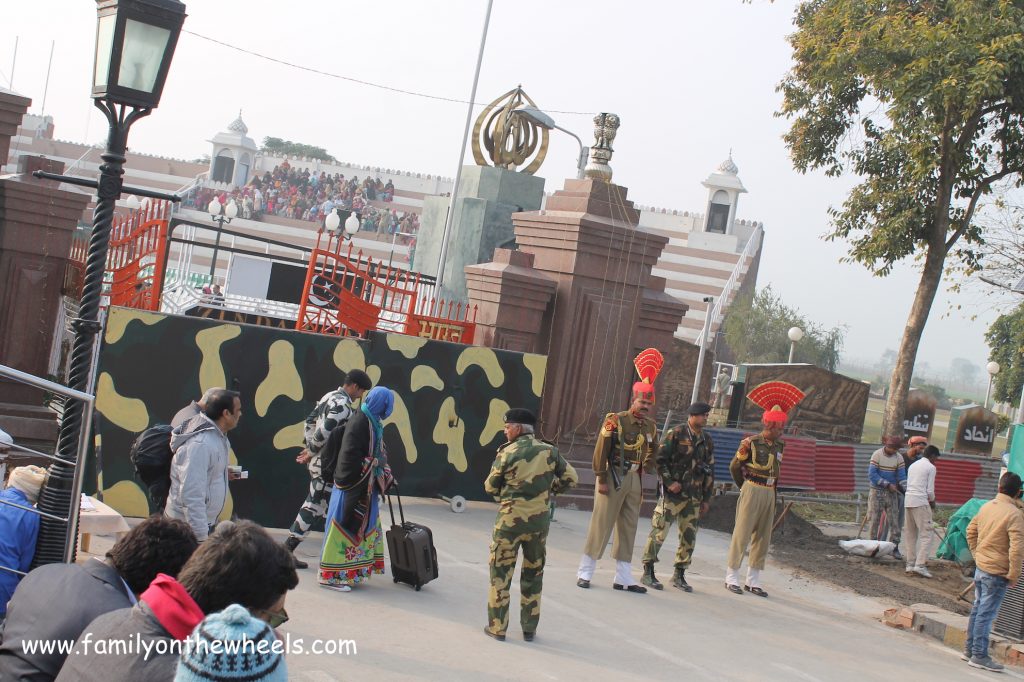 Walk along the passage to reach the VIP gallery took us via emergency landing preparations. It was an altogether different feeling to see that a human made wall separated the two countries. On one side were our Border Security Force's Jawans holding security of the gate & on the other side Pakistani Ranger Pathans tightening their security. One side Indians hooting & other side Pakistani nationals shouting – Bharat Mata ki Jai – Pakistan Zindabad – Bharat Mata ki Jai.
What an amazing thunderous sound emanating from both sides; it seemed so much of patriotism & gave a wonderful sense of me being an Indian. The ground was huge & the program began with kids giving some lovely performances on various national songs. This was followed by an incredible march post by the BSF jawans on Indian side & by Pakistan Rangers on Pakistan's side. Then came the most awaited moment, lowering of flags of both Indo –Pak, what a confluence it made of the 2 countries.
Whole ceremony took around 1hour & post that with Jawans around, it made a perfect selfie time for us. Crazy mobs were rushing for clicks with jawan's. #FOTW also found a Black Cat commando to get a click. It felt so honoured to stand side by side. After all they have fought for us, made us feel safe & secure even on the risk of their lives.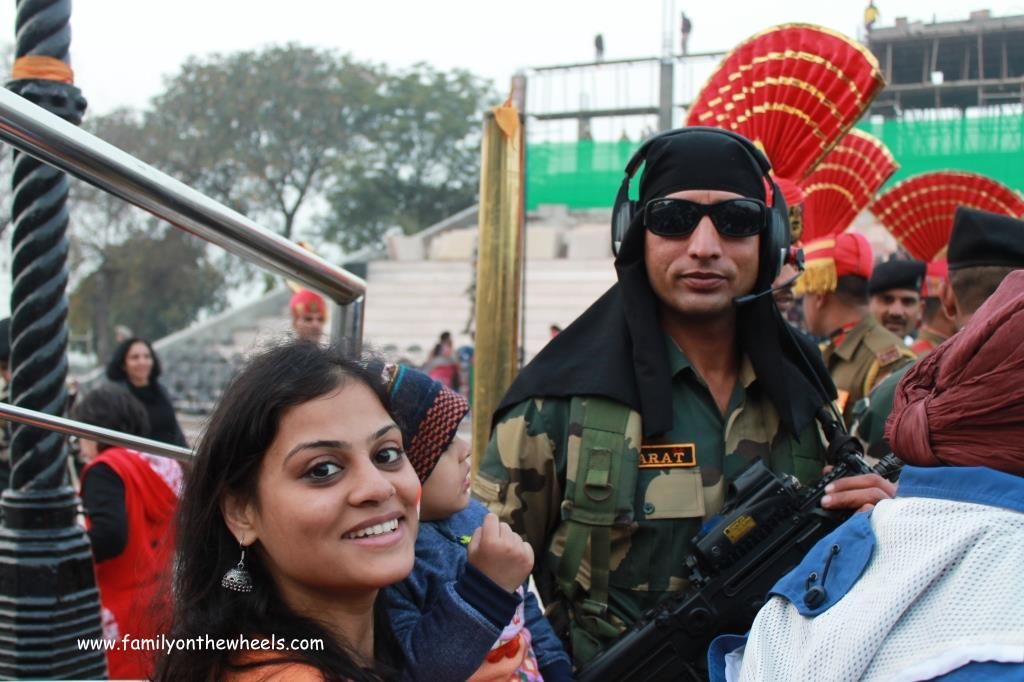 Time for Quick Bite
Well, sun was setting, ceremony had ended & this day was flag marked in our lives. So naive, so distinct, full of emotions towards Mother India. We rushed back to hotel for a short break only to find ourselves landing at Kulcha Land (one of the most famous Kulcha's at Amritsar).
This eatery usually closes between 4-5pm, hence pls do not approach post that.This is what happened to us & we landed at Trillion Mall, one of the enormous, newly constructed mall of Amritsar.We had some snacks at the food hub and booked ourselves tickets for Airlift (that made a perfect day devoted towards India).
The final day itinerary to Jallianwala Bagh & Golden Temple 
The next day was the last for us and we planned to visit the Jallianwala Bagh and Shrine once again. A look at the Golden temple in full sunlight & relishing the Langar was yet awaited. Langar was on such a massive level. So many people sitting to cut veggies, collect & wash the plates, rest assuring cooking inside. So much harmony & humanity could be seen. This place is worth million thoughts towards some good deeds direct from heart!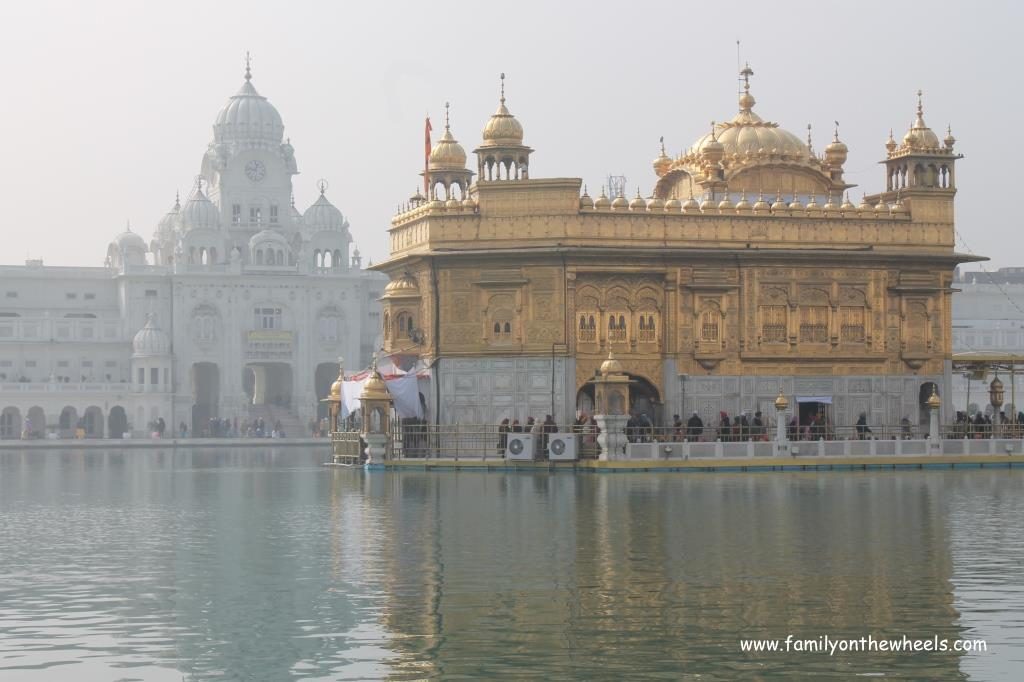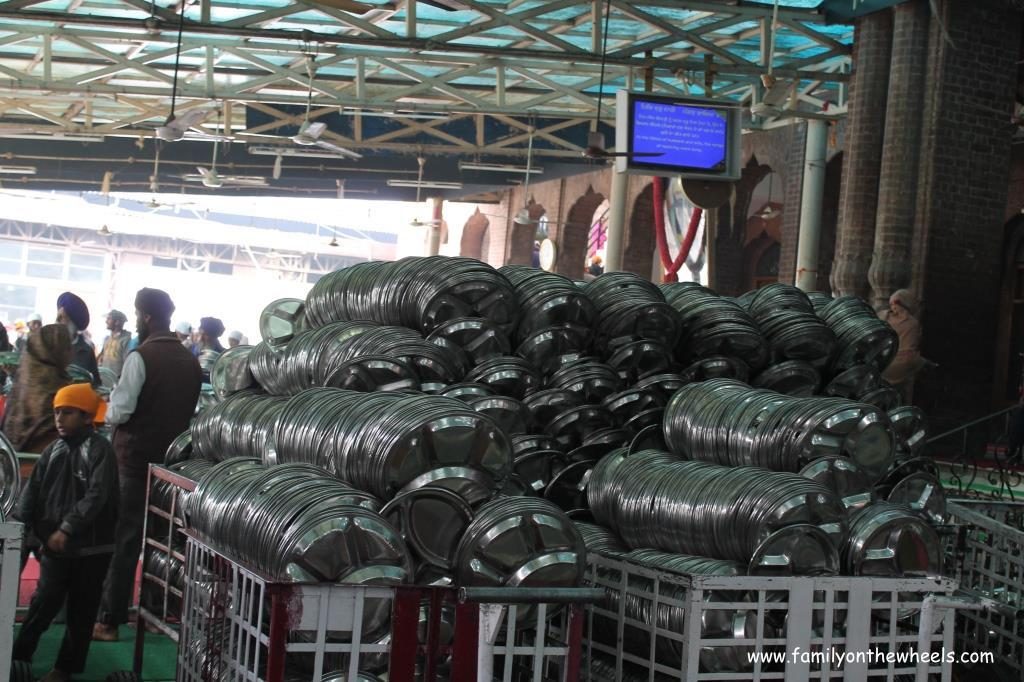 Jallianwala Bagh
This place has a significant historic importance in the life of India. How the life of innocent people was taken away. Read it all here.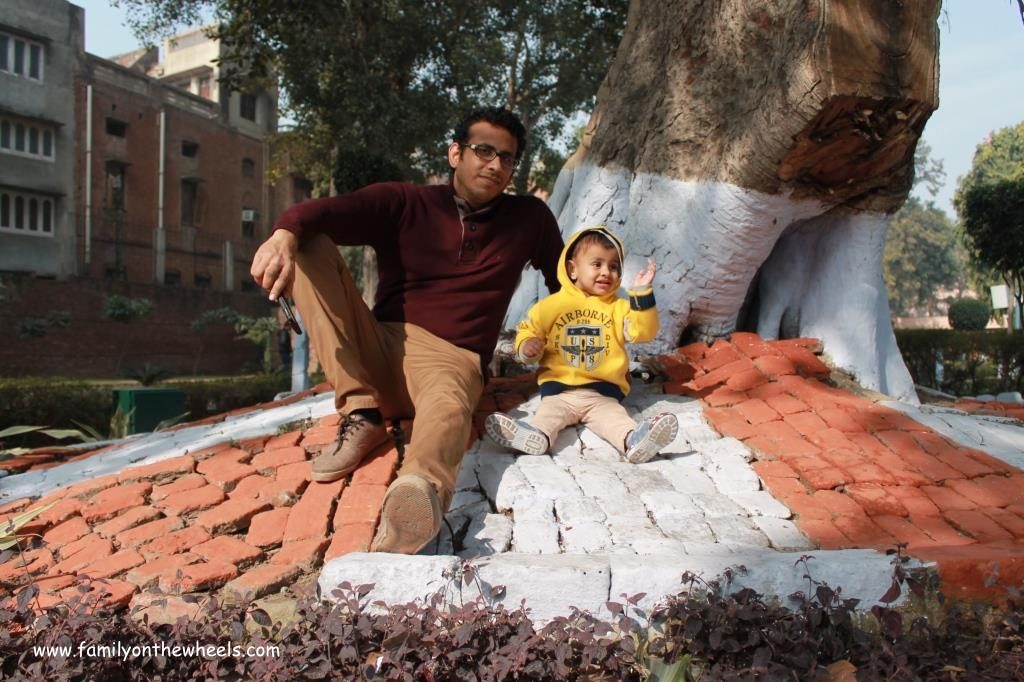 Grabbing some Punjabi Jutti's(footwear), we could hear whistles drumming in our ears. Time had come to bid Goodbye to this charming city & welcome the arrival of Delhi.
#FOTW Quick Tips
Delhi –Amritsar Distance:

452 Kms (448 Kms by Train)

Best ways to Travel :

Shatabdi, usually takes 6:30-7hrs (giving you Breakfast during morning on the way to Amritsar & Brunch, Dinner in evenings while returning back to Delhi)

Major Places of Interest :

Golden temple, Jallianwala Bagh ,Wagah Border Ceremony, Durgiana Temple, Maharaja Ranjit Singh Museum (Last 2 if time persists)

For Foodies :

The Kulcha Land, Dhaba's close to Golden Temple, Kesar da Dhaba, Brothers Dhaba

City travel:

Sharing auto's are easily available. Ola, standalone auto's are also available (although there is no metre system, hence better opt for Ola Cabs).
If travelling during peak winters, it may get

foggy anytime

. Hence get sure of previous day's train schedule & pack some extra food (although you will get Kulcha's on every station in Punjab) specially if a kid is along.
There is a huge

bargaining

while buying "jutti's" from the shops close to the shrine. Don't believe on the "Fixed rate stamps" & bargain loud enough.
The Kulcha Land remains open only during day time (max till 4.30pm), do not plan in evenings.
Do try to arrange for Wagah border ceremony

VIP Passes

.
Ensure your kid is fed properly before visiting Wagah border (as nothing much is allowed inside).
Cars should be booked a day in advance for Wagah border (as Car no. needs to be given beforehand in case VIP passes are being arranged). Cars can be booked from agents outside Golden temple easily.
Carry only handy items during visit to Wagah border

Happy Exploring with #FOTW! Any queries, just drop in the contact form or Email us!