Scintillating Capri
What happens when you see the fascinating floral and colourful streets leading to the massive Ocean or Blue Sea with some tinges of dark green tress & huge limestone rock formations in between? Well, that's when you fall in love at the first sight with the Island of Capri in Italy. Yes, this is what we felt, love with the nature, so much in its pristine form.
We, the family, happened to plan a 15 days trip to Italy last year and Capri was indeed on our charts. A chance to visit the Faraglioni Rocks via boat/ship, witnessing Blue Grotto, a spell binding nature's phenomenon cannot be missed, as it leaves you awestruck looking at the untouched beauty.
Capri, an island located in the Tyrrhenian Sea, near Gulf of Naples, is a perfect tourist destination. It is a well known destination known for its blue sea, amazing rugged landscapes, the faraglioni rocks emerging out of the sea, the Grottos and yes the high end designer fashion streets. The best way to explore Capri & Anacapri is by walking down along the beautiful floral lanes and then going in for a Boat experience across the island.
How to each Capri from India / Naples :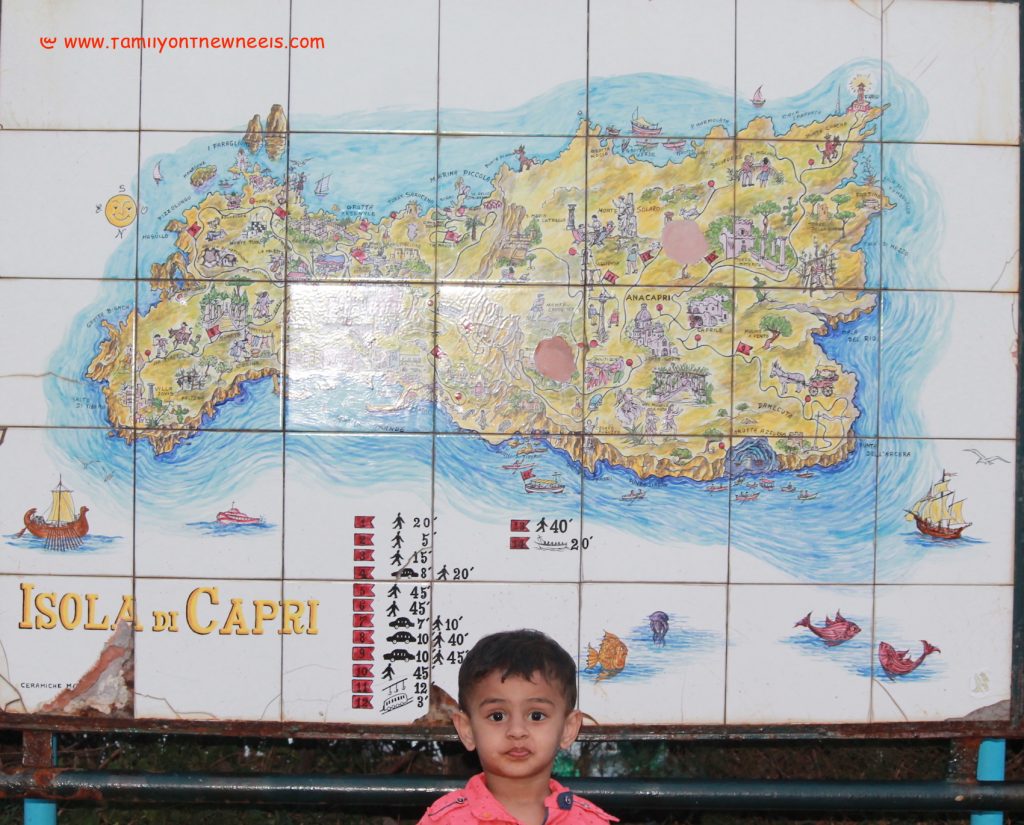 Take a flight till Rome which is well connected through direct flight with major international carriers. From Rome, hop on to a hi-speed bullet train which takes approx 1:30 Hrs (186 Kms) to reach Naples (Napoli Centrale ) from Rome (Roma Termini )
Naples is a port city, from where you can trip either to Capri – Anacapri or to a similar island – Ischia. The only way to reach Capri is via Ship/ferry, which we took from Naples. Visit the Naples port harbor to book the ferry on varied times of the day [as per the time which suits you]. Ferries run from morning till evening with some gap, so try to book them a day prior and make all preparations for early morning ferry to take you to the most beautiful Island.
Time for Naples to Capri via Ship/Ferry – 50 mintues journey time , Total time – 1:30hours, including boarding / de-boarding ( approx Euro 18 / pax one side )
Alternatively: There are multiple day tours which originate from Naples and return back same day. You can book online or take one right from Naples.
What to do once you reach Capri :
It is worth every breath you take to walk along the beautiful floral lanes of Capri. They will for sure leave you awe struck at the beauty of blue sea seen across. Capri is really famous for its high end designer showrooms & that can be seen when you walk through that area. For us, they were indeed classy. They showcase exclusive grand clothing/ interior masterpieces [frequently visited by celebrities], along with numerous eateries. We really felt, it could be the costliest Real estate , even surpassing Milan:).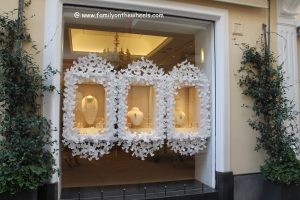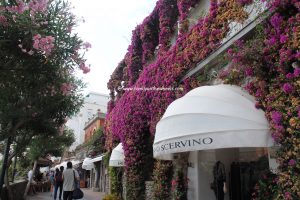 There are frequent maps on the lanes which guide you the route to reach the "must visit" places of Capri. We enjoyed the walk along the streets having multiple gelatos [well, you won't be able to control yourself looking at parlous serving yummy Gelatos].
Garden of Augustus:
This walk led us to the "Garden of Augustus", which was really peaceful & free of the touristy crowd. A small garden with just 1Euro as fee, it is worth when you get to see the amazing sea views from it. Rather than the garden, it is the views a traveler & photographer gets, which made us like this tiny well maintained garden.
A walk to Belvedere Tragara:
While crossing the Piazzetta, walk along the the route shared on the map towards Tragara. This is the way where you will cross those fancy boutiques, along with some eateries with commendable landscape views. Take a halt to sip some of the drink with a garlic bread at one of them, as walking the way along can be tiresome specially in the summer sun. While walking you'll come to a huge open place and you'll see a "WOW" uttering out :). Well that is Tragara, with few benches to sit & capture the amazing sea view from the top. We stayed for more than 30 minutes that afternoon since we were not ready to leave that beautiful sight we got to admire.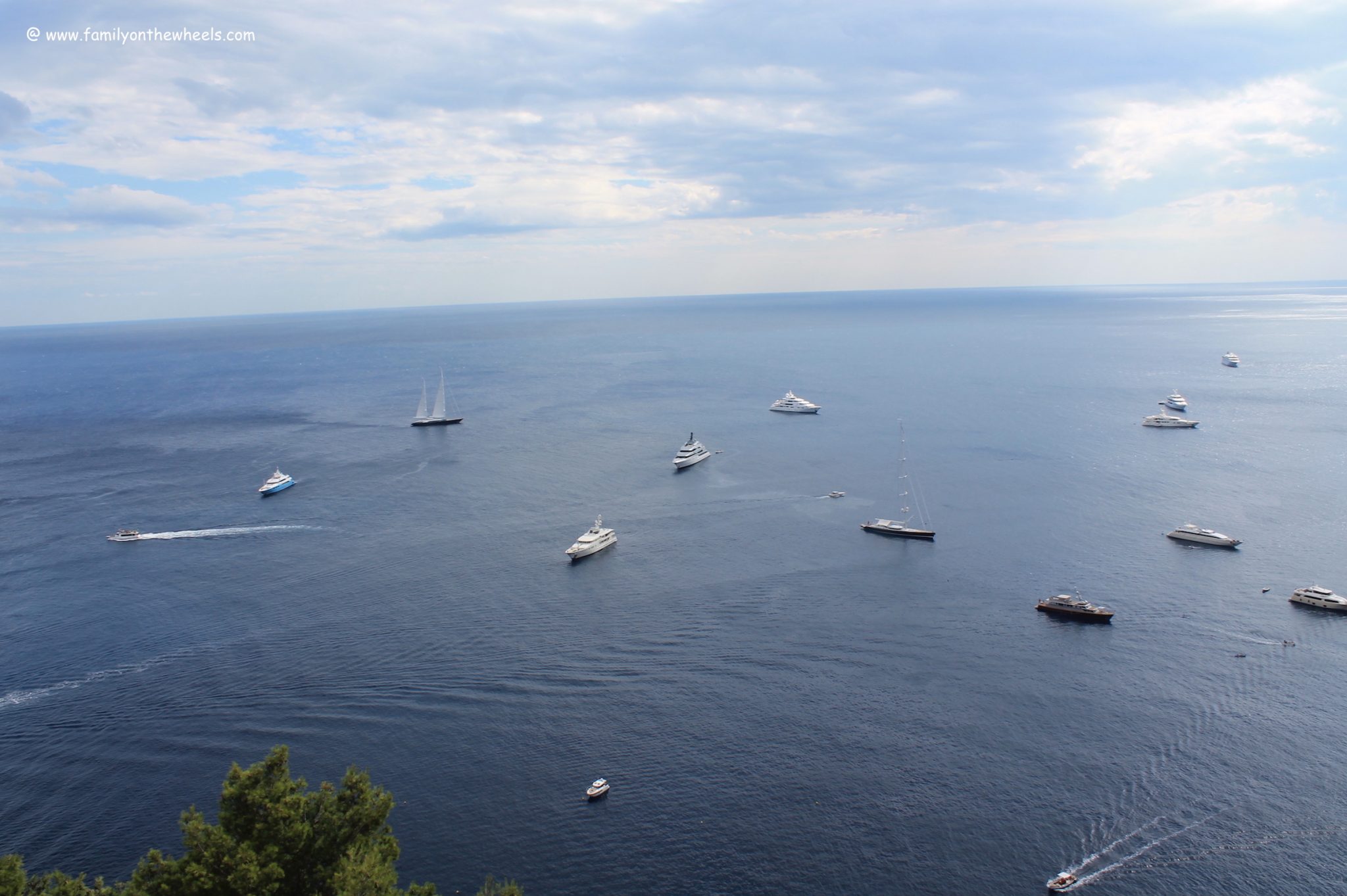 Boat tour around the Island and Blue Grotto :
Well the day we reached was cloudy, with Capri experiencing heavy showers a day before. Hence it was expected that we will not be able to see Grotto. But we took a Boat tour , which departed from "Marina Grande", which is Capri's port. You will find numerous tours running from there & can book one you seem to go into. It is indeed worth spending some Euros to tour the Mediterranean sea. Faraglioni formations are amazing to see & pass by it. Though Grotto is the major attraction, you should check onto "Motoscafisti di Capri pier at 081 8375646 after 9 am to know of the Grotto is open or suspended. Even checking out with the local agents can help you. Usually on a rainy/cloudy/strong wind day, the Grotto's are closed.
Ticket costs – For 5 minutes of the scintillating view of Grotto in a small cave, the ticket costs are approx.14 Euro [which may hurt if on Budget travelling] while kids under 6 years are free.
Get a detailed read on Blue grotto here.
Our Suggestion: If you are not tight on budget, do experience this once in a lifetime magical formulation of nature. You'll for sure memorize this sight every day which passes by.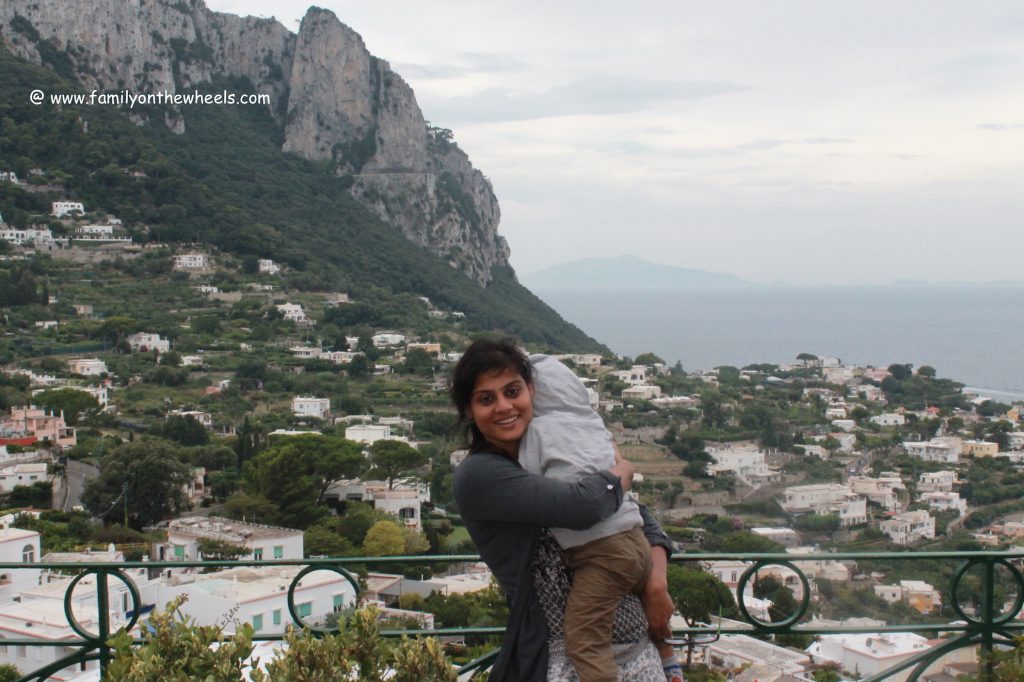 Capture the setting sun from the Lighthouse :
"Punta Carena lighthouse", witnesses the most spell binding sunset on the island of Capri. This lighthouse or Il Faro, is a place wherein one can dive into the crystalline waters & then experience a quiet sunset [far quiet than the lanes of Capri]
Anacapri –
Board a bus from Capri to Anacapri which goes every few minutes from the Bus terminal. While on the way to bus terminal, you'll find numerous limoncello shops. Don't forget to take a stop & fall in love with the lovely designs & tastes.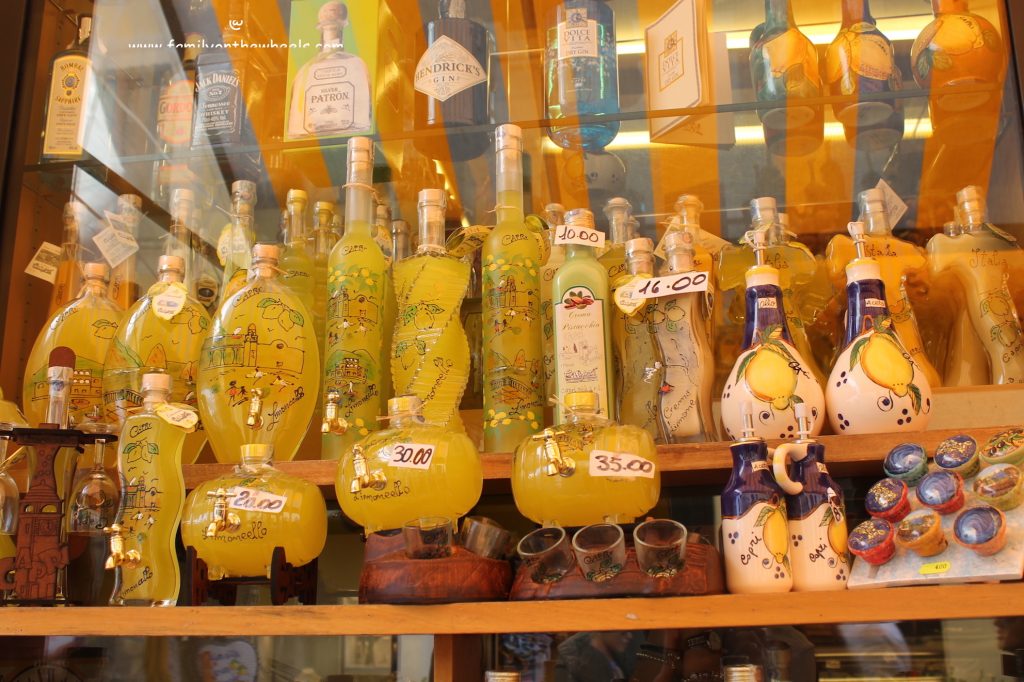 Do take a Chair lift to reach Mount Solaro from Anacapri which will take you through a beautiful ride in the air.
The time for Chair lift is from 9:30-5pm only of 15minutes duration, hence ensure that you reach Piazza Vittoria [point where the Chair lift starts] before that. The price is approx.11Euro for a round trip.
Mount Solaro showers you with a panoramic view of the various rock formation around island & Gulf of Naples. Have some time to relax & praise the views you gotta see. Mount Solaro can also be climbed up the hill by foot for hikers which can take approx 50-60minutes.
Capri at Night
You can again go back to Capri boarding the bus & why not relax at some of those eateries besides the sea staying post 8pm? That's when most of the day tourists are gone & you can have a night charm of Capri all to yourself. We took a late night last ferry and the wait was awesome, to experience the darkness on the sea with "Sfogliatella" [sphyo-te-llah]— famous Neapolitan dessert.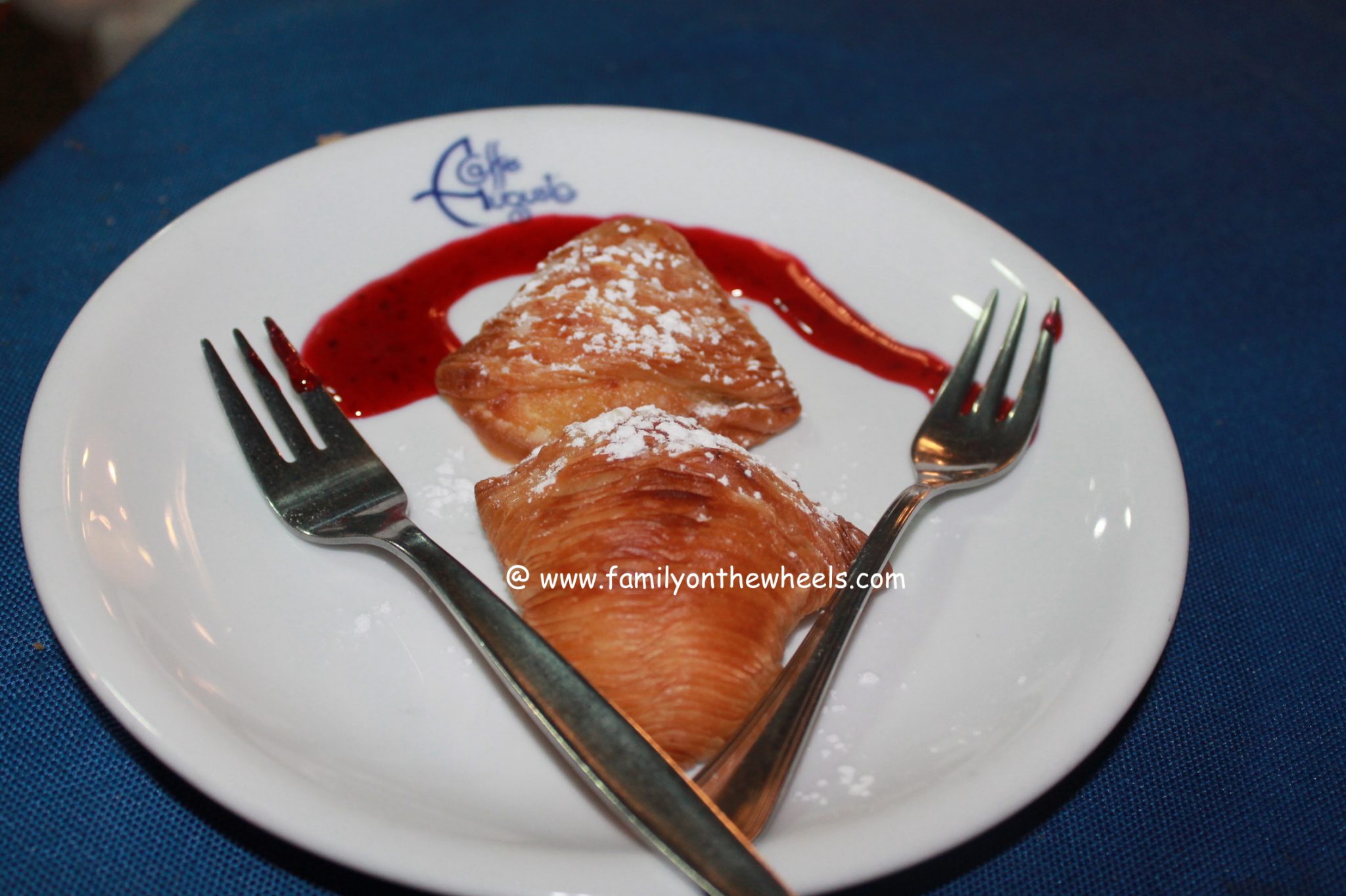 And after witnessing an amazing sunset on this beautiful beach, here was the last ship of the waiting for us:)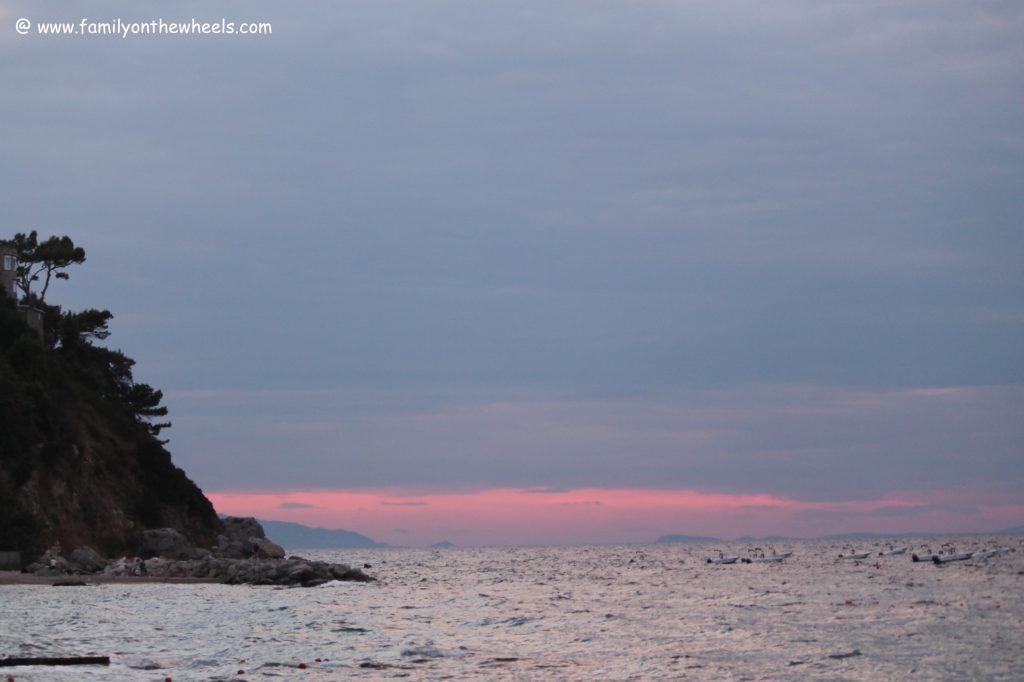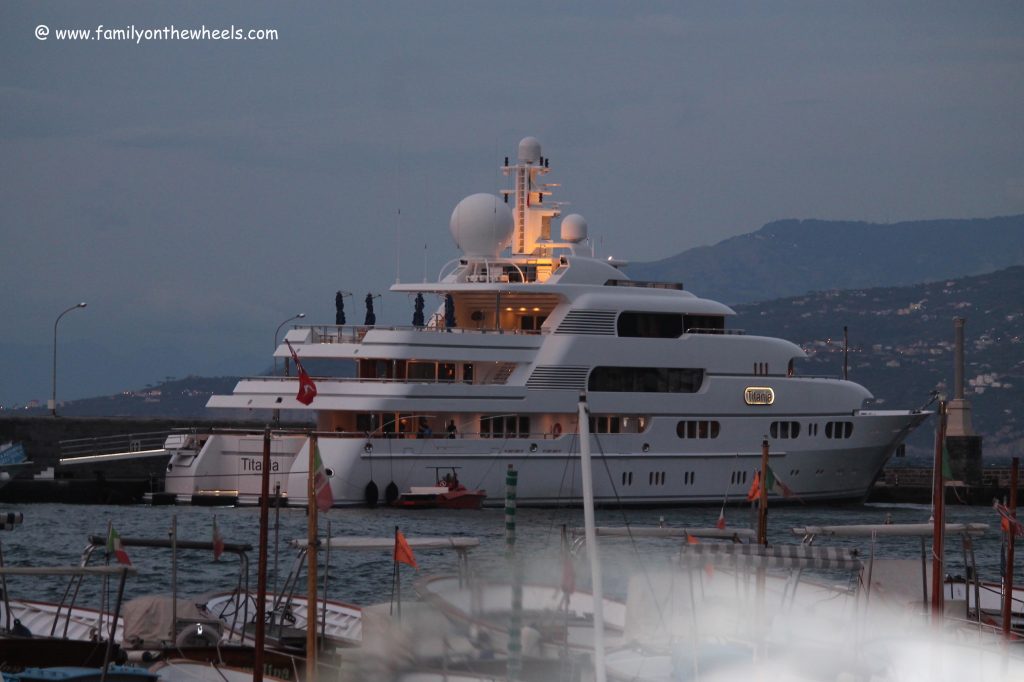 Family on the wheels Notes for you:
Days Required : Minimum 2 days for Capri – Anacapri, to enjoy all the activities and give yourself a 2nd chance to experience Grotto in case it is closed one day.
Where to stay : Staying at Capri villas is really costly. (Do check Air BnB for a generous stay)
Suggested for Budget travellers [like us], stay at Naples and make a full day visit to Capri/Anacapri!  This is what we did and took last ferry back to town.
Best time to visit : June – September (Summers). We visited in August and yet experienced some rainfall here. Mind it, it is a heavy touristy season, so be prepared to be part of the crowd. It still remains a good destination post Mid-September & October as tourists lessen up and the weather is still warm to enjoy the sun. Nov – Feb are Offseason, with more than 50-60% of the days being termed as "Rainy".
What to eat : Capri is amazing for Sea food lovers, which you'll get at all the eateries. We immersed ourselves into some Pizza's, Spaghetti, Wines, Sfogliatella, Bread toasts, shakes, all of which was indeed mouth watering!
Go, get your taste buds pampered!
FOTW Special :
Plan your trip a day ahead in Naples. Check , Schedule and

 

book ferry tickets a day before .

Check out for Blue Grotto as soon as you reach Capri .

If you have a kid with you, try making an early spot for Grotto.

Visit Mount Solaro by Chair Lift before 5pm.

Temptation to shop will run super high from those designer boutiques , so do check price tags before making wishes

☺
For Kids : This is a cool place for kids, with so such issues that they would face. Keep some of the food items specially for them if they are picky eaters. But I'm sure they'll always pounce on Pizza's & Spaghetti to fill up their tummies:)
[Hey Capri, we yearn for every moment we left you. Our eyes long to see you, our mind dreams of you every moment and our heart beats for you! You have so much of charm."]
These lines murmured out of our  happy soul as we sat viewing the sea and its happenings from the top –

"The beauty is majestic, changing skies are magical.

The Faraglioni rock formations are miraculous.

Hey Capri, you look fascinating when those ships dot you all over.

When you pass through those limestone caves, you shiver me up with the abundant beauty you behold in."

Wish to see you again!"
Keep Travelling!