When someone says Vietnam we think of a War-torn country with the major population living below poverty lines and the system still in dismay. Although they fought and pushed Uncle SAM back, this war drained all their resources and morale.  However, touch down on the second largest city of Vietnam "Da Nang" and you will realize an altogether different story. It is amazingly clean, well maintained and one on the most beautiful place in the entire South Asian region. Airports are thronged with Korean tourists looking for a respite from the extreme cold back home to the sun-kissed beaches and golf courses in Da Nang.
Here is a 24 hours guide for places to visit in Da Nang:
1. Discover the caves inside the Marble mountain:
Start your day 9 km south of Da Nang to explore the interiors of a Mountain overlooking My Khe Beach. It might look like an ordinary big piece of rock from outside, it will amaze you when you start exploring what lies inside it. Bring out the explorer inside you, as you walk inside numerous varied sized caves. You'll discover hidden Pagodas, to weird rock formations, to small waterfalls, all inside that giant rock. To start, you can either climb up stairs or take a lift to reach the top (Paid). Sit and admire the view or simply meditate.
Ideal Time: Early morning or late evening to avoid the day heat
Visiting time: 1.5-2 hours
Entrance fee: VND 40, 000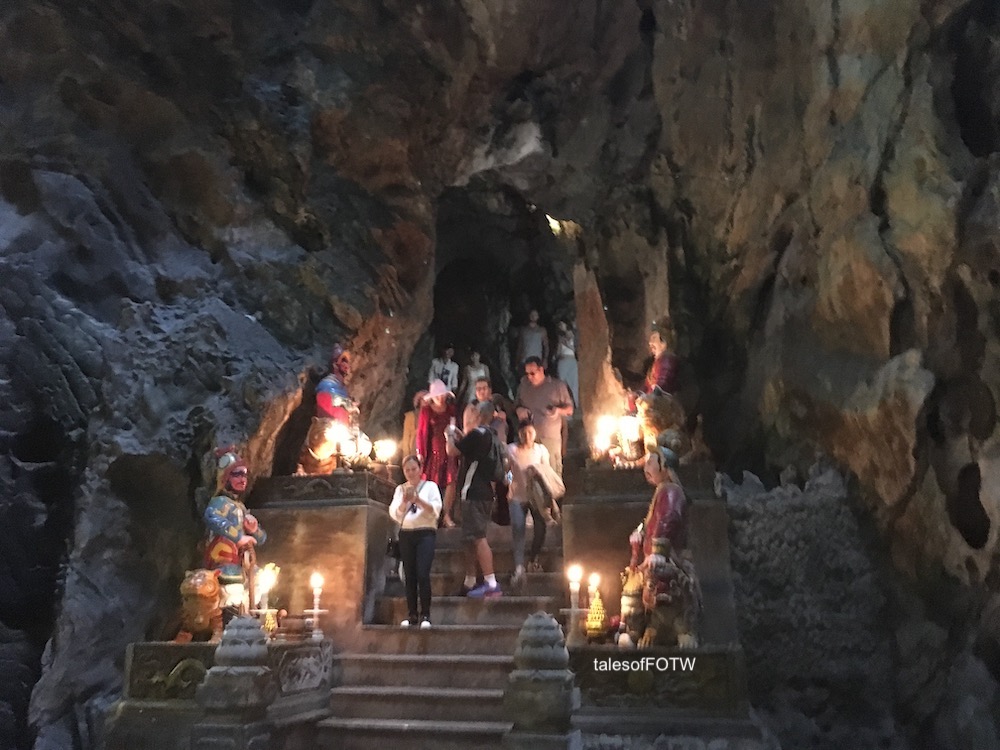 2. Enjoy the city view from the eyes of LADY Buddha:
What locals describe as a "Hill Top Temple with scenic city view" is a must visit place for this destination. While the various forms of Buddha are popularly enacted as statues across the Asian region, we witnessed the Female Version of Buddha for the first time. Measured as 67 mts tall and 35 mts wide, this statue can be observed from most of the parts of Da Nang. During ancient times, sailors in the sea used to look at this statue for blessing and to locate their position in the day time. From the complex, tourists can admire the whole city, mountains, Son Tra Sea and island during the day or night time when skyline glitters with city lights.
Idle time: Late evening 
Visiting time: 1 hour
Entrance fees: Nil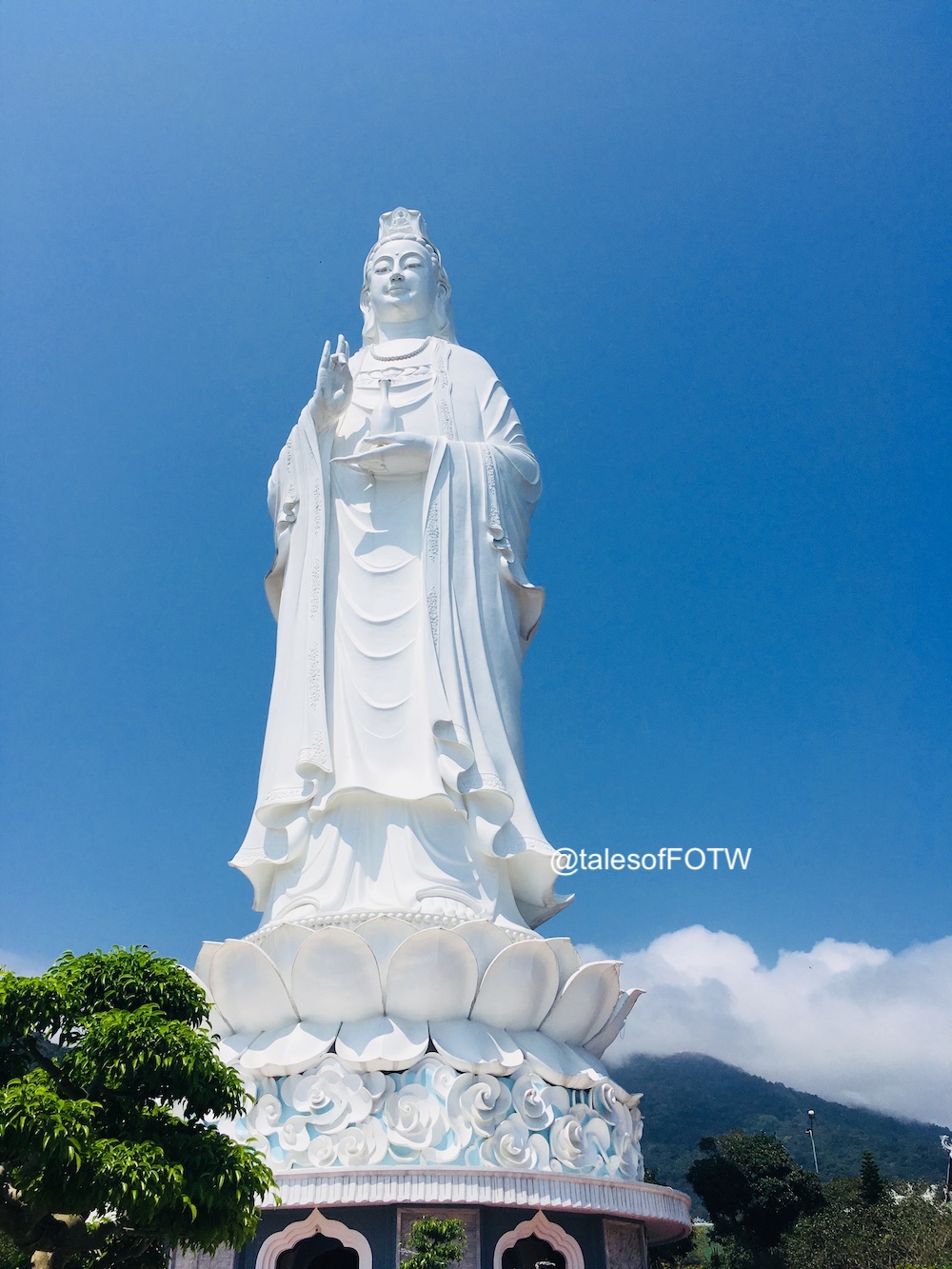 3. Lie down on public beaches and watch the skyline of the city : 
What makes this beach city different from its companions is the quality of the public beach. Every public beach is clean, green and well maintained. Some look even better than private beaches hosted by 5-star hotel properties. If you have to pick one, head to My Khe Beach. A 20 mile long pristine white sand horizon will steal your heart and make you stay there forever. Beach bed, towels, and umbrellas are available on rent. There are ample stalls to pick fresh seafood to delight your taste buds.
4. Get clicked with Da Nang's own Merlion & Fire show on Dragons Bridge:
Known as DHC Marina forming a Dragon's head with the body of fish, this statue reminds clearly of Merlion, the iconic statue of Singapore. Catch a glance while cruising on HANA river or walk over from the dragon bridge to reach this point. During weekdays and evenings, you can catch real-time fire emitting dragon (Probably Inspired by GoT) at the end of the dragon bridge.
Ideal time: Late evening
Visiting Time: 30 minute
Entrance fees: Nil for Fire show & statue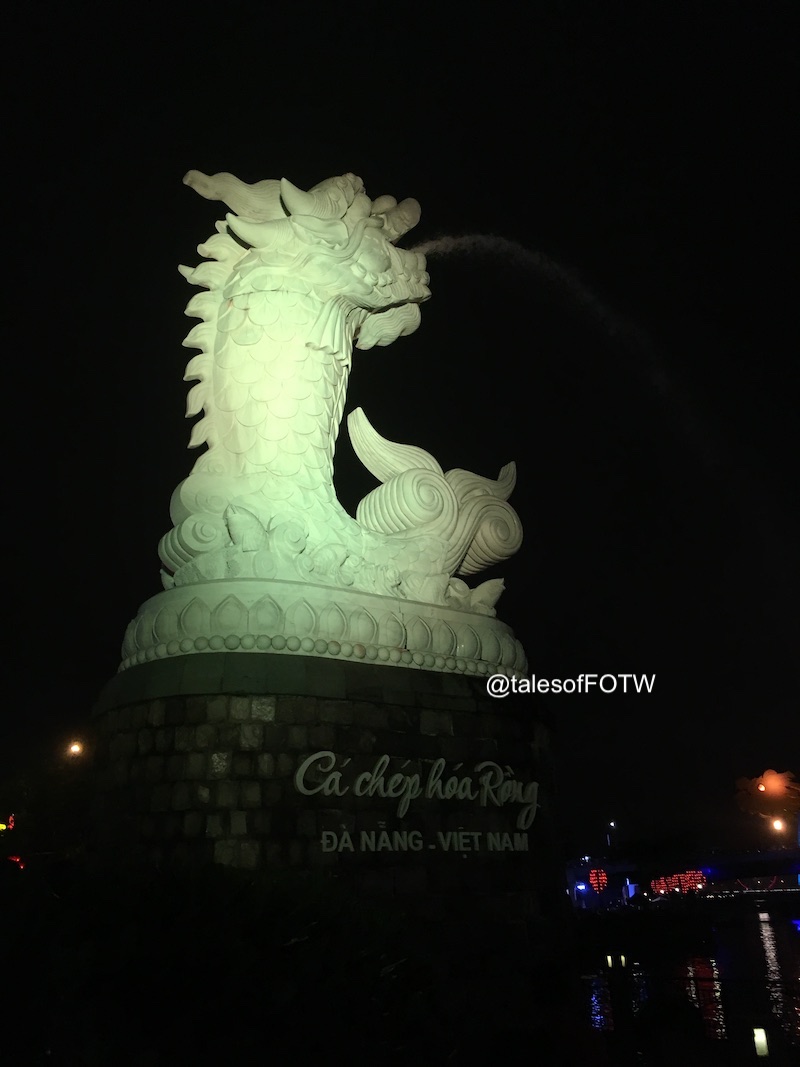 5. Most Instagram Crazy point of Da Nang – Golden Bridge: 
"Hand of God" holding down the bridge is probably top 5 Trending spot's on Instagram in 2019. Located in Sunworld Bana Hills complex, you have to take a 1500 Mts Long Cable car which stops at 2 places. First Stop has Golden bridge & a garden, the second stop is a French Styled Village, Pagoda temple and Theme Park.
Ideal Time: Afternoon for best Clicks, Early morning for a great view.
For travelers in the lookout for a longer stay can spend an entire day at Sun world Theme Park. LOTTO Mall is the go-to place for people looking to buying any Korean or European branded Products.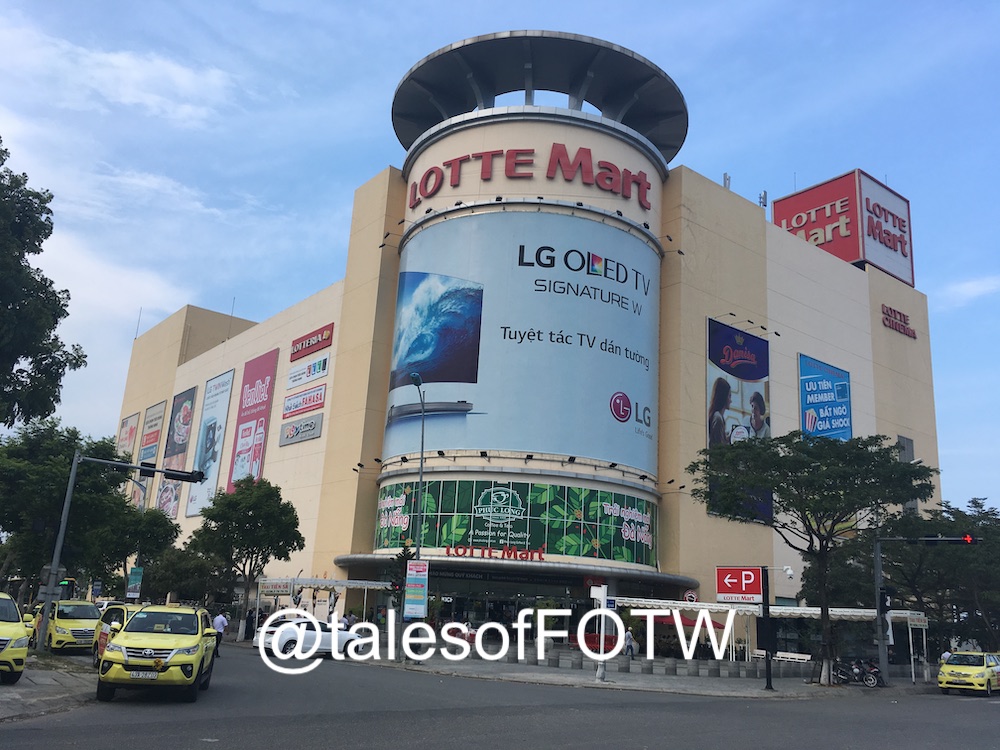 Where to stay when in Da Nang?
We stayed at HYATT REGENCY DANANG RESORT & SPA (USD 150 / Night). Situated along the coast of Hoi An, it is a great place for family vacations offering beach views including a gorgeous ocean-front pool.
The Town has best of ultra-luxurious resorts hosting corporate events and Destination Weddings. But one can easily find accommodation starting from USD 20 / Night Hotel to hostels to bed & breakfast lodges.
How to Reach Da Nang from India:

 
Delhi – Singapore – Da Nang (Singapore Airlines)
Flying

Time:

 8 hours

Journey time: 11 Hours ( 1 Stopover at SG )
Visa Process:

 
Apply for VISA Permit Online (USD 20) via Travel agent (Preferable). Collect Visa on arrival (USD 30) for a stay up to 30 days, common for Tourist / Business purpose.
Trivia: Probably Vietnam is few of the places, which turns an average person into a millionaire as soon as one lands into the country.  Feeling surprised? The reason is hyperinflation and currency conversion. 1 INR  = 200 VND ( Vietnamese Dang ) or simply 1USD is roughly 14000 VND. But your happiness flies away when you check the prices of the general items. So a bag of potato will cost around VND 60,000 which is the same what we get back in India. Therefore, zeros in your bank account may look more but their purchasing power remains the same.
Enjoy Da Nang and its Beaches, follow us on Instagram to know more about our Travel stories!
Keep Exploring!