Unfolding Alleppey Backwaters – Kerala with Team FOTW!
Kerala, God's own country is famous for its clean and beautiful beaches, amazing tea gardens , asiatic elephants and yes the enchanting backwaters along the coconut groves. When it comes to experiencing backwaters, Alleppey or Alappuzha stands as a "Queen" to witness this beautiful natural phenomenon. Alleppey and Kumarakom are the places which are around Vembanad river (largest river of Kerala) and one can witness the sweet water of river merging with the salty ones of the Arabian sea. A traditional life of backwater village includes fishing, coconut harvesting, paddy and rice crops, building the boats, transporting the utilities and tourism.
The reason why Alleppey was once known as the "Venice of the East" is because of its picturesque canals, lagoons, backwaters and beaches. And indeed, that's what we, #FOTW felt. Last year we visited Venice and its surrounding Islands and beaches and this year we went around Alleppy exploring its amazing canals and lovely beaches. There seemed to be so much similarity in exploring Venice by Gondola and Alleppy and its beautiful nature by Shikara and alleppey boat house.
How did we reach Alleppey :
In our circuit, we started from Kochi to Thekkady and from there we reached Kumarakom and then Alleppey. While Kochi to Alleppey is just 55kms (1:30hour), we wanted to explore Thekkady (periyar) & Kumarakom and hence we routed so. Thekkady to Alleppey take close to 3:30hours (120-125kms) and the route is absolutely fantastic.
Looking out for mesmerizing views near Trivandrum? Plan out Poovar Islands. Or even have a look at the mesmerizing Periyar National park ! 
Here starts our at Alleppey Backwaters, Kerala:
We were so excited to experience cruising all the way into the so famous Alleppey backwaters. So as soon as we touched Alleppey from Kumarakon (after a brilliant day besides the lake Vembanad), we hopped to the "Alleppey finishing point jetty", wherein there are ample water boat service providers for every type of boat and cruise. They have Small Village boats, Shikara, houseboats and many more in the peak touristy season. You can opt for hourly trip or a day trip or overnight stay in Houseboat. We are going to cover complete post on selecting houseboats and what to expect soon.
So, we got ourselves booked one Shikara, which would amaze us with the beautiful canal's in the city and then we finalized on a Kerala water transport bus for next day. A water bus[from Alleppey to Kuttanad] give a pleasant 2hour ride to and fro and that too in just INR40 for one side of 1 hour. Well, you could reach out for Shikara's /Houseboats with great ease, but we tapped upon the cheapest mode – Water bus and explored some amazing backwaters and Rice paddy.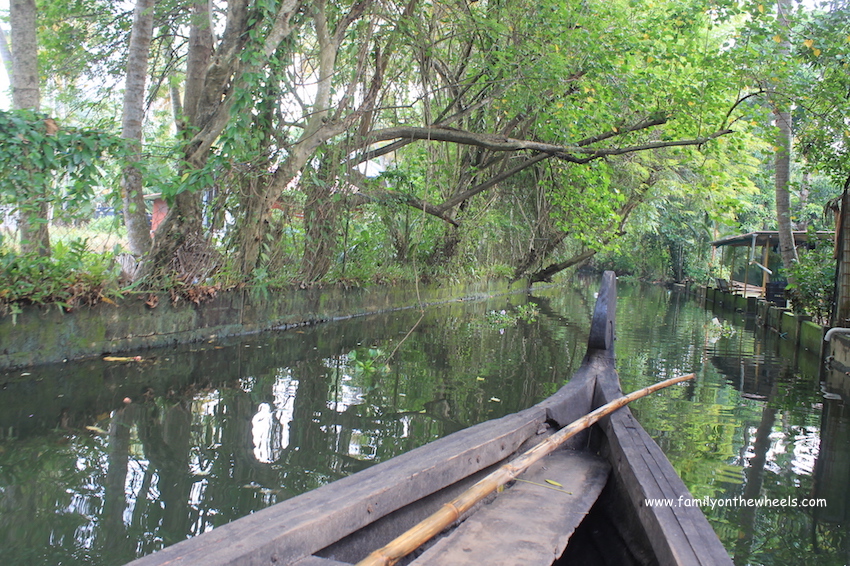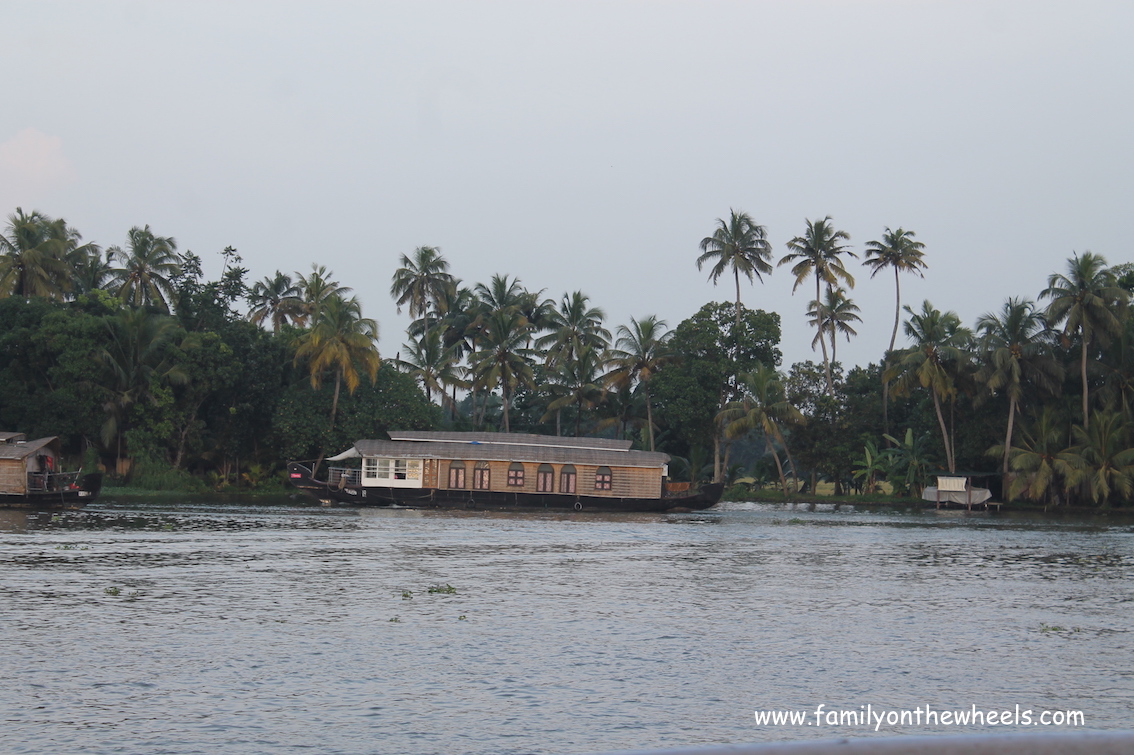 Experiencing the small canals, side paddies, beautiful coconut trees, some amazingly maintained house boats, merging of lake and sea and then a beautiful sunset, all of this entails this lovely backwater trip. As the night began, looking at those glistening waters as the colorful lights of the village huts/stationed houseboats, lighthouse falls on them, makes this exploration more prettier. [Though you might not get those clear night photos, but I challenge, your eyes will be able to hold that beauty forever]. Let the photos attached do the justice you all need, right now. Whichever way you do, it is indeed must if you are travelling in Kerala.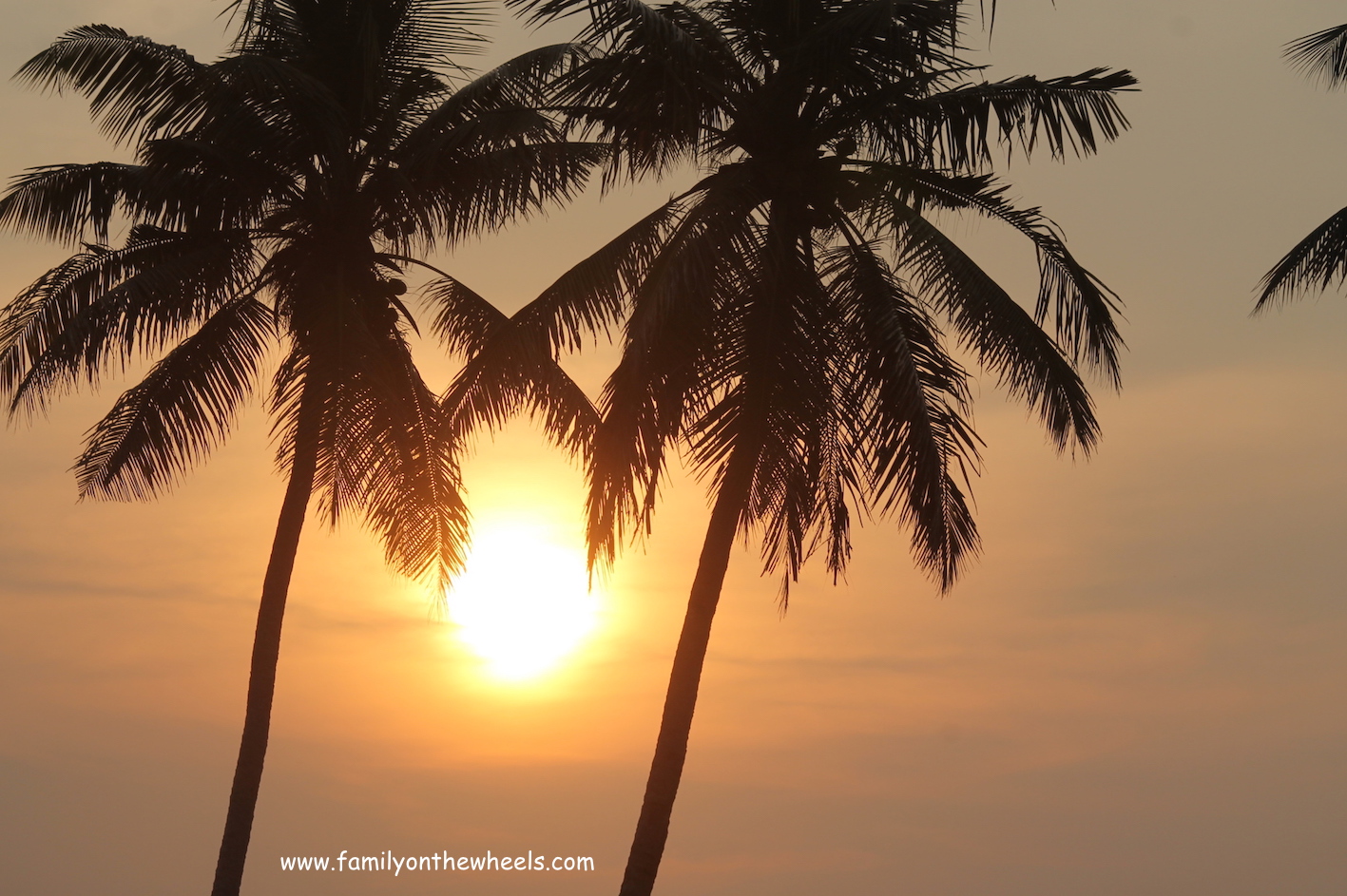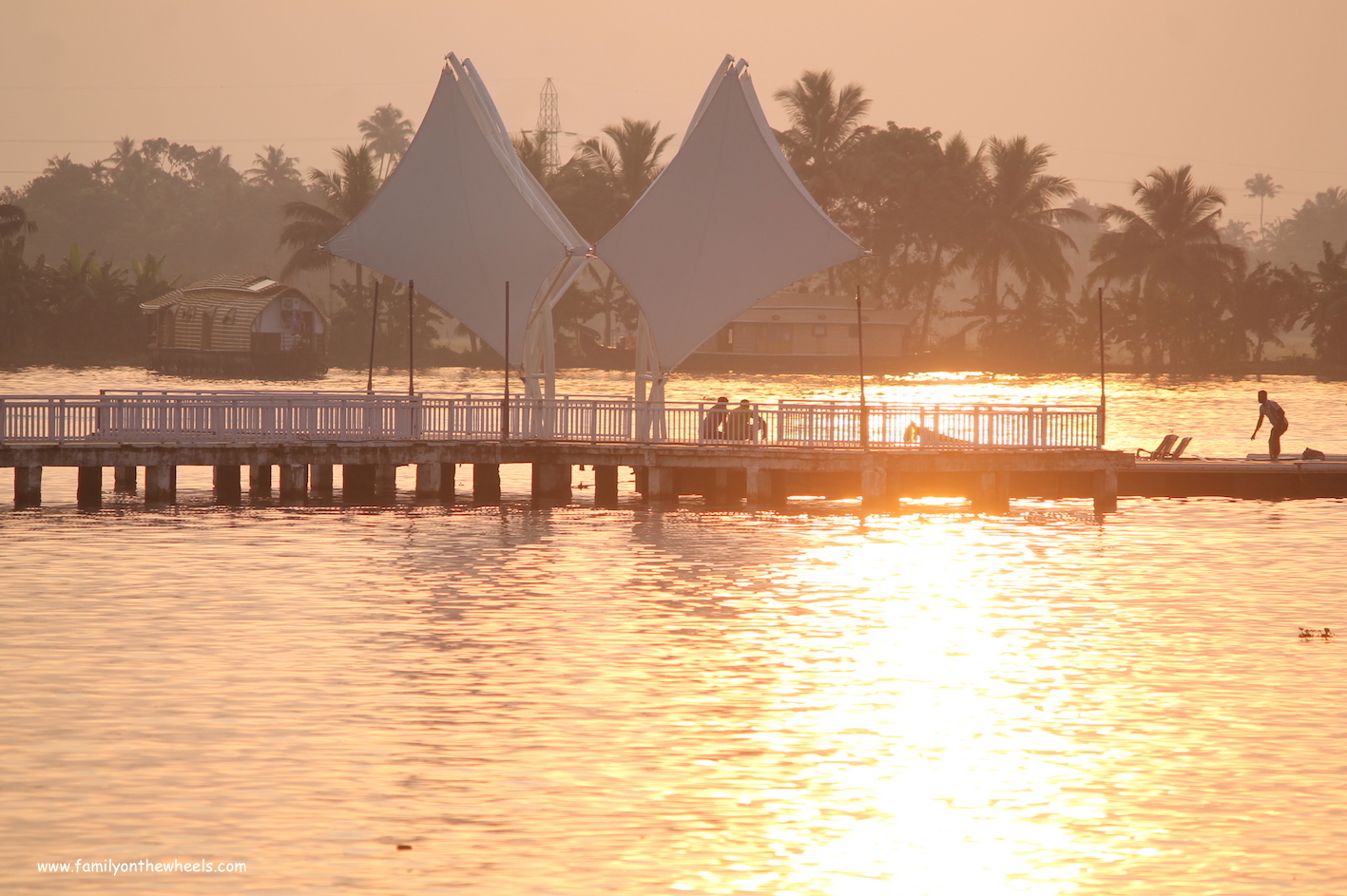 This beautiful ride gave us all the moments of joy, calmness and serenity this world holds. After witnessing a beautiful sunset amidst these rides, we hit the land back as the night had already fallen. We needed some hot coffee and a delicious food to satiate ourselves and give the day a calming rest at our hotel which just overlooked the sea.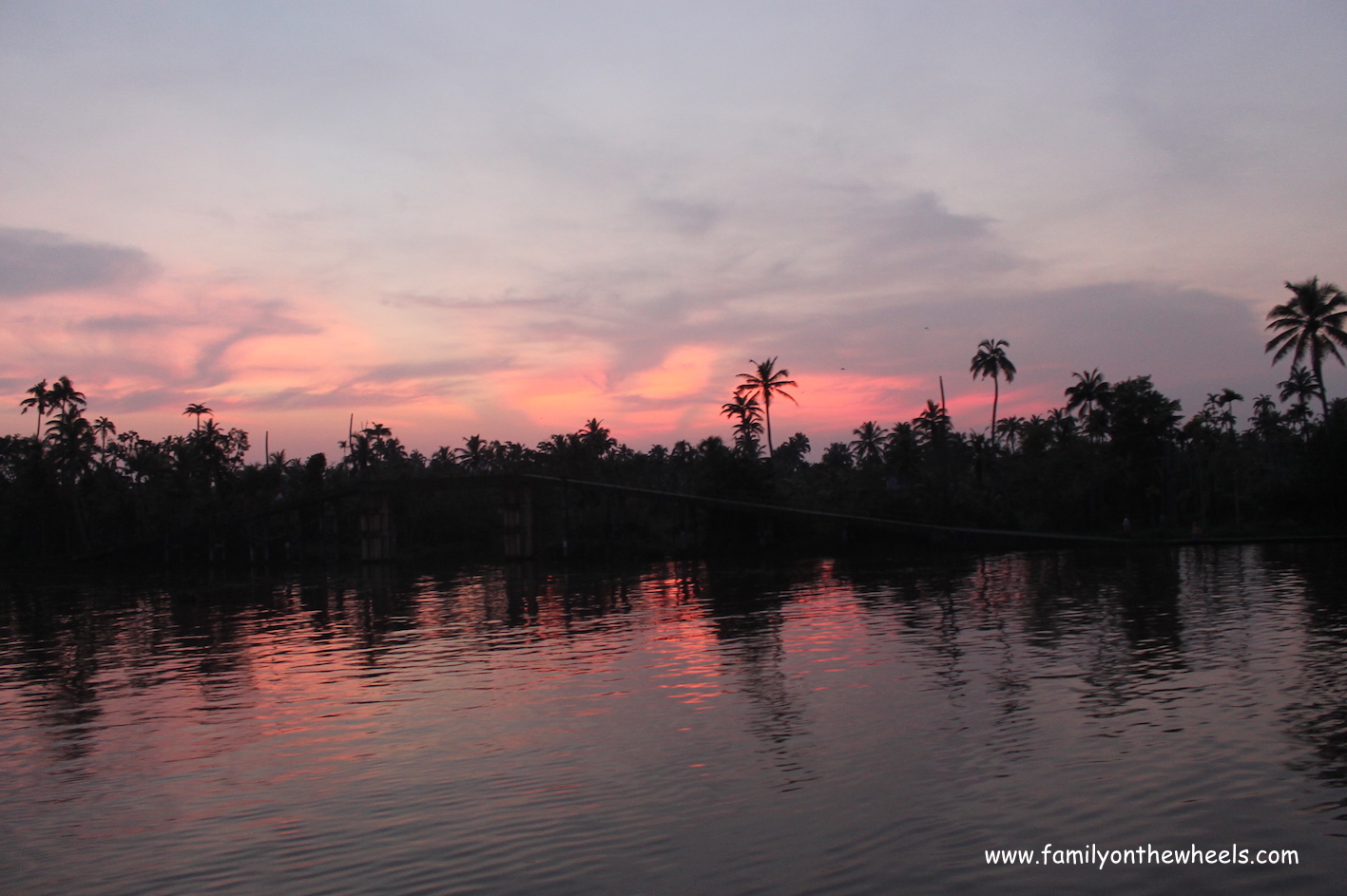 The next day began too early with full energy, as we packed up our small bag to get messy in the beach sand.
Alleppey Beaches and attractions :
1. Marari Beach :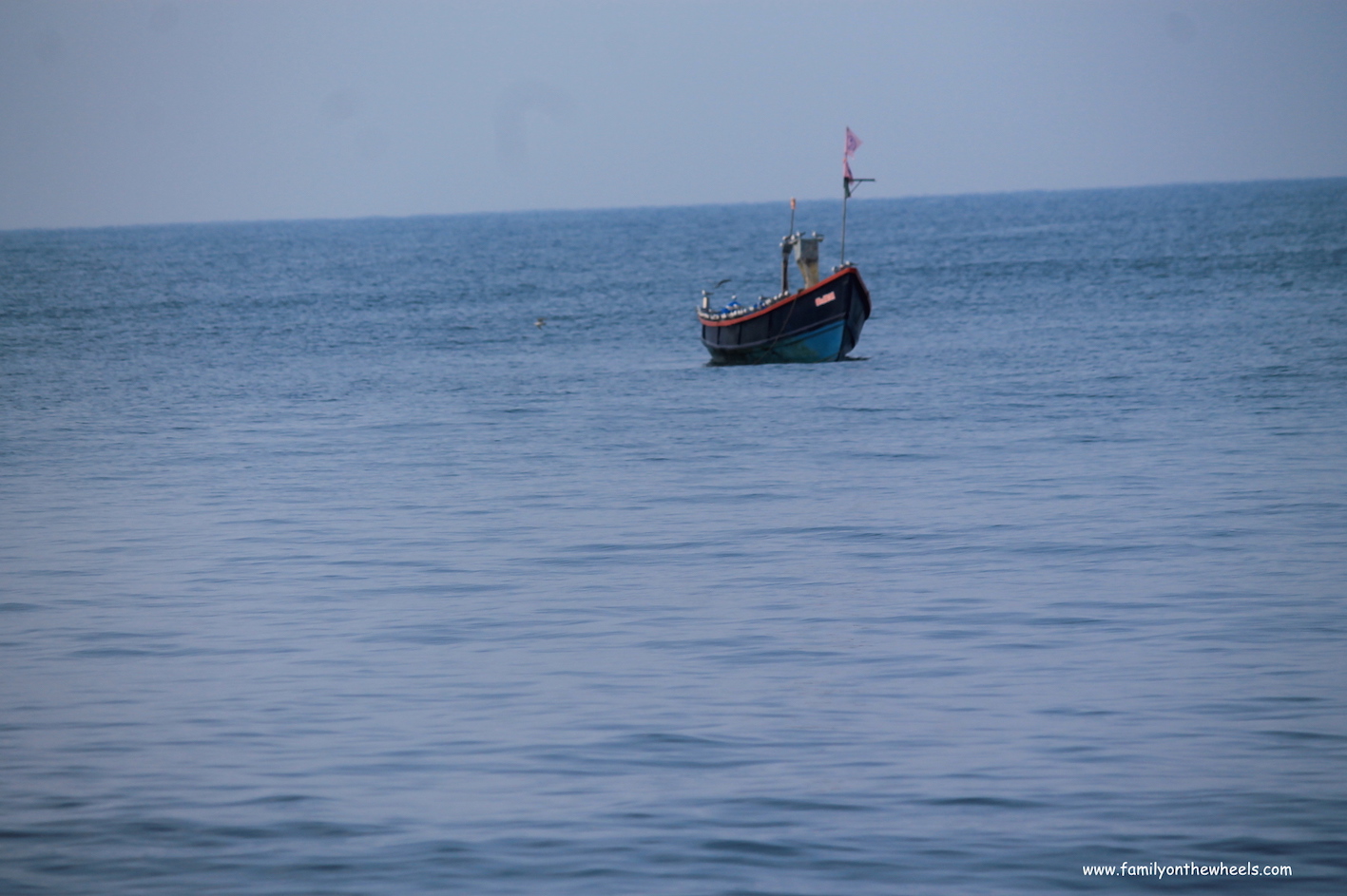 Some 12kms from our hotel and same from Alappuzha beach, it took us close to 15min at 6am in the morning to hit this beautiful beach and witness the sunrise amongst the coconut trees. This beach is perfect to have some quiet time [as most of the crowds hit the Alappuzha beach] among the golden sand and the coconut trees. Enjoy that calm peaceful walk on the golden sands, play with your kids in the sand and yes do say hello to the gushing tides and crabs in them. During full season, sea surfing, parasailing, water skiing, and deep sea fishing activities are also available here. You can also experience Chinese fishing nets close to Marari beach, which gives a photographer a perfect canvas.
There are few resorts and homestays also available to stay close to Marari beach. We enjoyed for some 2-2:30hours and our son didn't wish to step out of the sands here, even though there were ample crabs. We got a great video of how the crabs coming on the shore via the waves, hold on and make their home digging the sand. Have a look at the photos here and video at our youtube channel.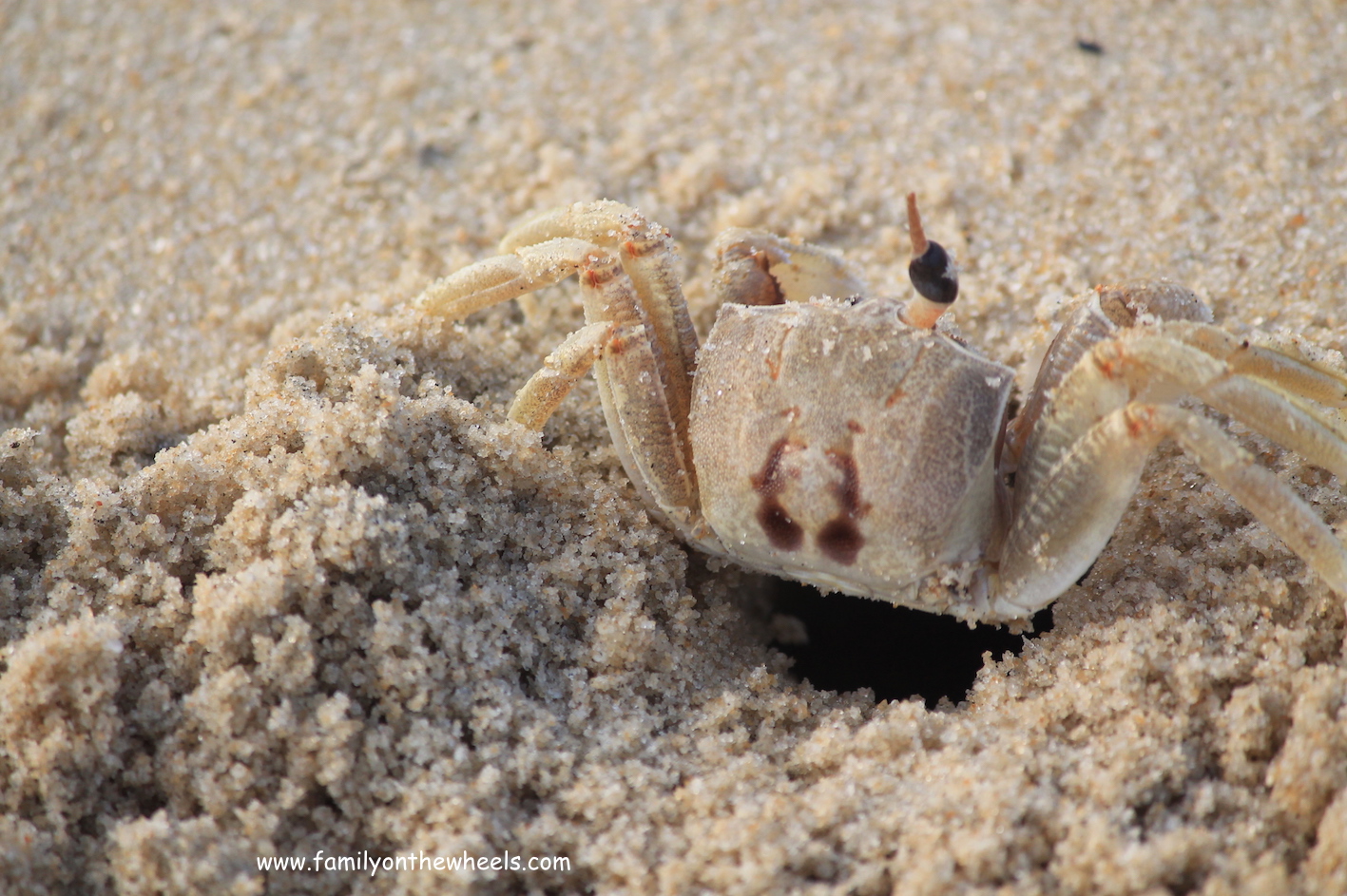 From here we straightway came back to the lighthouse.
2.  Alleppey Lighthouse :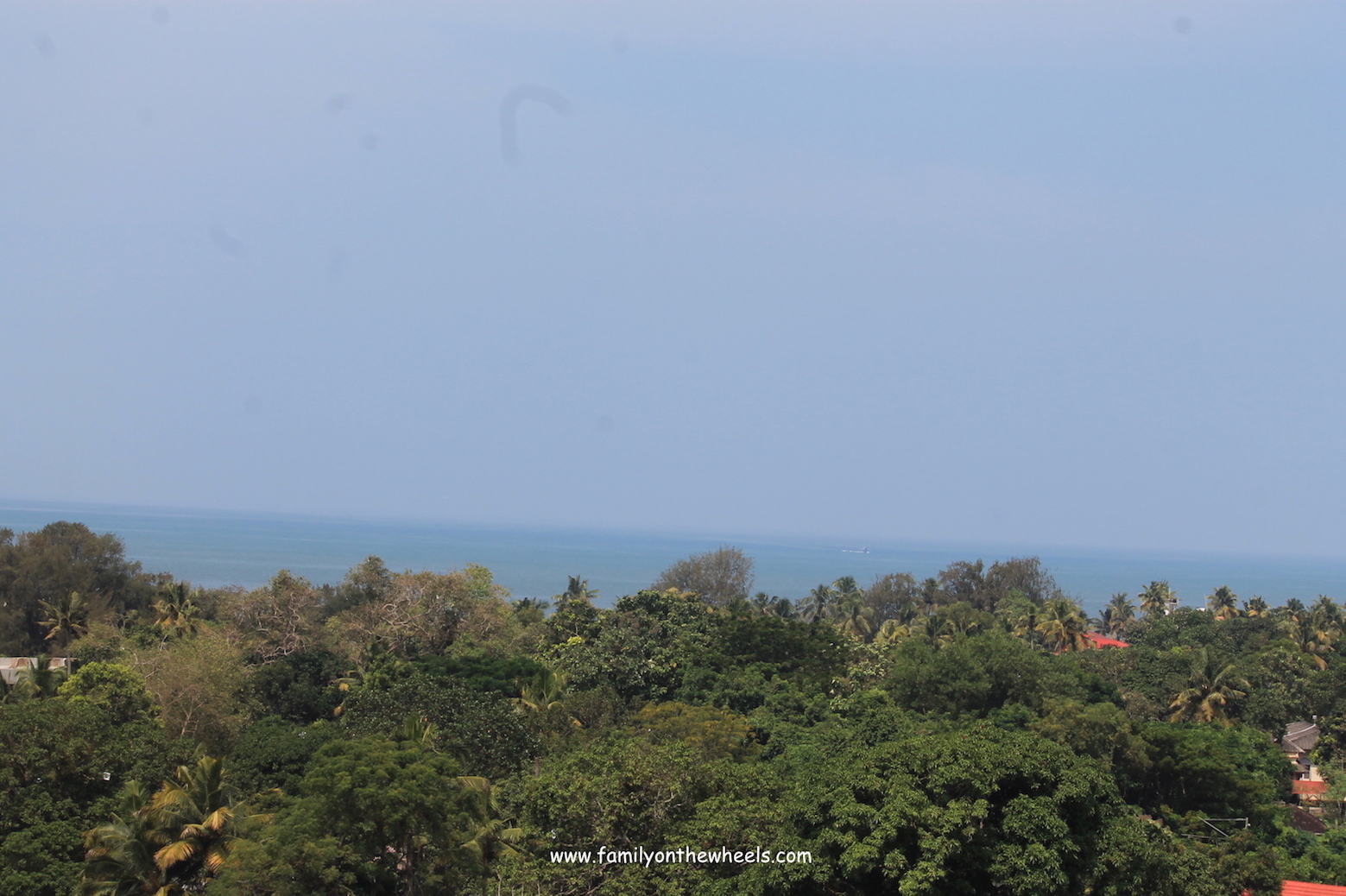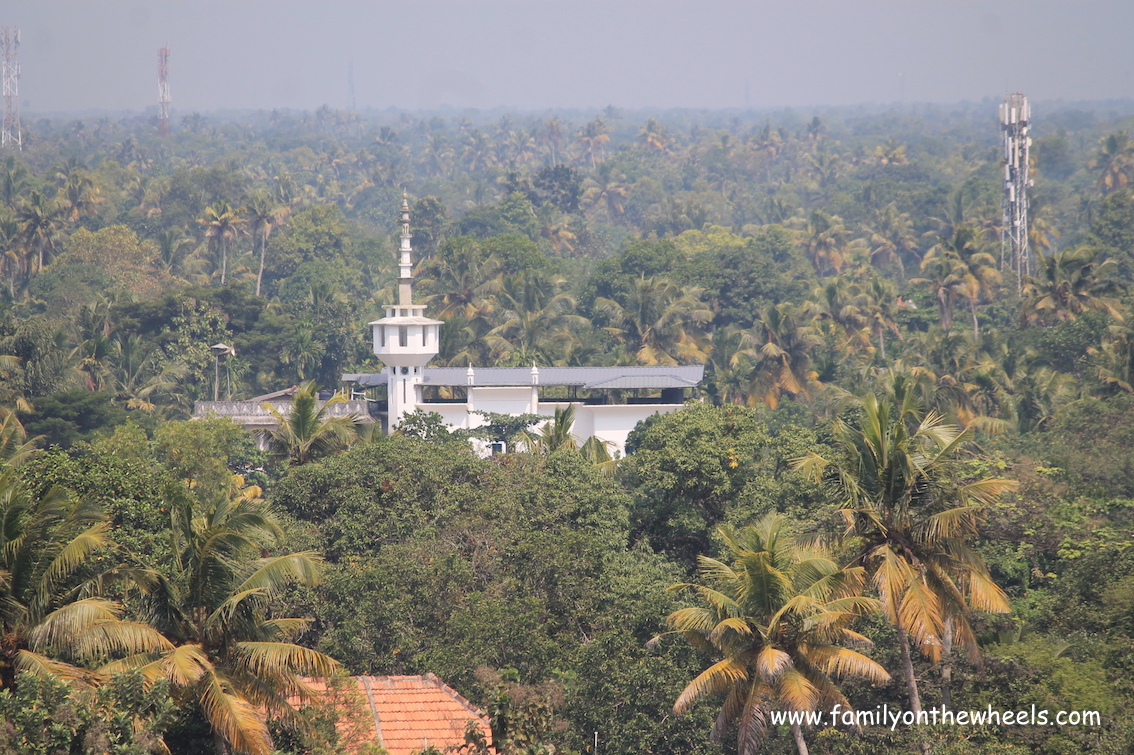 Very close to the commercial and most crowded Alappuzha beach, this lighhouse indeed serves as a place to adore the beautiful Alleppey surrounded by the green trees and the blue sea all around. Climb close to 105 steps and emerge from a narrow opening to get stunned by some of the most amazing views. Try differentiate the blues of the sky and that of the sea:). Indeed a quaint lighthouse, it also has a small Navy museum to take a glance. Would rate it as a must watch for the views you get from there.
3. Alappuzha Beach :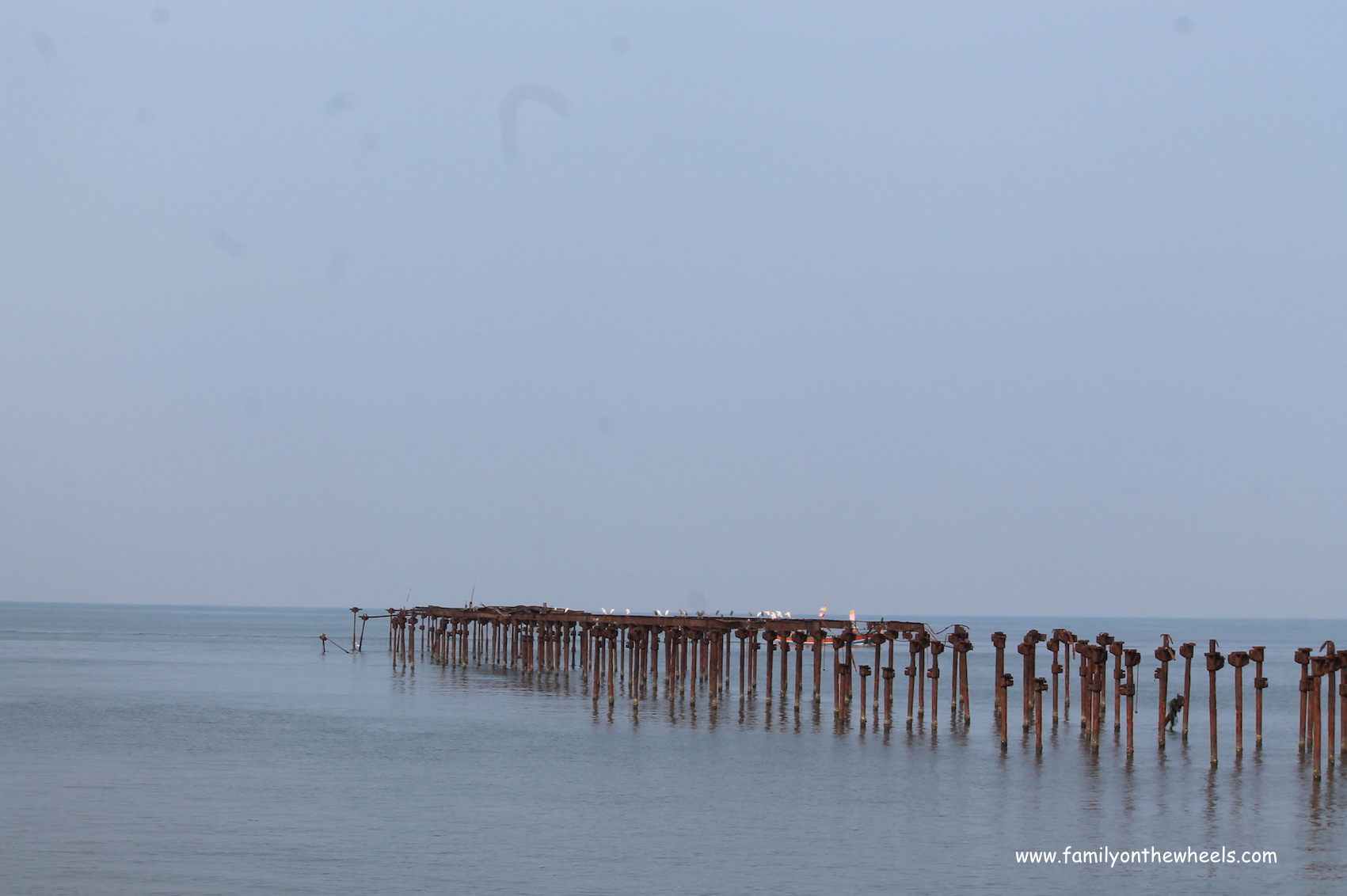 This is the most famous beach. It has quite big coastline and a favourite for the locals as well. If you're visiting Kerala in August, then plan to watch the very famous Nehru Trophy Boat Race, full of zeal and enthusiasm. You can take the backwater cruise in either the Marari or Alappuzha beach and allow your soul to rest in the tranquility. There are many water sports available as in surfing, swimming, parasailing, boat races which can give you a good leisure + adventure time to get rejuvenated.
4. International Coir Museum :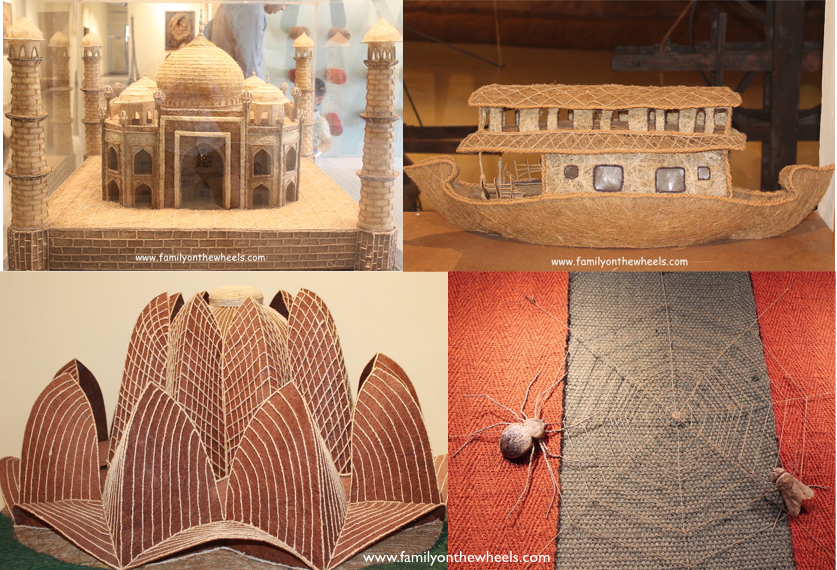 Quite a unique museum in itself, it has some remarkable coir work done by the employees there. It is said that it is first of its kind in the world and for sure it will amaze you with the beauty that coir has and the hardwork that people have done with it. It also exhibits various machines and how the coir industry progressed from ages. It does have a small souvenir shop inside, but we couldn't find much things to bring back. But, it is for sure a must visit Museum.
Team FOTW would recommend covering an Island – Pathiramanal, which can be easily covered from the Jetty stand of Kumarakom[1 hour from Alleppey to reach Kumarakom]. Motor Boats take 1000-1400 INR and take you to this extremely scenic Island which is tagged as a paradise for the birds. It has more than 150 species of birds, more than 50 are migratory ones and Dec-Jan are perfect season to see the avi fauna in full glory. Also, it is located in the backwaters of Lake Vembanad (Biggest lake of Kerala), hence it is extremely tranquil, serene and not crowded Island to have some really beautiful time.
Local Food of Alleppey:
Being a coastal town, Alleppey is very famous for its sea food. Its local food is Fish and rice cooked in Coconut oil and Shrimps, prawns, squids are pretty famous among tourists here. Ample fish dishes rule this part of Kerala.
#FOTW Notes :
Purely our view wrt House boats : FOTW felt that house boats are too costly an option to explore the backwaters, which can be done in just INR40, compared to INR7-8k for Houseboats. But, we definitely found the 2hour ride in government water bus[for Kuttanad] a great deal wrt money and duration and we had a great time with our 3year old son.
Usually Alleppey is hot all through the year and it has close to 30-35degree temperatures.Try hitting on the beaches either early morning or in the evenings. Even 9am on the beach can be too sunny and you won't be able to enjoy then, unless you purely wish to have a sunbath.
Vegan Alert : You will have some hard time finding a delectable vegan taste here, though veg food is available. Crispy Banana chips was our favourite here and we took a bag full of banana chips. Dosa's, Idli's, Appam's are mostly on breakfast menu, so definitely give them a try then itself. Most of the outlets, don't serve them [Idli, Appam] in Lunch or Dinner.
Do carry water bottles when you roam around as sun can really be very hot.
There are lots of crabs (completely camouflaged of white-golden sand colour) on the beaches. Enjoy but take care that you are not bitten much by them.
Have fun exploring Alleppey, its beaches and backwaters! Follow our Instagram channel as we unfold our craziest photos there.
Any query, mail or message us, FOTW would be happy to answer you up!