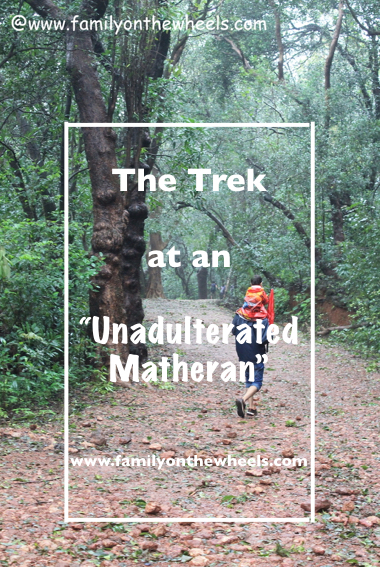 Hey, that's a complete loss of adventure if Matheran is not covered in Monsoon, for the pure green, muddy, foggy, clean and pristine views this small hill station provides. #FOTW's decision to explore this beauty turned into a full fledged adventure and a trekking experience with kid. Click here to read out our adventure story.
After this scintillating experience, we are bound to say, that this trip should not be just for Mumbai-Pune-weekends. Rather every traveller and nature seeker should once experience this alluring place in rainy season. Matheran is a small hill station, in the lap of the Sahyadris ranges well away from the hustle bustle of city life.
10 awesome places to visit here !
Caution* Whole of Matheran, every route, every trek of it is splendid, you'll for sure fall in love here, keep your eyes open to see what nature offers you on the plate.
We stayed at "Heritage Hotel, the Byke"(review shall be up soon) which was at the southern end of Matheran and hence we began trekking from the lake first.
1.Charlotte Lake and Lord Point :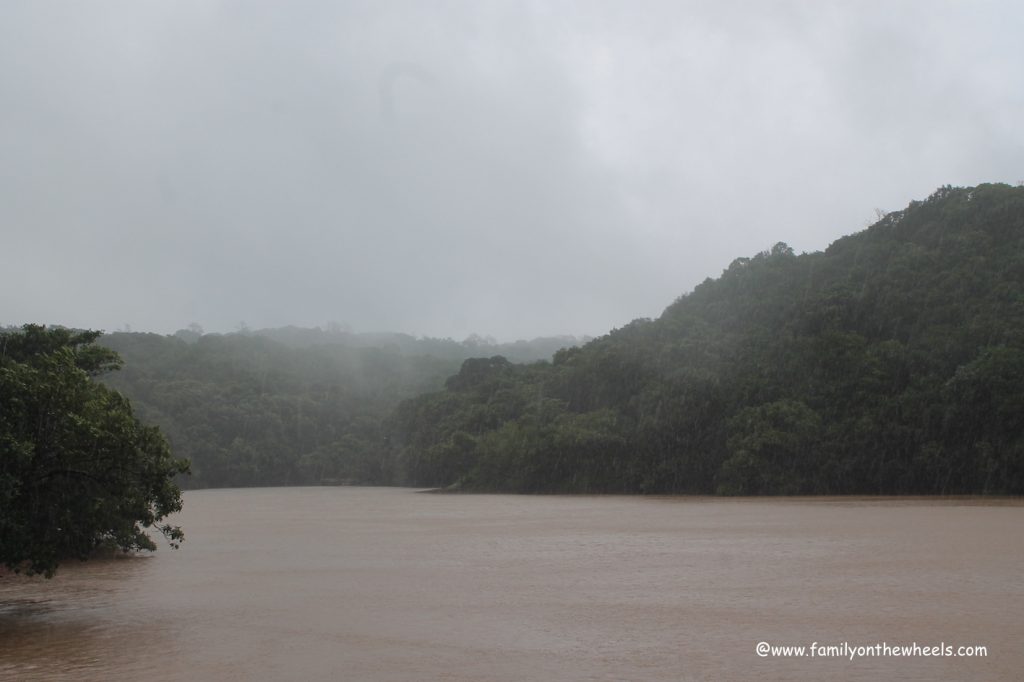 Just 600 mts from our hotel(10min walk), the showers and the winds made this lake look fascinating. The lush green surroundings and the water makes an exquisite starter for the travellers. In case you are hungry, there are few shacks around here to sip some coffee and move ahead. There is a dam across the Lake and during summers there is also dam crossing by Rope for kids and adults to enjoy the views.
Hardly 250 mts from Charlotte lake lies the Lords point. Indeed it offers you a direct connection with the lord for the beauty he has created. It shares great views of waterfall and during monsoon the whole low rocky area is full of gushing clean waters.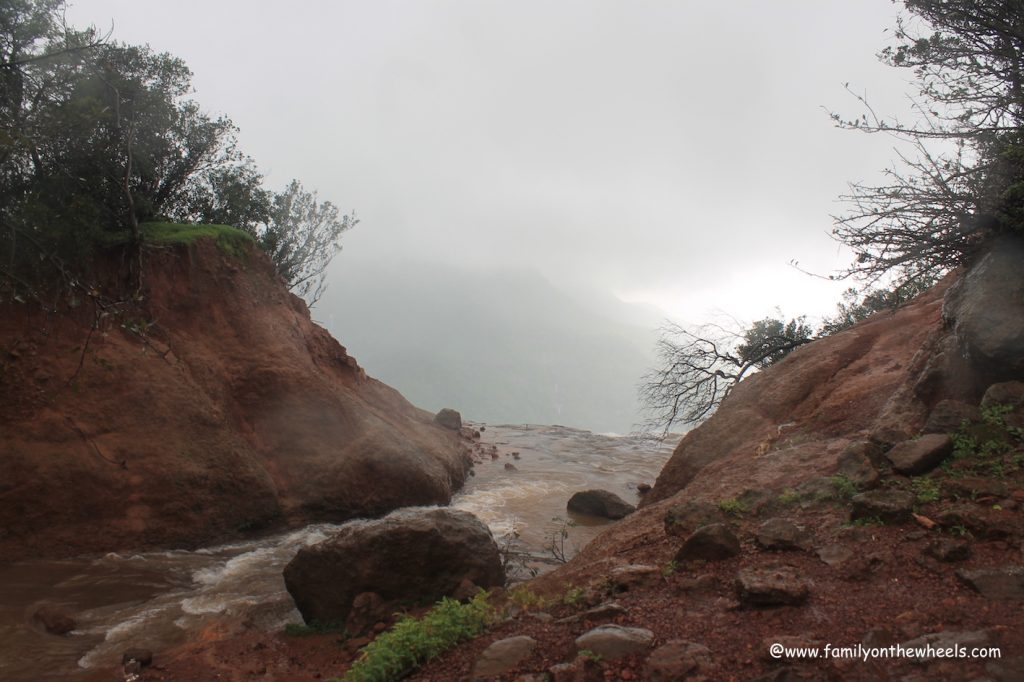 2. Echo /Eco Point :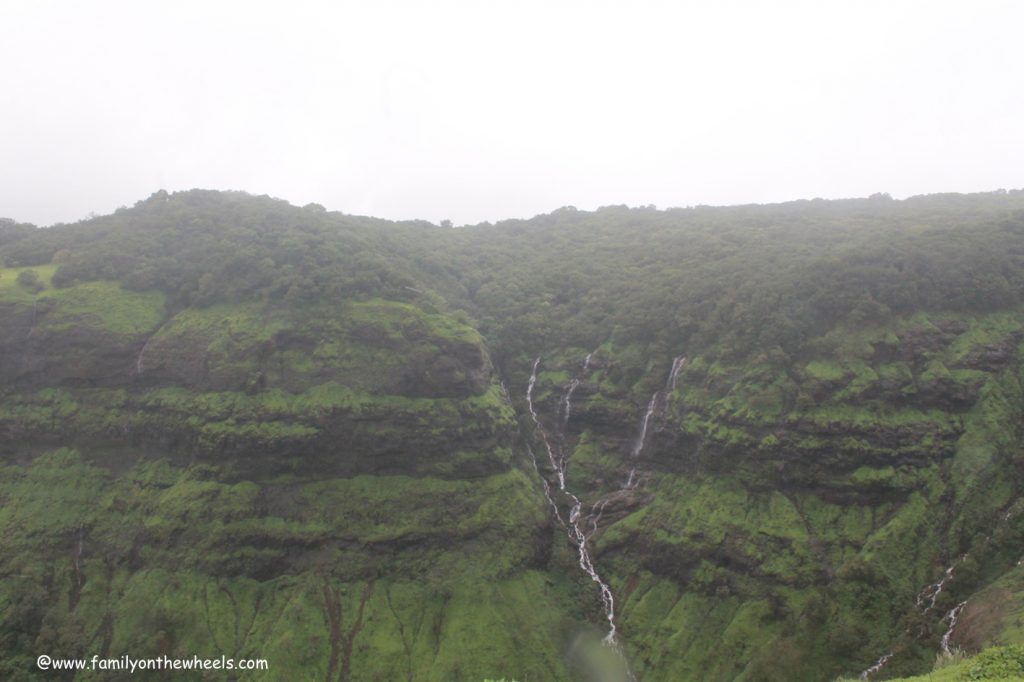 The trek from Lords point to Echo Point was close to 2.8kms, and FOTW too close to 35-40min to reach there. The trek is muddy, stony, full of small water springs (in monsoon), but the views every direction caters to shall take all that tiredness away.  These minutes will remain in your memories forever, so why not sing with the nature, dance with the rain and reach a point where you'll be stunned to see the valley.
The carpets of green grass, the flowing waterfalls, hugeSahyadri ranges are bliss to eyes.
*Caution: Here #FOTW was attacked by a Monkey, though we were not carrying any food item in hands, but we had our camera protected via polybag. The monkey snatched the poly but the camera being in the neck was intact. So an advise don't carry anything suspicious to monkeys, there are ample here to greet you:)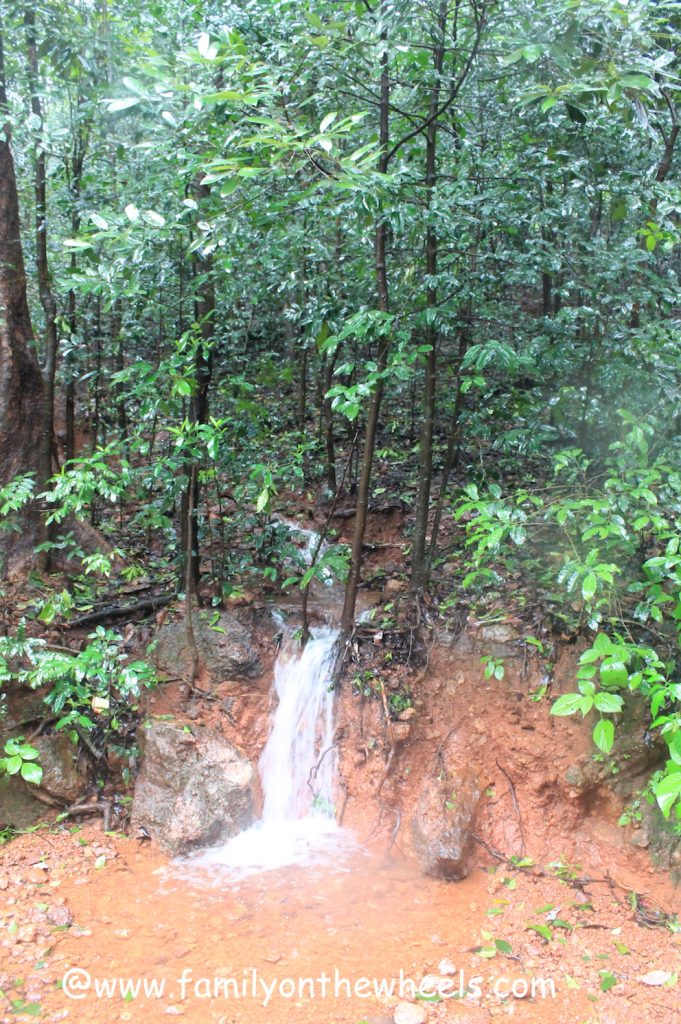 3. Honeymoon Point : 
This is not a must watch point, but since it is just a minute away from Echo Point, hence do cross the narrow path full of water springs to have a closer look at the waterfall you saw at Echo point. The beautiful small white flowers blooming on the close rock gave a lovely sight.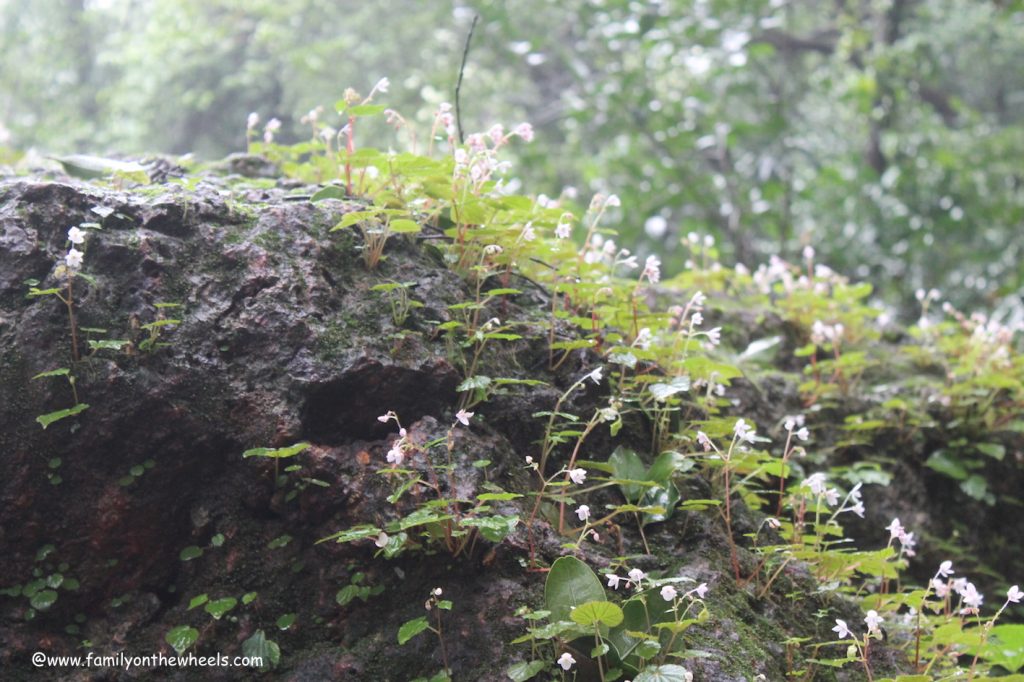 That was #FOTW's first stop to have some hot Maggie, delicious Kokam Sharbat (raw home made) on a small shop just aside the stairs of the point. With showers all around, this place of the world was magical with these delicacies at the right time.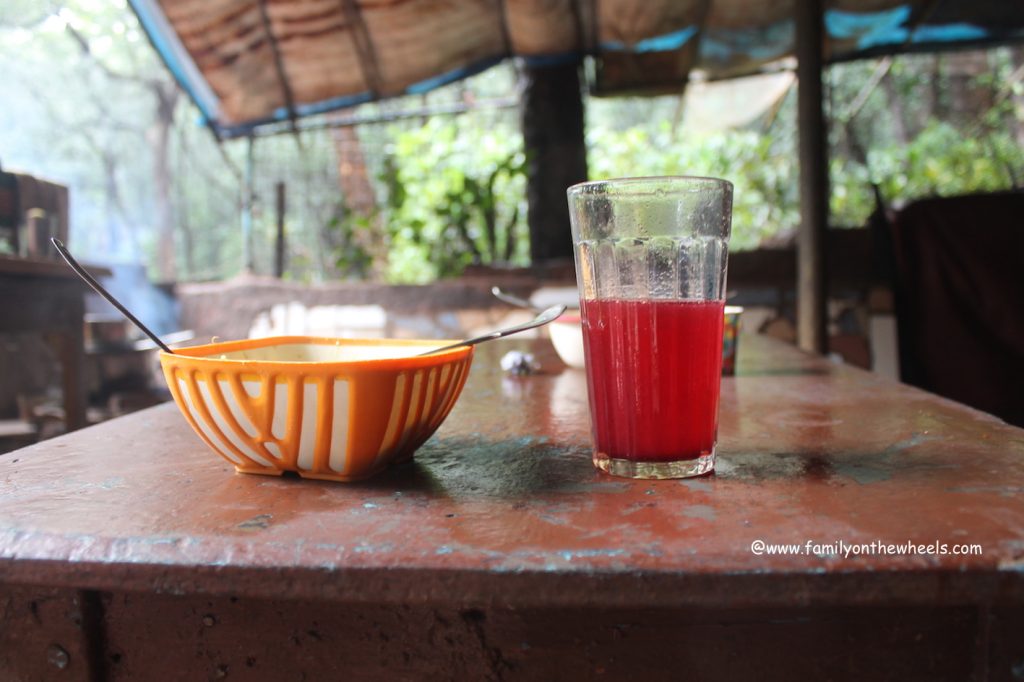 4. Louisa Point :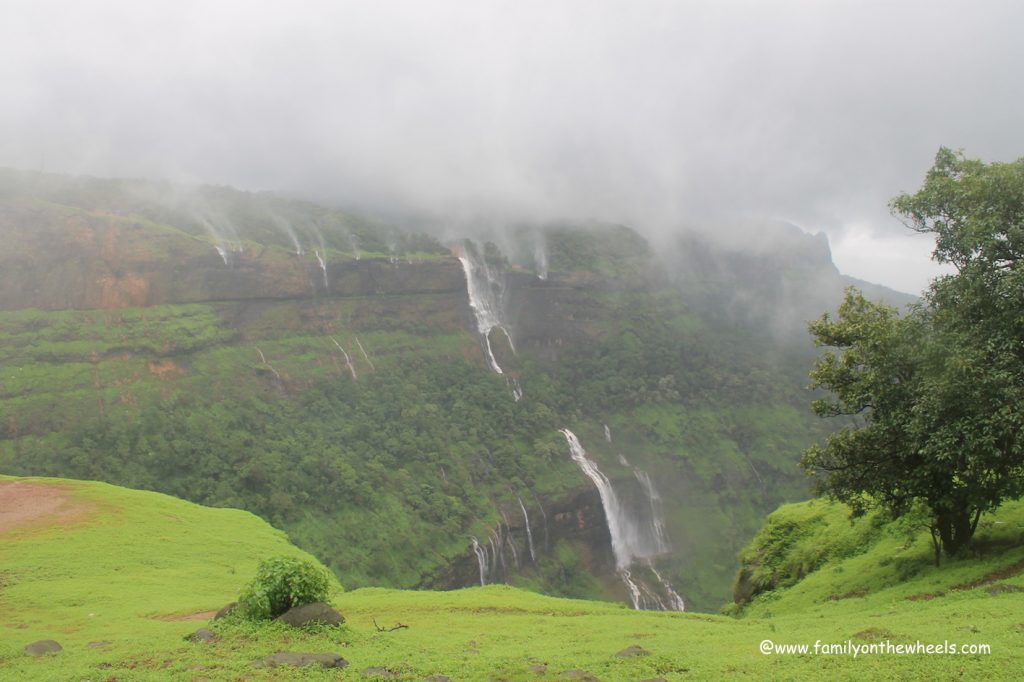 Very close to Echo/Honeymoon point, lies the masterstroke man! Get the spectacular views of the greens, waterfalls, mountains, valleys, town all at this one. The amazing rock formations with clean grassy carpets and the deep valley below shall make you wonderstruck. From their one could also see the remains of Prabalgahd and Vishalghad fort, which adds to the beauty. During rains, the fog and dense clouds engulf the surroundings and the terrain goes lot windy. Due to this we even saw the water from waterfalls flowing in the opposite direction of gravity. It was such a thrill to watch. We sat there for close to 30-40minutes unwinding and basking in the nature's glory. Catch out our Matheran videos here.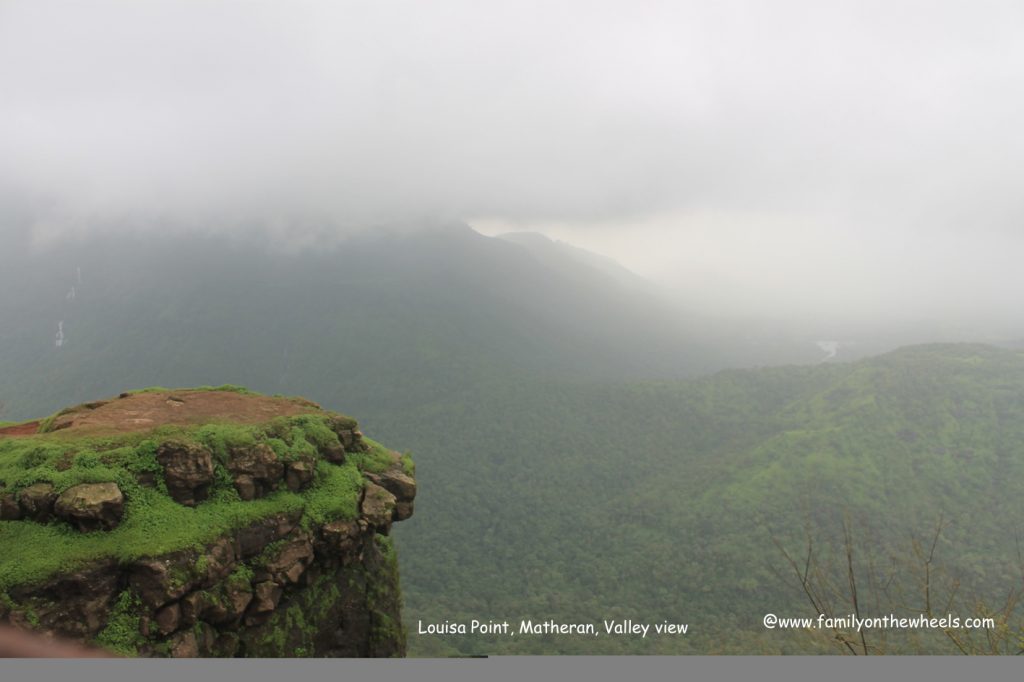 5. Porcupine Point :
Covering the next round of treacherous terrain, this point provides a great sunset capture. Since it was a monsoon exploration for us, definitely we did not get to view the sunrise or sunset. Still touching this point for the panoramic view at Matheran made a good sense.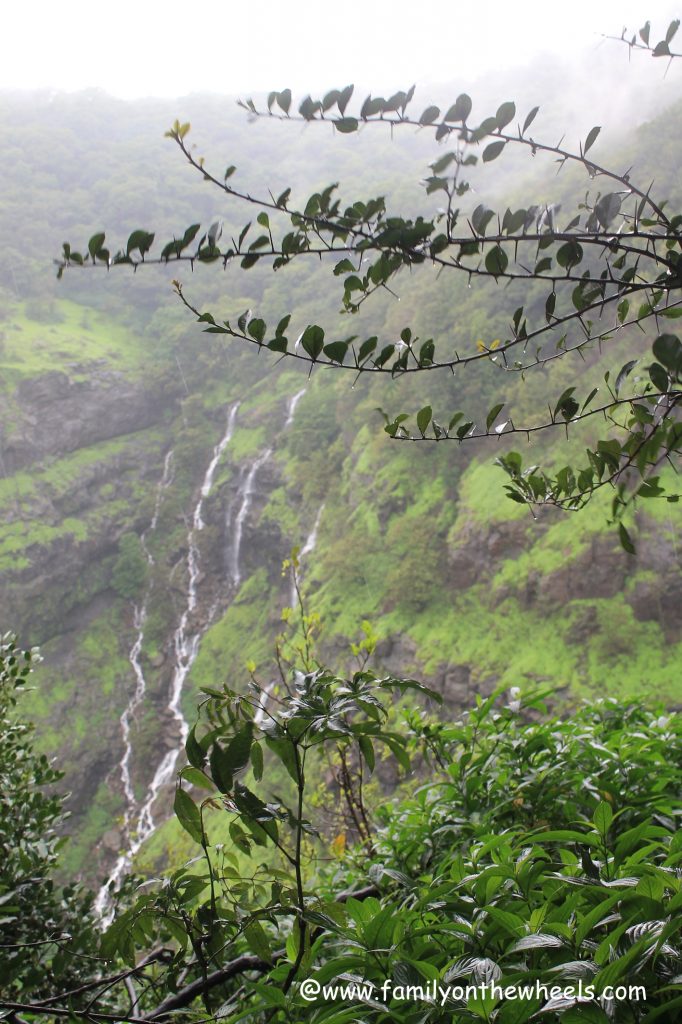 6. Alexander Point :
Exactly opposite to Porcupine point, but closer to many resorts, with a beautiful walk lies this point. The freshness in the air , the charm in the views here seems to be unadulterated. Would rate it 2nd best post Louisa point. Just sit, relax, unwind and appraise your soul's happiness there. I'm sure the sunrise here would be mesmerizing incase you visit it after monsoon.
7. Chowk Point  :
One can just visit it or ignore and reach to the next one.
8. One Tree Hill :
Quite quaint desitnation, a small trek on the uphill takes you to the spot, as the name goes – One Tree. It has a single Jambhul tree. The entire valley view from this place is stunning and must see for photographers and travellers.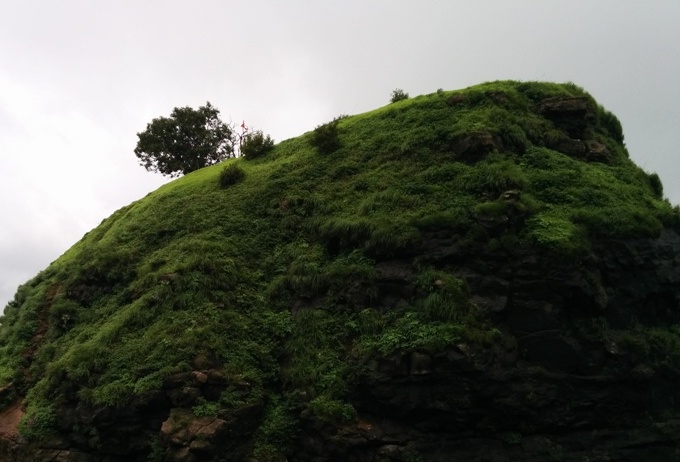 Last two points remained untouched by #FOTW, but let me share what special you can find there:).
9. Monkey Point :
Well, #FOTW did not cover this point, since we felt we had experienced many Monkey's at other points itself. Further one needs to be too cautious with kids as well. But Monkey and langur lovers, do catch this place.
10. Panorama Point :
Said as a perfect point to view the majestic sunrise, we skipped due to obvious reasons of fog and rains. Do visit if you plan trip not in monsoon!
#FOTW fact file of Matheran :
It is a hill station, rather a jungle, which lies some 80-90kms from Mumbai, a perfect getaway for the weekends.
Believe us, the roads are muddy (Red sand) and stony, just like that of a jungle in its natural form.
It is a perfect eco-friendly zones, since it allows no vehicles inside.
One needs to park the car some 2.5kms before the main town. There INR50 will be charged at Entry gate.
There are buses and sharing cars plying from Mumbai/Pune to reach Matheran.
One can reach the town post car parking via crossing the jungle by foot or by horses or by Toy Train from Neral.
There runs a toy train from Neral to Matheran (close to 2 hours) which if operational during visit, is fun for kids. (Closed during monsoon's and during extreme weather conditions)
Horses are available till 6pm only in the evening.
Food is quite cheap and very basic, do not expect huge big ambience restaurants.
The trek or roads to Matheran can be quite dangerous during monsoons, so drive slowly, carefully and during daytime.
Take luggage only necessary inside the hotel from car parking. More luggage, you'll have to get a porter as well while reaching to Matheran and while coming back to car parking.
Porter Charge approx. INR 300 one side. Standardized rate boards are available at the entry point.
Best rate for one horse is INR 300 one side. Do negotiate if you are being asked more.
Since the major living is due to tourism, the horse riders ask for huge penny to take you around to the sights (points). Bargain heavily. Select your points (can refer to what #FOTW has mentioned)
The distances are less and the views are awesome, if you love trekking, exploring Matheran by foot is the best option.
Don't take any food item in hands or in polybags held in hands. If you do, be assured that monkey's will snatch the same from your hand.
Raincoats and Umbrella's are must during monsoon.
Suggested Itinerary :
Well, don't expect to cover this complete belt (point 1-8) in a day, since the day will end as early as 5-6pm. By then reach the Hotel or Market. Cover first 5 scenic places on Day 1 and rest 3 on another day. As such they stretch on different belts.
Further the horse riders shall not cover the complete stretch from point 1 to 10. So if on horses, you need to segregate in may be 2-3 different trips!
For Kids?
Yes, kids can be easily taken there to explore the exquisiteness it offers. But the younger ones, will be tired so you may need to carry them. They can have a horse ride but the paths are treacherous so sit along with them. Engulf them in rain coats if visiting during monsoon.
It's a paradise, soak yourself in its beauty and let your soul dance to the tunes of nature.
Here is a map for you to help!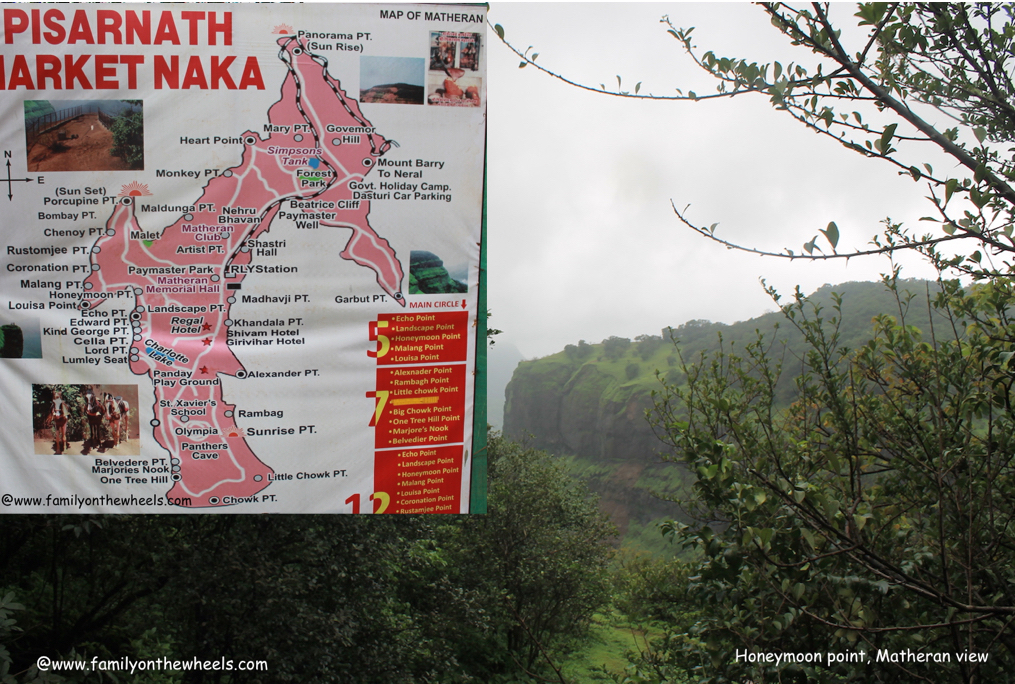 Happy Exploring! Any queries from fellow travellers? #FOTW would love to help you out.