Matheran – A pristine beauty!
Recently #familyonthewheels (#FOTW) planned a quick monsoon getaway for 5 days to really natural places in Maharashtra. One of the most scintillating places we encountered was Matheran, amongst all. Its untouched beauty, no civilization and the jungle in its pristine form was breathtaking. Sometimes, we need to have these moments with the nature to unwind our soul.
But reaching Matheran for us was no more than an adventure itself. As such, we feel that God plans some extra adventure for we – "The Family wanderlust".
Reaching Matheran
Let me brief you that – Matheran is basically a jungle with some human population and some good resorts. Since it is a pure eco friendly destination, no vehicles are allowed in this small place. The cars or any vehicles needs to be parked some 2.5kms from the start of main town. The only options available post car parking are – Horses, carts or have faith on your legs and walk through the rugged forest terrain. Further, as the night falls, post 6pm, no horses are available to take you inside from the parking lot to the main town entry(2.5kms inside). Even the cab drivers prohibit driving to Matheran post 7pm in the night.
As our luck would have it, we got delayed in reaching Matheran, credit long traffic hauls at Lonavala in the rainy evening. It was not just a delay of few minutes, but we were stuck for almost 2:30 hours in the jam. While the duration for Lonavala to Matheran car parking(Dasturi) is approx. 1.30hours, we reached Matheran car parking at 9:30pm in the night (starting at 5:30pm from Lonavala).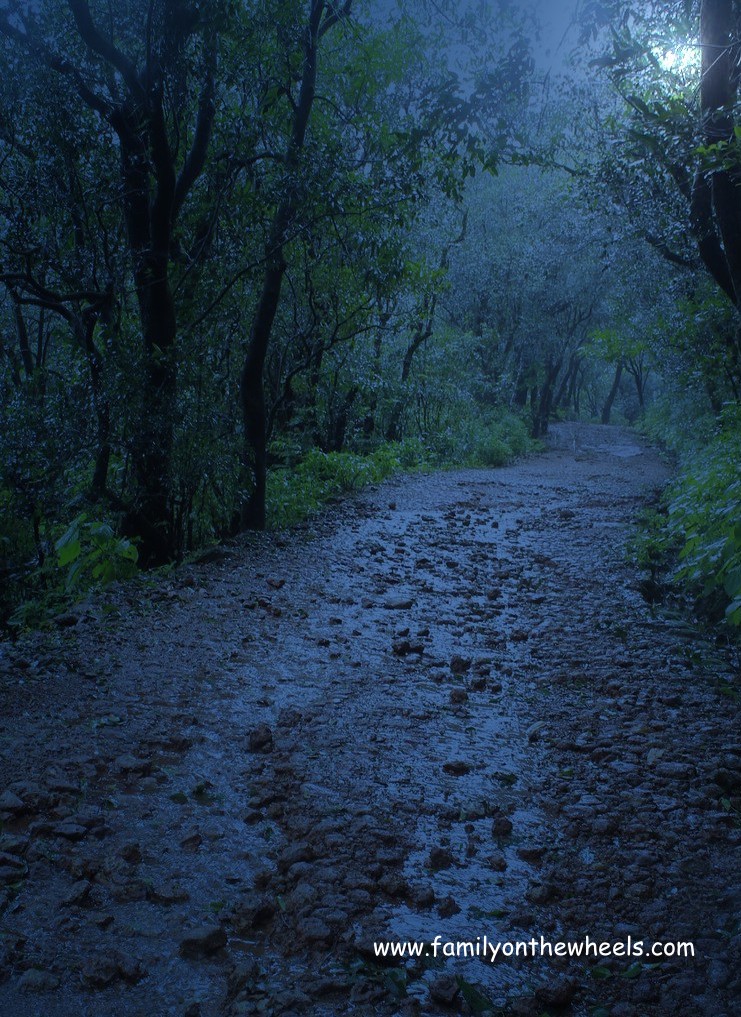 Our series of Adventures at Matheran:
The first adventure we encountered was our driver knew nothing of the way and hence he drove all through the highly dangerous terrain of close to 3kms just before the start of Matheran. God forbid, this treacherous route was full of night silence, only sounds emanating was of waterfalls. It was indeed a bliss, but the highs of the road (the ghats) had gone slippery. With only our car going that way on deadly terrain full of rain water and small pebbles, what all we could do was stare ahead and have faith on the driver that night. Thanks to Mr. Moti Yadav (our driver) who took us to those risky heights safely.
The second Adventure : No horses or carts at 10pm
We reached, with lots of effort, only to find that there were no horses available at that time. We tried calling our Resort, some 5-6 nos., but rain had planned to trip them all, with the loss of only connectivity we got. What we could see at the car parking (Dasturi Car parking), was a ticket counter and few cabs which had made their way well in the evening before night fell. Some 2-3 people walking there were stunned to see us at that time in the night with a small kid. All this for sure made us uncomfortable. Little did we knew that our Heritage Resort (Byke's Heritage) was not just at the start of Matheran but rather at the end. This meant some 4.5kms from the car parking, gosh! It was a long trail.
The Third Adventure : It was a Jungle, not a town!
Not aware of how the route was, thinking it was a small town, we took the entry ticket and decided to walk through. But as soon as we entered, we were astonished. There were no roads man.. It was a jungle; mud, stones, huge trees, harsh winds and rain was all what was waiting to welcome us at 10pm in the gory night. Once we thought to revoke our plan and return back to the car, but something insisted in us to move on considering it as another knot in our adventurous life.
Truly speaking, low lit path of the jungle with rains and winds was too precarious and risky. Beautiful sounds of Waterfalls, songs of cicadas and some other insects was all we could hear except our footsteps on the stony & muddy path. Suddenly our kid said, I'm scared mama and daddy. Daddy hugged him, put him on the shoulders and there the family moved singing in the darkness of the forest. It needed guts, real guts!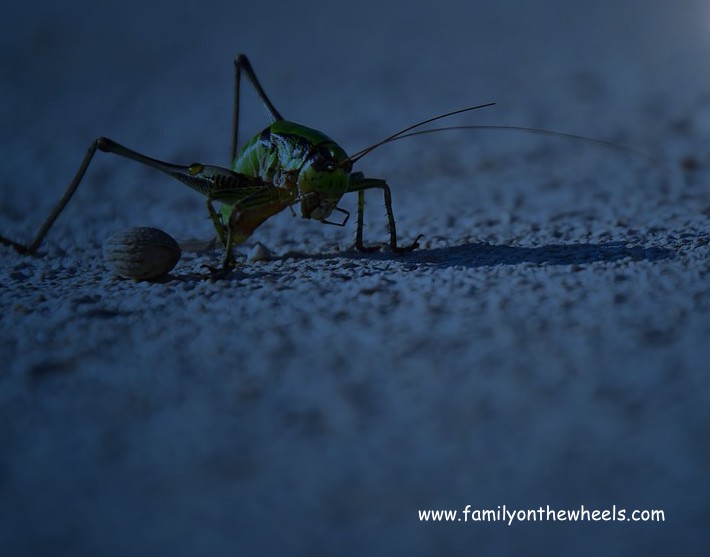 The Fourth Adventure : Low lit passages
At stretch of some 500-600 mts , we could see someone coming across with the torches, yes 2 young chaps were coming across. My happiness knew no bounds, I tried conversing of the route & resort with them. We were assured that the forest was safe, thanks there were no dangerous wild animals. But the path was muddier and even the lights were not proper. Finally we too surrendered to the mobile torches and tried making out the path. The only relief we felt for some 2.5kms was no rains, but we were sure that they could hit us anytime to complete the adventure.
The Fifth Adventure : Strong rains hit us at 11pm
And as we thought of it, we could see thundering in the skies. Preparing ourselves full of rain shields and umbrella's we walked for some 500 mts when we saw some dazzling lights. Ye, it the start of Matheran market & town. But the rain was getting heavier. We had to stop as we saw one Dhaba still opened at 11:30pm in the night. Smiles spread across our faces and we knew, we had hit the start of Matheran town (Market). Folding our umbrella's, we stopped to have some soup and Chilly paneer to pamper ourselves. By then the rain did not stop but had lessened, and we decided to move another approx. 1.5kms, now happily.
The final adventure : Loss of all lights in the midnight Fog at Matheran
Asking some 1-2 people of our heritage resort, we got to know that it was beyond the market & again in the midst of jungle. Our adventure was not completed for the night, when the rains stopped and the fog entailed the complete passage full of dense trees. To our astonishment, the lights went off completely and it was damn foggy dark again amidst the jungle. Unaware where and how to move ahead, we had to stop there standing for some 10-12 minutes until the lights came back. (To say, there was just one road light for some 300-400 mts that foggy rainy day. It wasn't enough to see the whole path). Somehow, we finally traced our hotel right at the last of the road as the clock hit 12:30 AM. It took us 2.30 hours to cover that dark stretch which was full of surprises, happenings of the foggy midnight.
The person at the reception couldn't believe all this and said, "if we would have connected & conversed, I would have refused you to come Matheran so late". We smiled, as #FOTW has a pie of hidden adventures in their lives.
Taking our keys, we all put our feet in hot bath tubs and had a relaxed sleep that night! After all, we outnumbered our own expectations with our to-be-turning 3 year old child.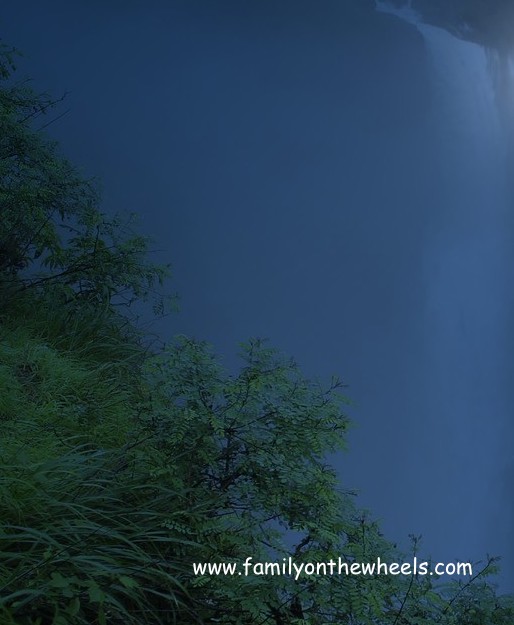 ** #FOTW Advisory:
Matheran is a small hill station, 90kms from Mumbai and gets heavy rainfall during the monsoon season ranging from May – August.
Do not travel Matheran that late, try to reach there before 6pm. Incase you get late, better stay somewhere in the down town of Karjat or Neral.
If you wish to be adventurous, you may follow our trails, but then #FOTW seriously prohibit taking this course with a child.
Register your Mail ID to get more posts & updates of our amazing trip to Matheran, Mahabaleshwar, Lonavala, Pachgani and Alibag this Monsoon!
Happy Exploring! Any queries from fellow travellers? #FOTW would love to help you out.