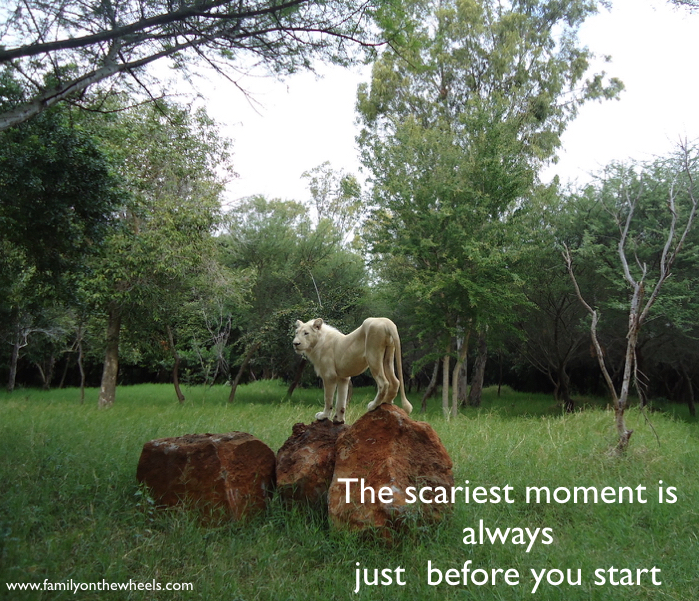 Fear, Fear, Fear! A natural instinct for us and most of us rather, while thinking of the "King of Jungle". Looking at all the wild [email protected] Geo /Discovery, the one & only feeling was "FEAR", if I ever had an interaction with the wild cats LIVE. Yes this feeling came very true with goosebumps when we encountered Walk with the lions, way far than being termed as "Adventurous".
At Casela Nature Park, Mauritius!
While experiencing the gorgeousness of the land of beaches & water sports, we landed on the most enthralling "Fear Factor" for a life. We made our successful entry in "Casela Nature park"- A natural habitat for various species of birds and animals brought from across the African nations.  There itself we ensured not to miss this life time experience, of not a normal Jungle Safari, but an "ENCOUNTER"!
We had to be strong from within, although panic reflected our faces & soon gripped over us when we were asked to fill up the "Undertaking form". It so easily stated that "You owe the responsibility of your life". Literally shock waves traversed throughout the body when we had to take on the accountability. We signed on the undertaking form, for any untoward episodes which might have occurred in our lives in the next 20 min & lasting for 45 minutes. There we had surrendered ourselves in the deep jungle, to walk with the lions.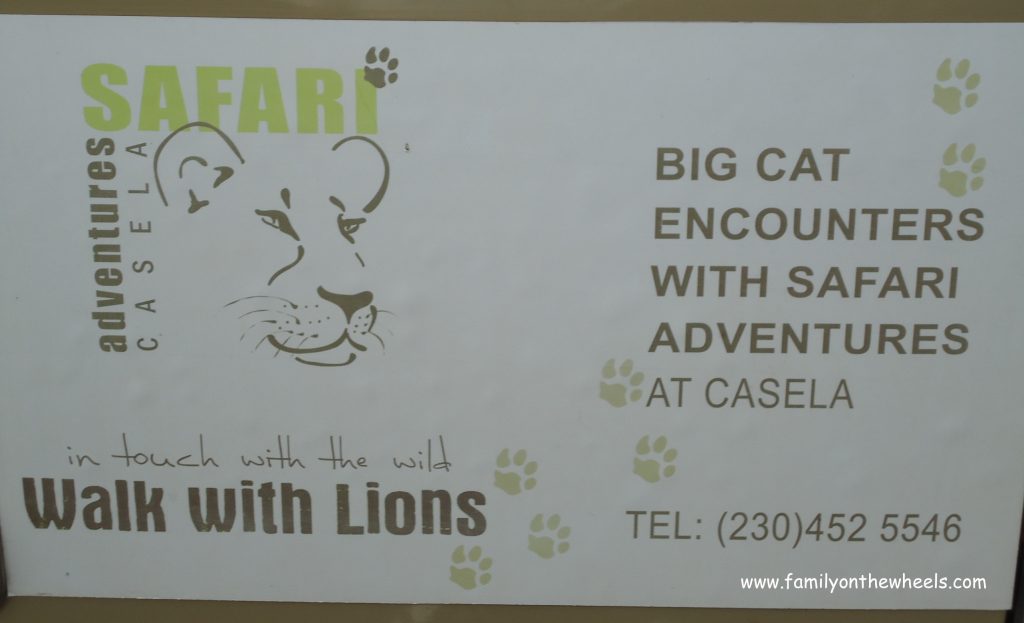 Must know directives from Guides!
But the very next moment was too hilarious. Our tour guide asked us to select one of the lean sticks available from the bundle. The justification came that incase of the wild cat attack, it can be used as an object of self -defence.Well hard to digest, as that one lean stick would not even hurt a child;), but we hastily took our "Only"attack weapon!
6-7 people with 2 guides, all standing in one line, lending an ear with full concentration to the directives being passed upon.
Not to look directly into Lion's eyes
Not to tease or shout or make sudden noises
Scenarios when to use our weapons(sticks)
Actions to be taken in case anyone left behind in the jungle
God all these verdicts seemed to be passing above my head, as the announcement of 2 new members coming out of the protected area to join us for a walk was made.
Encounter time had come..
1-2-3 & here I saw two huge Lions coming out & marching straight towards us. What a moment that was, hearts beating in sync (more than 200 beats) ,body shivering & turning pale, each one trying to hide behind another. But at the same moment, this fabulous scene made us fall in love with the majestic beasts. One white, named as Ginger & another brown ,named as  Mauli (One was 5 yrs & another was 7 years old) were actually adorable.
Feed time…
Soon our VVIP guests were a part of our troop, walking ahead of us. Sometimes rushing into the field, sometimes climbing the rocks. Suddenly I heard that our guide called out my name to be the first one to "feed the lion". NO NO NO, GOD SAVE ME!! Yes that's how I trembled, but post assurance of the professional guides I amassed  the confidence. With trembling hands, pale panic- stricken look, I took the stick, to the edge of which a piece of LION-feed (meat) had been tied upon. I slowly pushed to the mouth of Ginger. The Cat turned its head & eyes towards me. With fear, I closed mine unable to meet his eyes. In the next second, he was nibbling the feed and I exclaimed that I was SAFE! Yo, my turn to feed the big cat was over & I was very much safe. Very much close to my dearest hubby thanking GOD multiple times! Such a thrill it was.
Walk with the Lions in the Jungle..We are not afraid!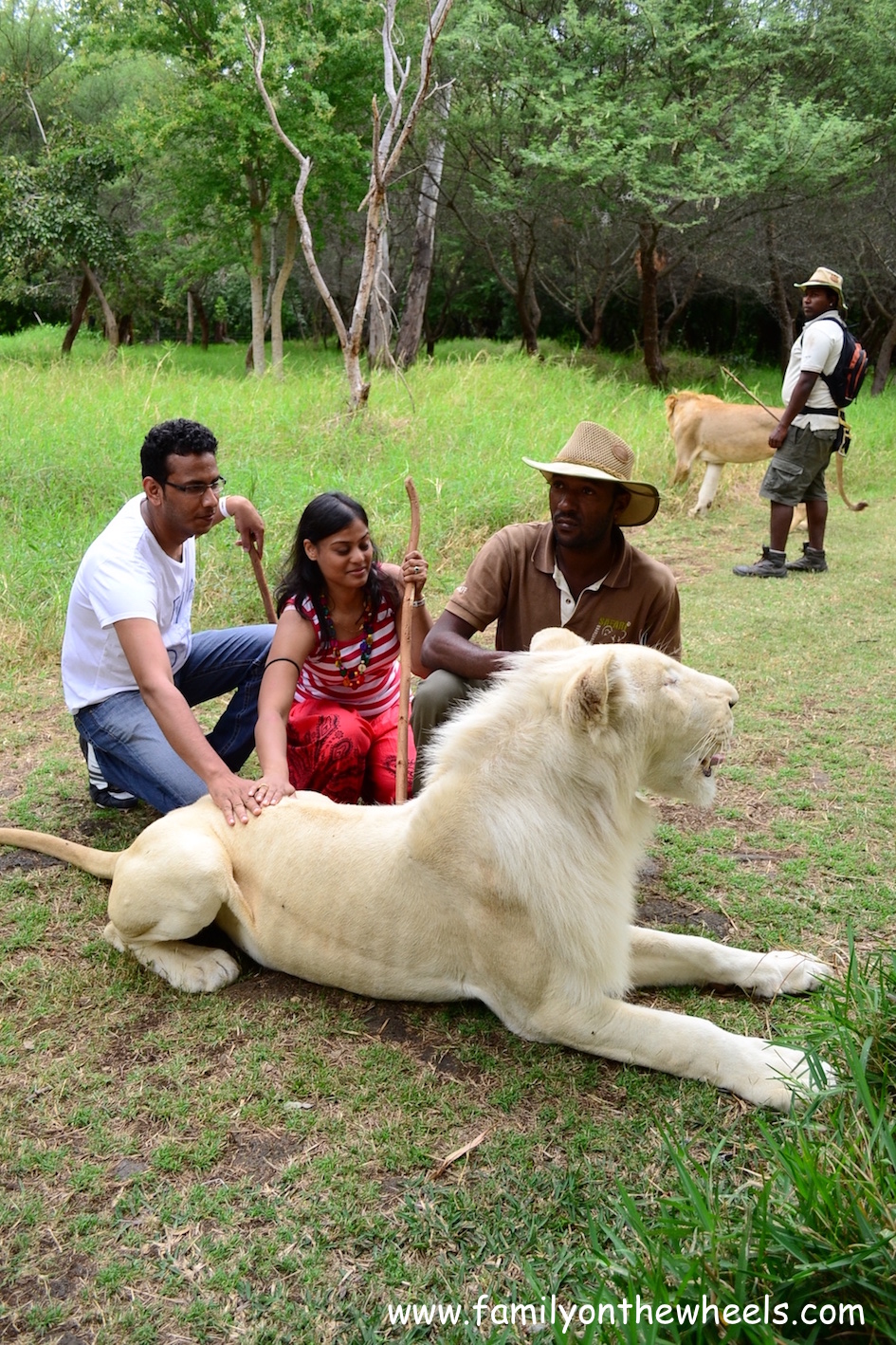 Next 45 minutes passed, progressing in deep jungle. The lions were climbing the rocks, playing in the field, trying to get hold of the bait. We were walking besides them, touching their manes, gracious tails. To our utter surprise, we found that only Ginger was ahead of us & we were at the last of the troop. As soon as I turned back, to my shock, I could see Mauli walking just behind us. Gosh, I just found myself stumbling on the grasses & climbed the nearest rock quietly. I send the gestures of immediate help, which soon came by another guide coming behind Mauli. Oh, what a relief that was. I could breather after few minutes now. Really, I have no words to describe those 5 minutes unnerving & fainting me all through cursing my decision for the act of bravery.
Beautiful End!
Those 45 minutes came closer & closer as we ended our walk with the lions. We waved them & pledged to "SAVE these beautiful Cats" with the sip of energy drink & Dew (provided complimentary post this gallant act). We got the certificates for successful completion of walk with the lions [Proud to say].
No reservations against calling this as the "BEST WONDER OF WORLD", an adventure never to miss. Fear factor & enthralling moment, Panic & ecstatic feelings, all gushing at the same time!
Well, post this gallant act, every risk of life seemed to be too small to take over with an optimism to succeed all through.
#FOTW Points to Note:
When in Mauritius, don't miss this out. Most of the tours are excluded for this, but keep half day for this once in lifetime experience.
Location : Casela Nature Park, Closed on Sundays.
Minimum age – 15 years for Big Cats activities, so it is not suitable with smaller kids.
Walking with Big cats happens at specific slots as 9.15am, 10.00am, 10:30am, 2.00pm and 3.30pm (Do check before on phone)
Once you arrive the park, you will be guided in a special safari bus which will take you to the lions reserve.
You can book tickets online here, worth Rs 3,380/-
Ensure that the ones going for this walk understand English or French, as these are the only languages which guides speak.
Other activities as only Interaction with Lions, Cheetah (includes touching and feeding), or walk through are also available at much cheaper rates.
The Photographer goes with the troop & entire recording & photos of walk with the lions is done. You can purchase the whatever you wish (photos or recording or both) after the trip ends from the park.
Entry ticket to Casela Park is about Rs700, which includes Safari bus rides and viewing of amazing animals in the park. Kids can enjoy the park and animals & birds there. There are many other adventure activities as Zip lining, Canyon swing. Kids can have other interactions as Feeding farm animals, Giraffe feeding, Camel riding.
Have fun, #FOTW will be happy to plan your trip. Post queries or comments below!
Ready for Walking with Lions? Which has been your most memorable adventure of life?