Planning for a Paris Vacation?
Well, Paris is not just the City of Love, it is also the City of Lights! Paris is a city of art, culture, fashion, food and off-course Lights! During our travels, we have always had an urge to explore the city as the night falls and by far, Paris, as a city has been stunning. A Paris vacation gives you a romantic flair, but the beautifully illuminated city of Paris becomes magical at night. If you are traveling to Paris or planning a Paris Vacation, Team FOTW would highly recommend you to experience Paris at night. The best way for a Paris Vacation, while saving some penny and with comfort, is by opting for the Paris Pass.
Related: Check out our complete 11 days Itinerary of France here
Though there are multiple ways to tap out the best of Paris at Night, we explored it via all three modes, by walk, by River Cruise and by the Open Top Bus Tour. You can also opt for self-drive if you're with family and young kids. Whatever option you choose, you'll love the shimmering Paris by night!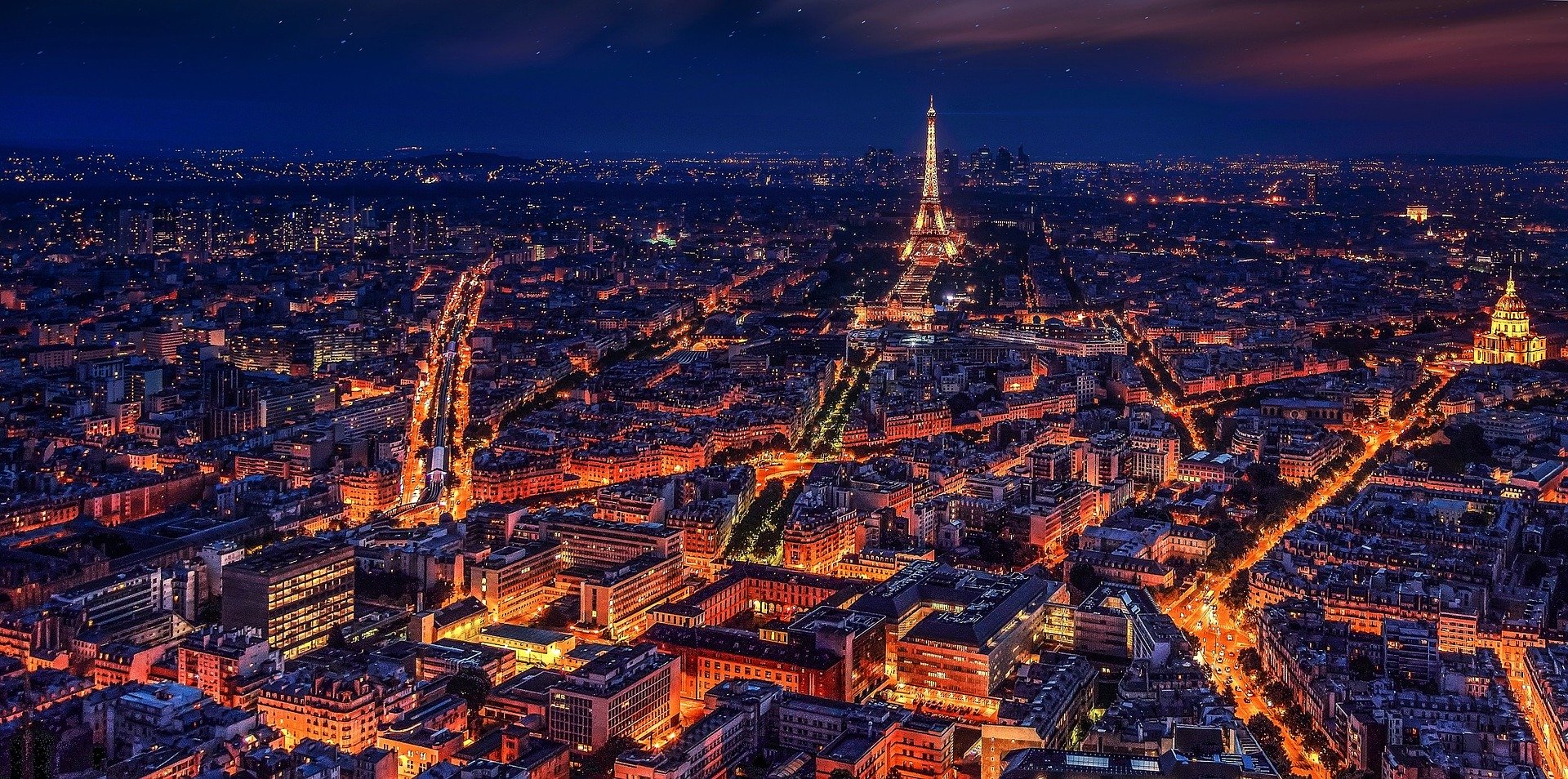 1. Seine River Cruise during Paris Travel:
There are lots of boat tours on the Seine River throughout the day, but we opted for the one after it became dark. Two main cruise lines are Bateaux Mouches and Les Vedettes du Pont Neuf and you can opt for anyone. Most of these boats have Open deck options too. If you're touring Paris in Summers, go for the Open deck, as you'll be stunned with the night views of Paris.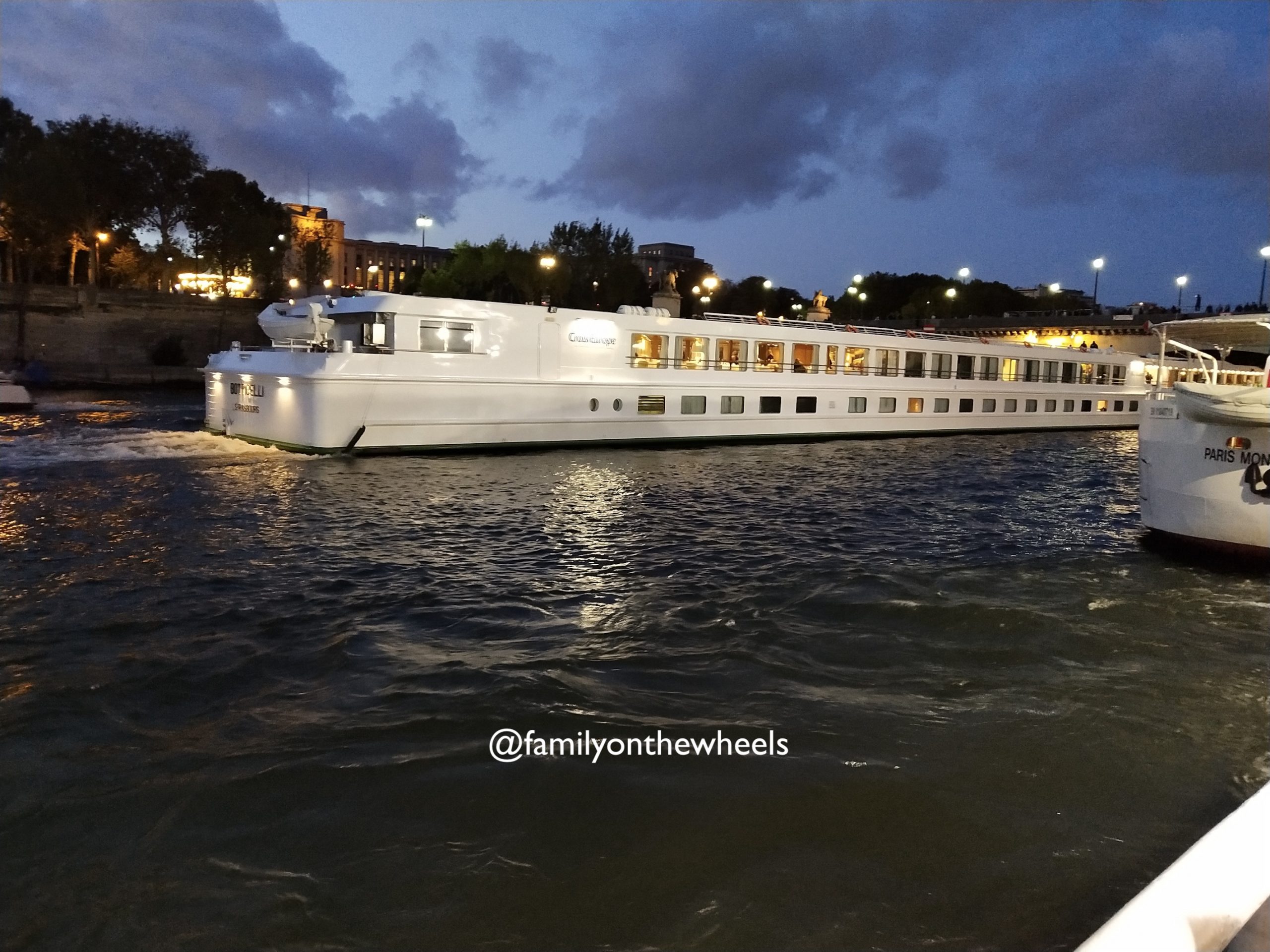 The River Cruise starts right from the foot of Eiffel Tower and you'll glide along with various historic monuments along the stretch. The cruise passes through beautifully lit Assemblée Nationale, Invalides, Musée d'Orsay, Institut de France, and many more monuments. You'll be hearing a commentary on board, to help you with the brief of the sights. As you cruise ahead, the glimpse of shimmering Eiffel Tower keeps you hooked at every moment. 
Get yourself the right seat, with some drinks (onboard) and soak yourself into the magical cruise at night.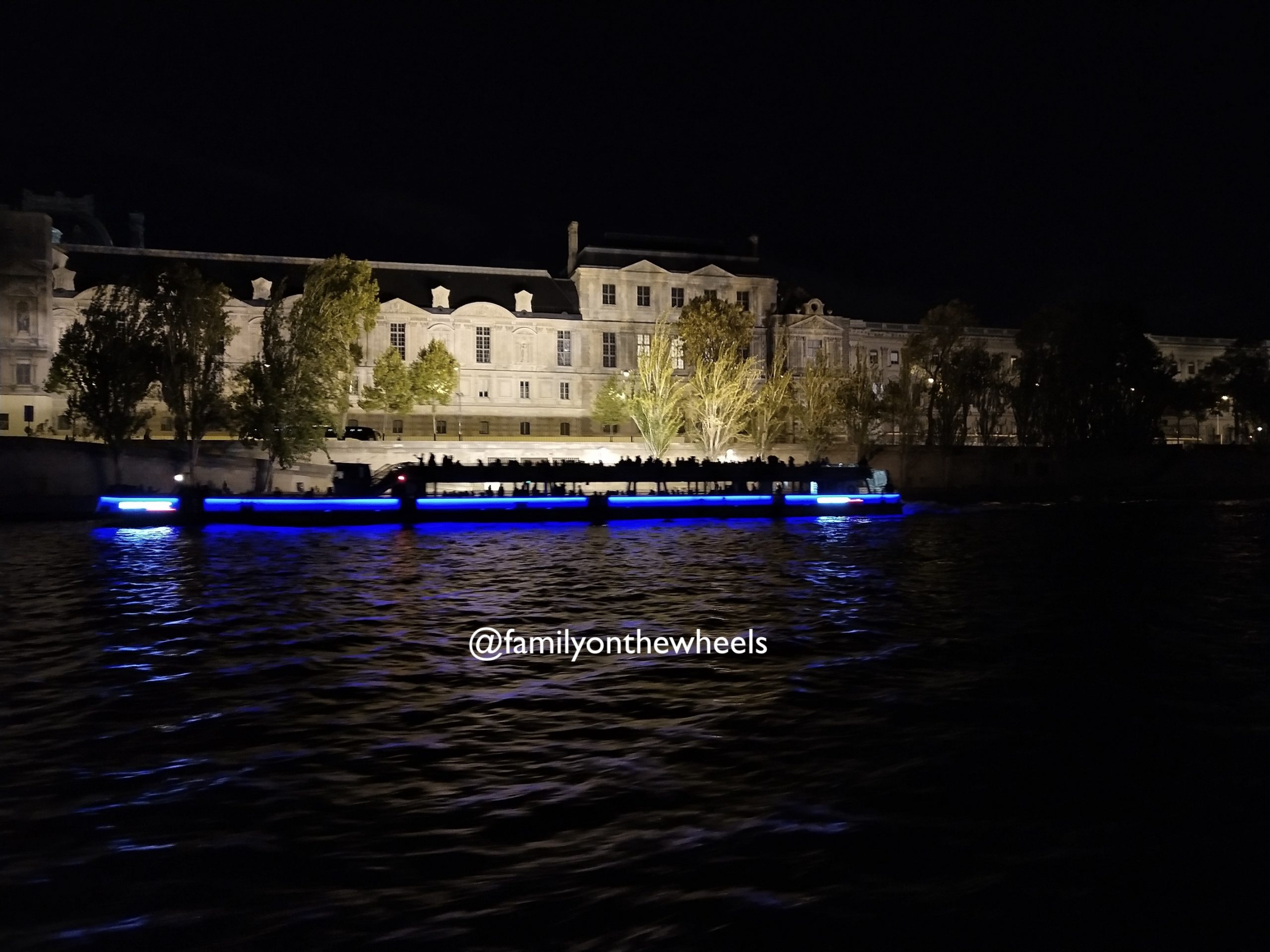 2. Open-Bus Tour during Paris Vacation:
Discovering Paris by night is all the more thrilling in an open bus. Usually, this activity varies from an hour to 90 minutes and covers more attractions compared to the Seine River Cruise. You witness the monuments like Place de l'Opéra, the Champs-Elysées, Eiffel Tower, Louvre Museum, and more. You'll certainly rejoice the luxurious night bus tour while enjoying an audio commentary (which you can choose in the language of your choice, from the available options).
3. Pont Alexandre III: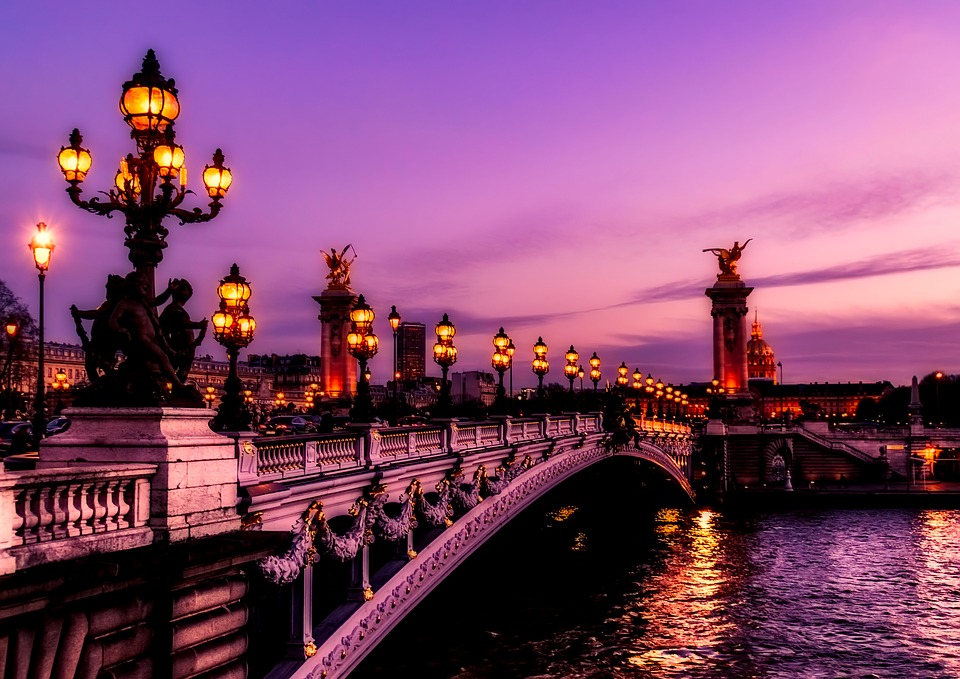 If you miss out on either of these, then go for a walk, as the night falls, around the Seine River and most importantly around Pont Alexandre III. The Golden sculptures on the columns of the monuments, with the series of lamps, makes this view breathtaking during the night. This place has ample bars, restaurants and you can simply relax gauging the magnificence of Paris.
4. Montparnasse Tower:
Well, could you spot the skyscraper from any part of Paris (not Eiffel Tower), then that is Montparnasse Tower. This 210m tall building has 59 floors and is one of the best, yet an uncrowded place to fall in love with Paris. Get one of the swiftest lift to reach the 56th floor (Imagine 56 floors in just 38sec, whoa!). Climb the stairs towards the roof, and soak yourself into the grandeurs of the 360-degree panoramic view of Paris. Believe me, it's breathtaking, especially during the night. Montparnasse Tower has ample fine dining options, get that feel.
5. Eiffel Tower: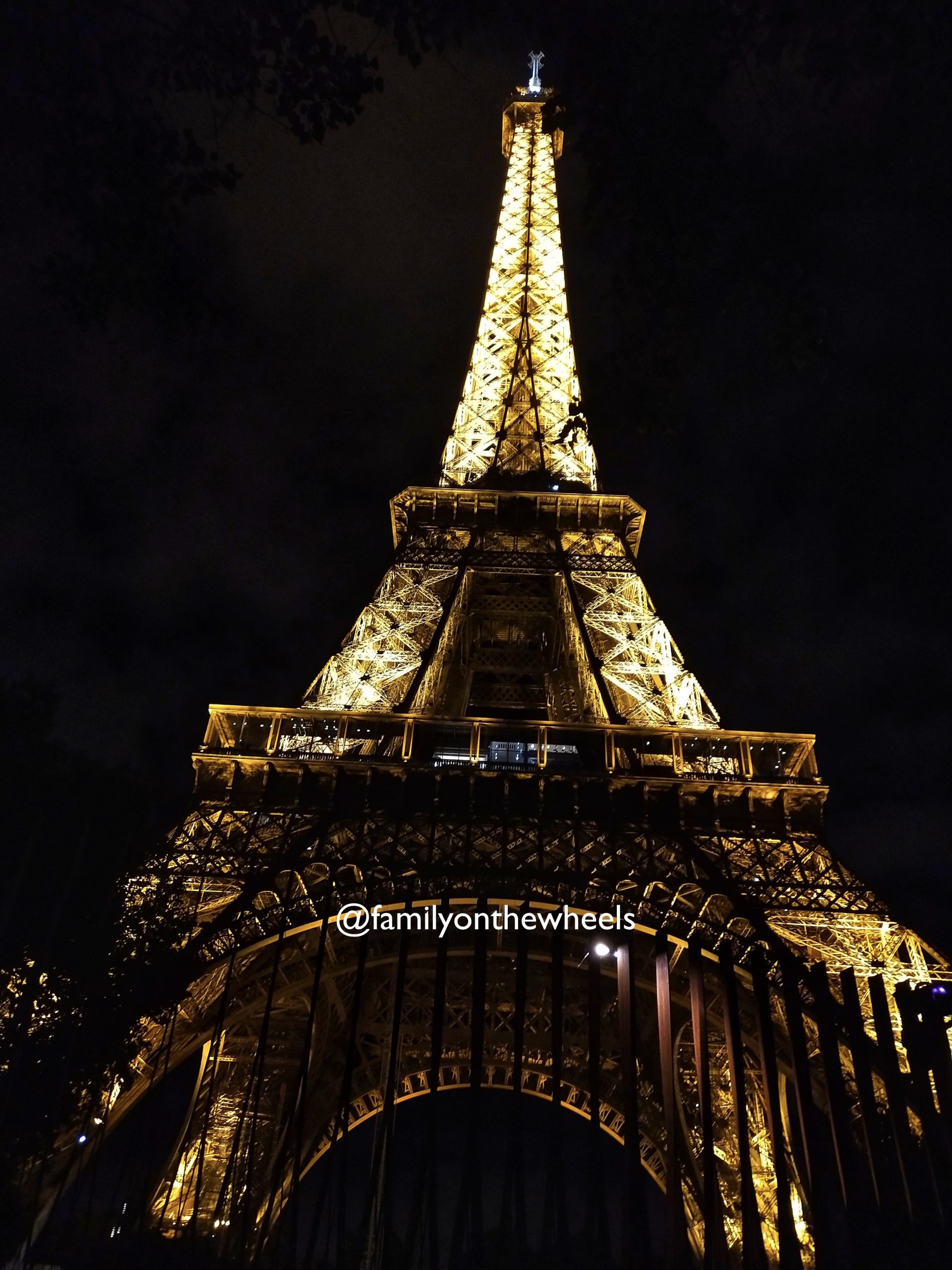 Stop thinking of queuing the Eiffel Tower at the noon, rather explore its majesty during the night. Not only you feel less crowded, but the night city view from the top of Eiffel Tower is truly mesmerizing.
Did you know that the sparkling lights on the Eiffel Tower are made up of 20,000 light bulbs? It feels as if the complete skyline of Paris is lit up by Eiffel tower. 
Eiffel Tower remains open beyond midnight, as we marched out at 12:10 am, right from the 3rd floor, that too, with very few tourists. Isn't that remarkable? Get your spot then.
6. The Louvre Museum: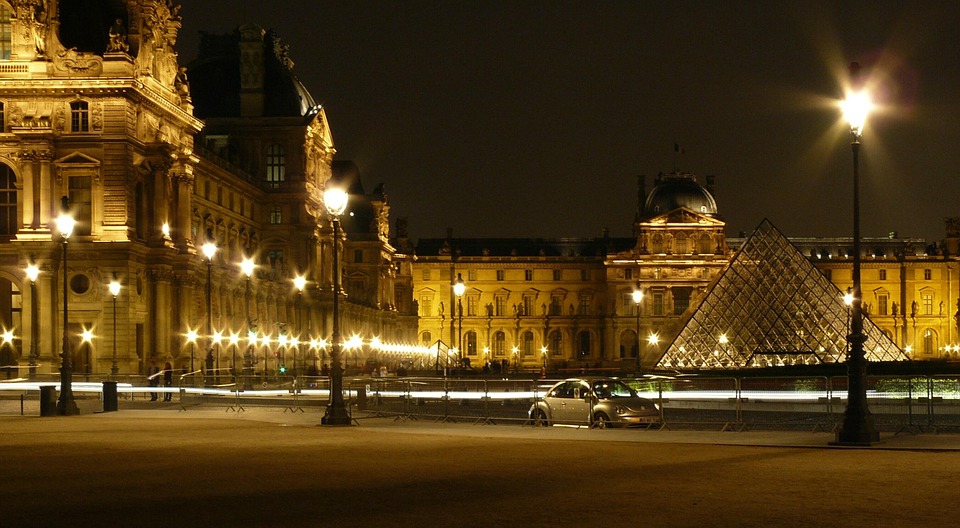 The magnificence of The Louvre cannot be explained when it is all lit up, with its historic halls on the sides. This world-famous museum simply becomes irresistible at night. Get free entry on the First Saturdays of the month (at around 6 pm), as it is only then when it is open till 9:45 pm. During our visit, we couldn't see the famous painting of Monalisa (as it was a Free admission, and we were not aware of the same). 
But, you'll be amazed at the artwork displayed here! It's truly magnificent. Whether you opt for Saturday sighting or not, do not miss to spend an hour by night around Louvre Museum.
7. Arc De Triomphe: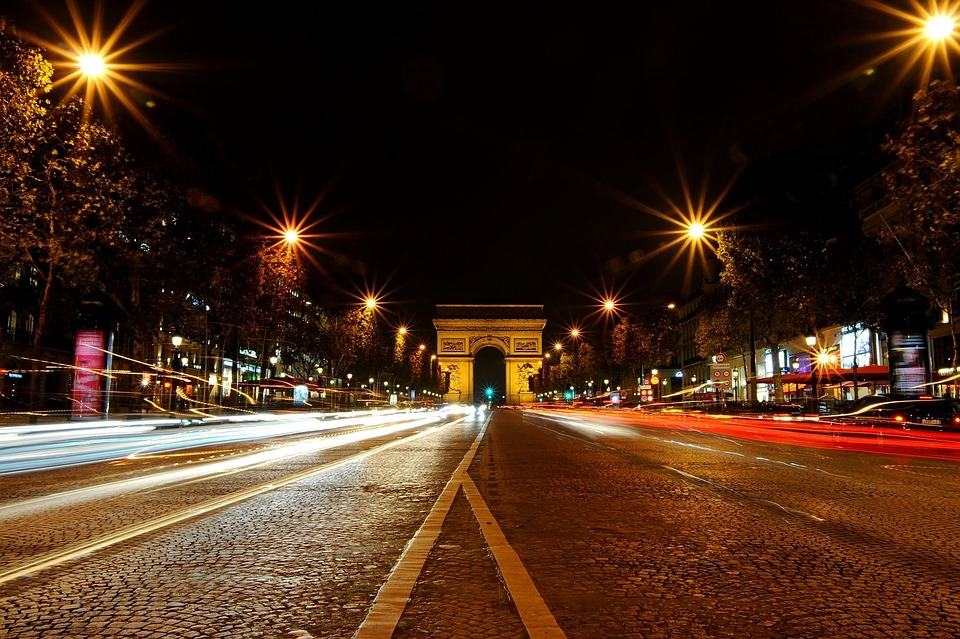 It is one of Paris's most beautiful attractions to be seen at Night. Both the Arc and the street lights up with a beautiful array of colors, making it a pleasant capture in Paris.
These are some of the spots which one should explore while Travelling in Paris at Night.
Do you explore the cities you visit at Night?
Guide to visit Monaco, if you're exploring French Riviera!
Keep wandering,
Team FOTW!