Magic of Living Root bridges
Meghalaya, the abode of clouds, is truly a heavenly abode. With least commercialization, it has something in abundance and that is the picturesque landscapes and natural adventures. Quite a contented looking North – Eastern Indian state, it has a mesmerizing aura of itself, which remains a lot unexplored.
I'm sure, you all must have watched our Instagram stories and posts and few of you might have been aware of our recent Meghalaya trip (of-course with our 4yo). One of the most significant tick-mark we achieved in our bucket list, was completing the trek to Living Double decker root bridge.
Living root bridges are quite distinctive creations and are mostly found in Meghalaya. few have also been spotted in Nagaland and Sumatra Island as well. But the oldest Living Root bridge has been credited to Meghalaya. 
Planning to explore North Goa? Read Here
Thinking what are Living root bridges?
In the ancient times, with least civilization, in the dense tropical forests, as the streams passed amongst the mountainous terrain, Khasi and Jainita tribes had to find a way from one end to another. This is a perfect example of Natural Bio-engineering, wherein, bridges are made out of the living roots of Ficus (Rubber Fig) trees. The flexible and elastic roots of Rubber Fig tree are guided across the stream and intertwined, so that the roots can grow in the similar fashion. These roots are allowed to grow for quite some time (10-20 years), so that they can bear the human weight. The roots grow, strengthen and thus it marks the formation of bridge, from a living thing. And hence, is this name derived, living Root Bridge.
While there are many Root bridges in and around Meghalaya, the most famous is the Double Decker Root bridge located in Cheerapunji (Sohra), followed by Mawlynnong Living Root Bridge (Rewai). We explored both, but, In this post, we will talk about Umshiang Double Decker Root Bridge.
Single and Double decker root bridge, Cheerapunji :
The view that Double Decker Living root bridges pose, is directly out of the postcard. Serenity and tranquility are the ones you meet, once you've reached. We had lots of feedbacks, not to trek it as it was treacherous and wouldn't be feasible with a 4yo kid. But, somehow, not a single advice seem to hit our ears. We wanted to give it a try atleast.
And so, the day started at 7am in the morning. We stayed overnight at Cheerapunji and started or drive towards the Nongriat village. The drive was around 35minutes, close to 13kms from our Home Stay.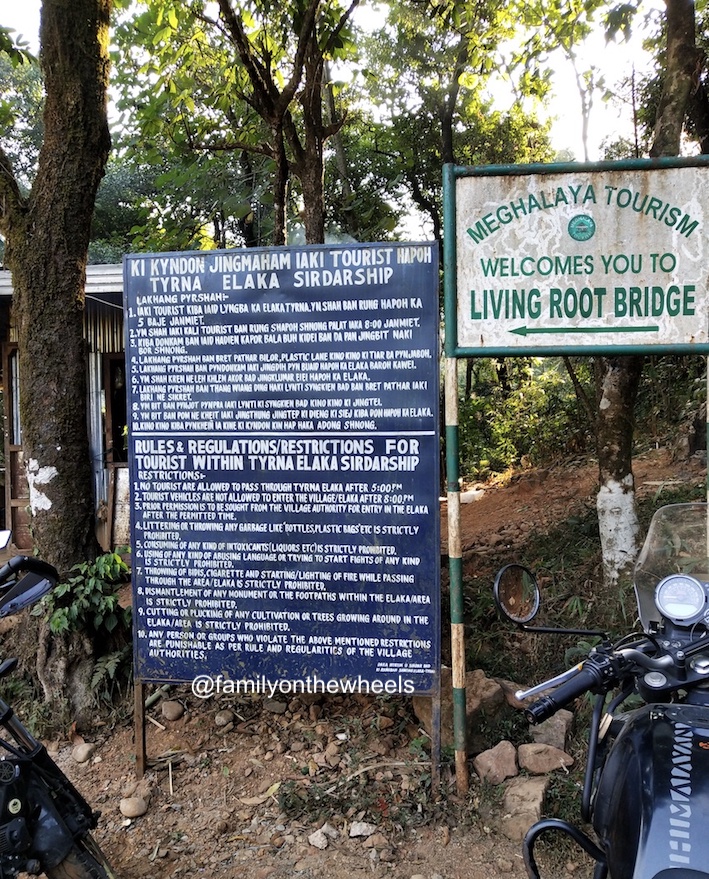 The early morning beautiful yet chilly drive made us all the more willing to conquer it. When we reached there, we saw one more tourist car ready to take the leap. Hoarding was quite clear, it was a 3kms trek one way, around 2500 stairs one way. Up and down 6kms and that too not a plain concrete path. It was amidst the forests, the stairs were narrow, broken at many parts. 
We took bamboo sticks and started, All we could hear was the birds chirping to keep up the spirits..Badhe Chalo! 
Start of trek from Tyrna Village to Ritymmen Root Bridge (single)
As you start trekking from Tyrna Village, Around half way down, on the same trek of Double Decker bridge, there is a Ritymmen Root Bridge. So once you are around an hour down the stairs (sign board is there), there is a right cut which leads you to one of the longest Single Living root bridge.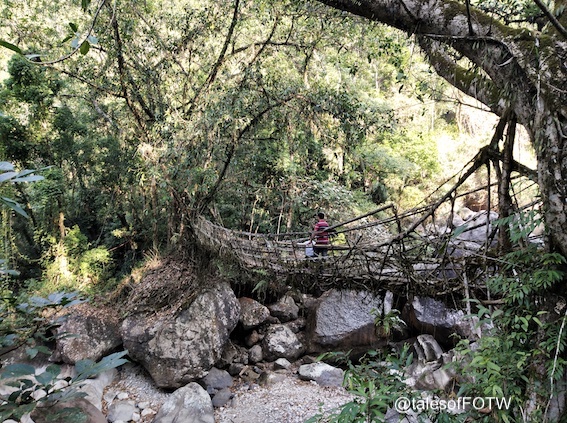 The start point is the Tyrna village and this is one of the longest known Root bridge, close to 30 metres (100 feet). The pride of crossing the longest living root bridge, over the passing stream was really spine chilling. The aerial roots were guided over scaffolds made up of bamboo and it was too narrow. Only one person can cross it at one time. Once you cross, the other side has a huge rock on which lots of roots are entangled. One needs to be careful, either return back via same bridge to continue over to Double Decker bridge or take a look at the narrow, not-at-all lit, completely dark cave at the end of Single bridge.
We opted to enter and witness the darkness and have some swinging fun outside with our lil one.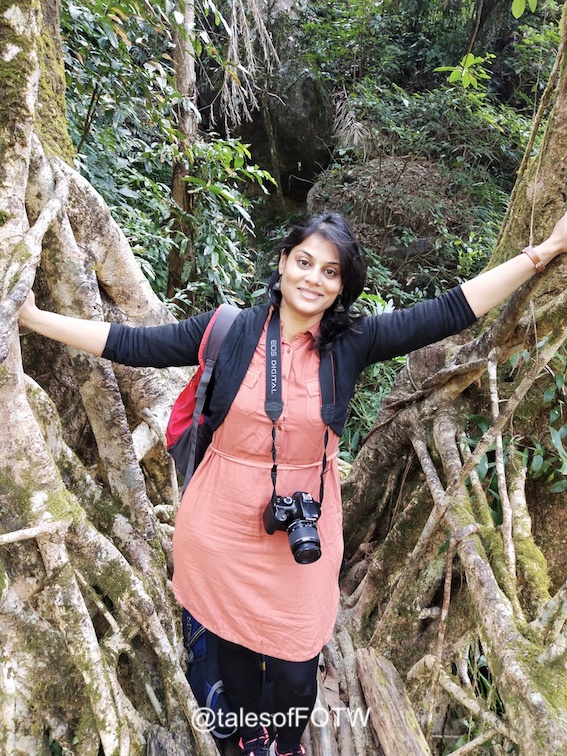 Trek towards Umshiang Double decker root bridge :
Keep up the spirits, Single living root bridge is just the trailer, the whole scenic movie is yet little afar, at around 2400feet. 
The route is beautiful, nature plays a lot with you. Spot various flora and fauna. Since these are tropical forests, we spotted lots of plants as Betel Nut, papaya, bay leaf, various colourful flowers welcomed us. We spotted really gigantic spiders and their webs on the plants which were a treat for the eyes. The trail is lovely and the earlier you start, the better it is.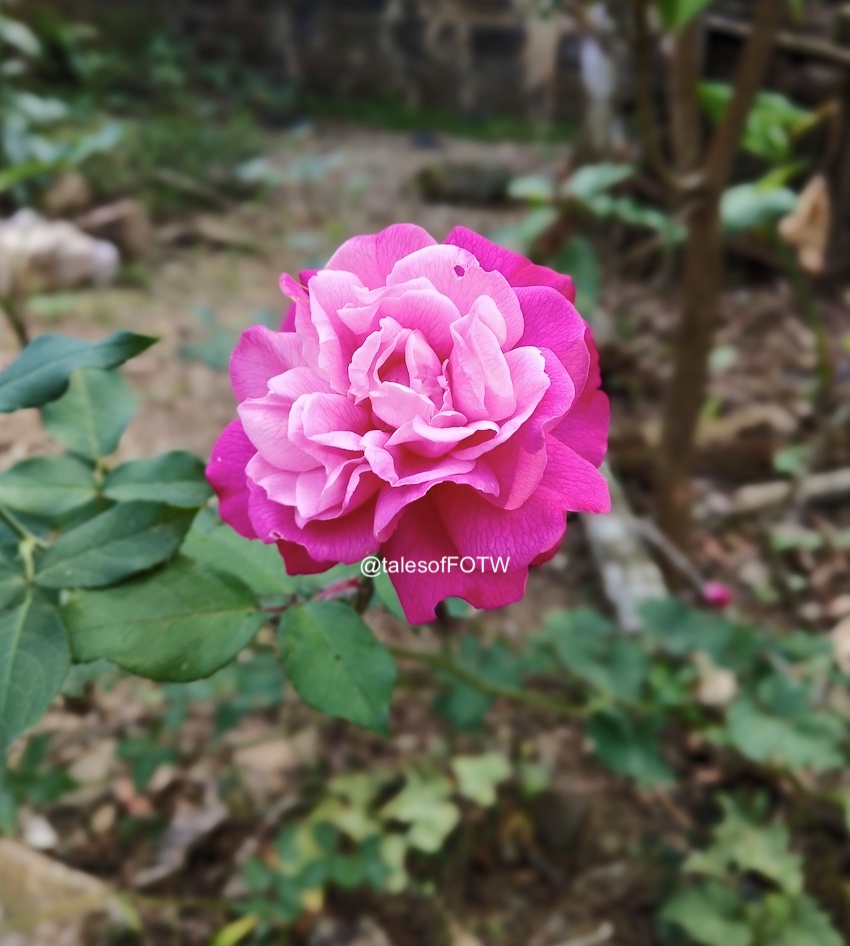 We had to remove our single woollen sheets away well before we reached Single Root bridge. Nature reflected us to be light and enjoy the morning sun! While on the way to Double Decker Root bridge, as we chatted with locals, we got to know that few Root bridges had even broken. A root bridge can last for few hundred years, rather till the tree is healthy. It sounded like a scary scene to us, but then this adventure had to be done at all costs.
Food and Drinks :
Since this trek is not commercialized, you'll find some quick fixes to eat and drink. There are Lots of fruits as Pineapples, oranges, Carambola and Cucumbers on the way. They are quite juicy and worth trying. Even fresh lime juice, packed namkeens, packed water, juice bottles are easily available on the way at scattered paths.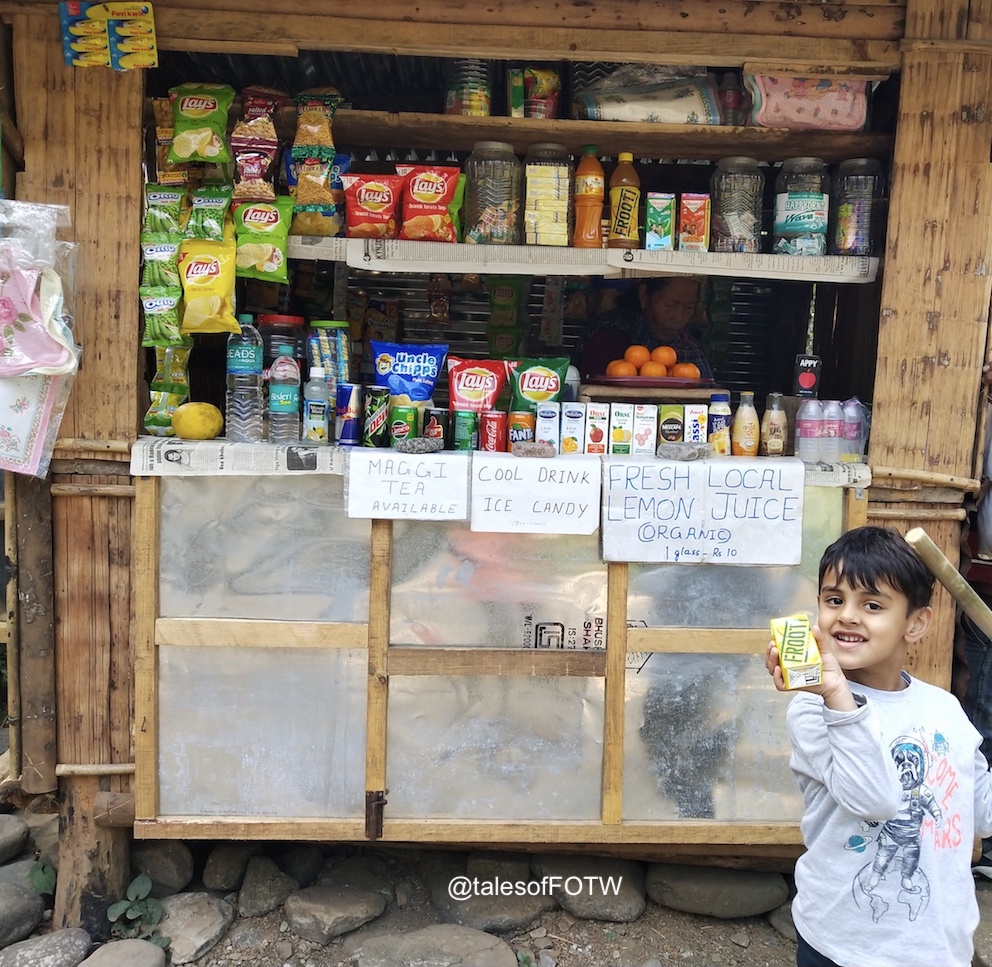 Taking breaks, singing aloud, enjoying the flora, gauging the streams on the way, we finally embarked the Double Decker Bridge. 
I couldn't exclaim any word other than Whoa!
Can nature be that magnificent? Two living root bridges one over the other, aerial roots trailing on their edges, a crystal clear pool on both sides of the bridge, with a lovely waterfall on one end.
The water was so clear, we could see various fishes, stones inside. As the sun rays tapped water and stones, we witnessed beautiful formations and colourful contrasts in waters. Green, blue, white, brown, were the colours that elucidated this magical place. It was addictive!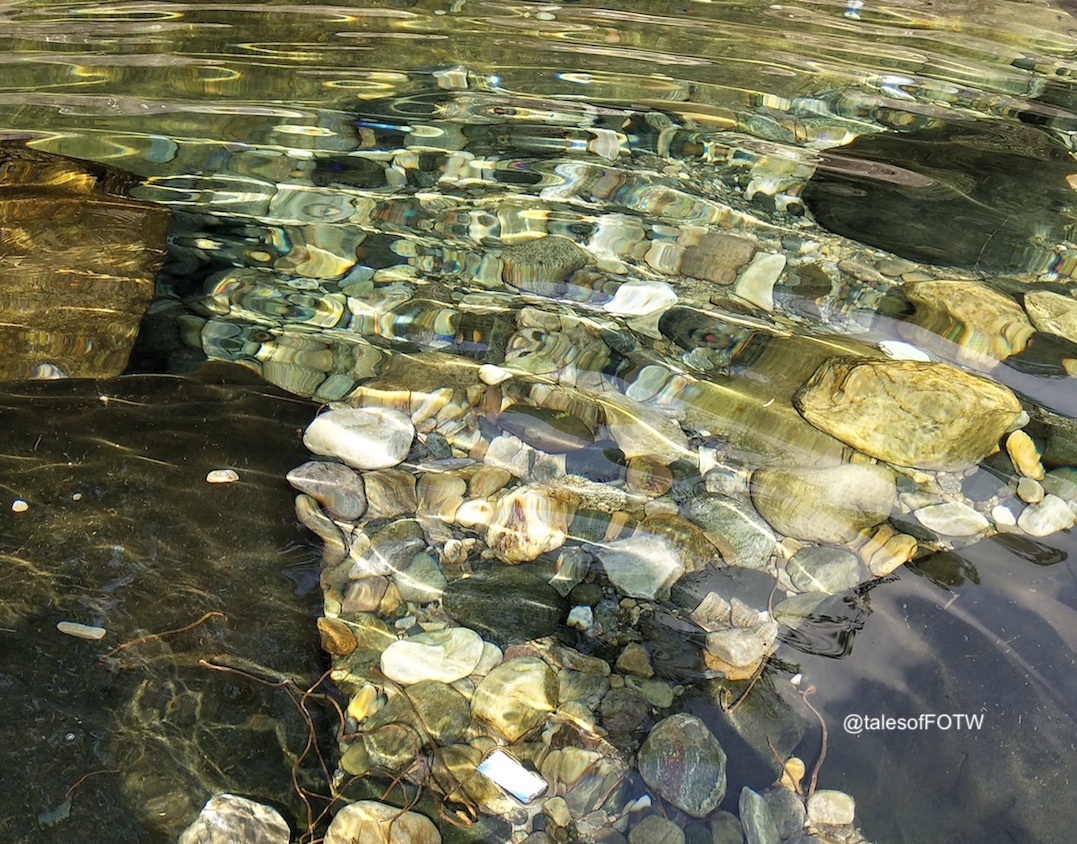 Crossing the 20metre bridge and viewing both sides of the nature was an absolute treat to the eyes and like a therapy to tiring muscles. After spending more than an hour of applauding the beauty in front of us, along with some photos and hot Maggie as a treat, we didn't want to return back.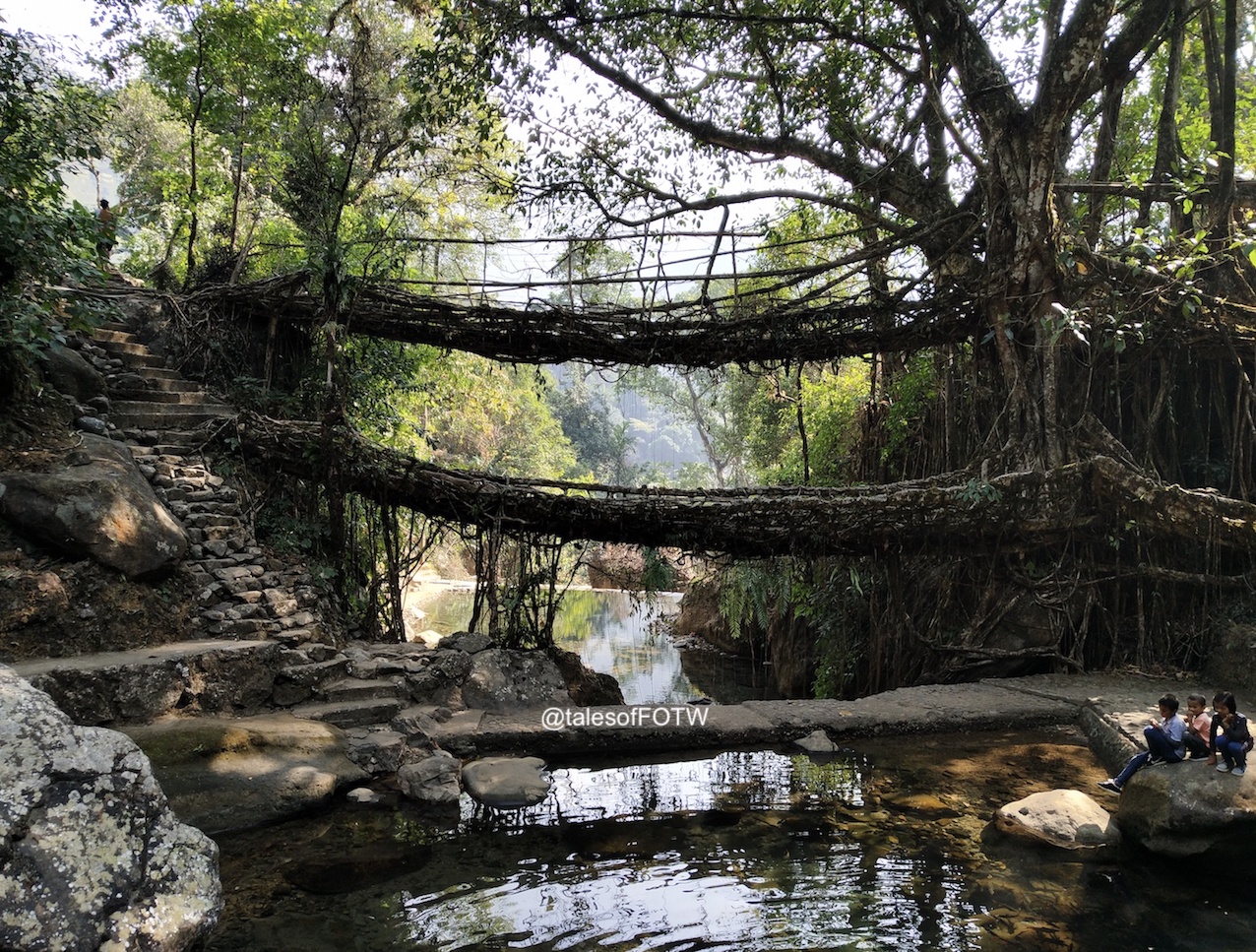 We got to know that crossing this bridge, if you trek for another 1.5 hours, then you can also witness "Rainbow Waterfalls". Locals said, one can always witness the rainbow there. Though, we felt excited, but kept it for our next diary.
Highlights of Double Decker Living root bridge :
*Location : Nongriat village, Cheerapunji
*Exact Name : Umshiang Double-Decker Root Bridge
*Facilities : Washrooms are available once you reach the Double Decker Root Bridge.
*Food and Drinks : Available during the whole trek at small patches.
*Total Descent and stairs : The bridges are at a height of 2400 feet and one side is 3kms, 2500 stairs
*Guide Facilities : Available, Rs 600/- till Double Decker Root Bridge and Rs 1000 till Rainbow Falls.
*Entry Ticket : Rs20 for Single Decker and Rs 20 for Double Decker as well. 
*I need to admit the trail was strenuous, but equally exciting and adventurous.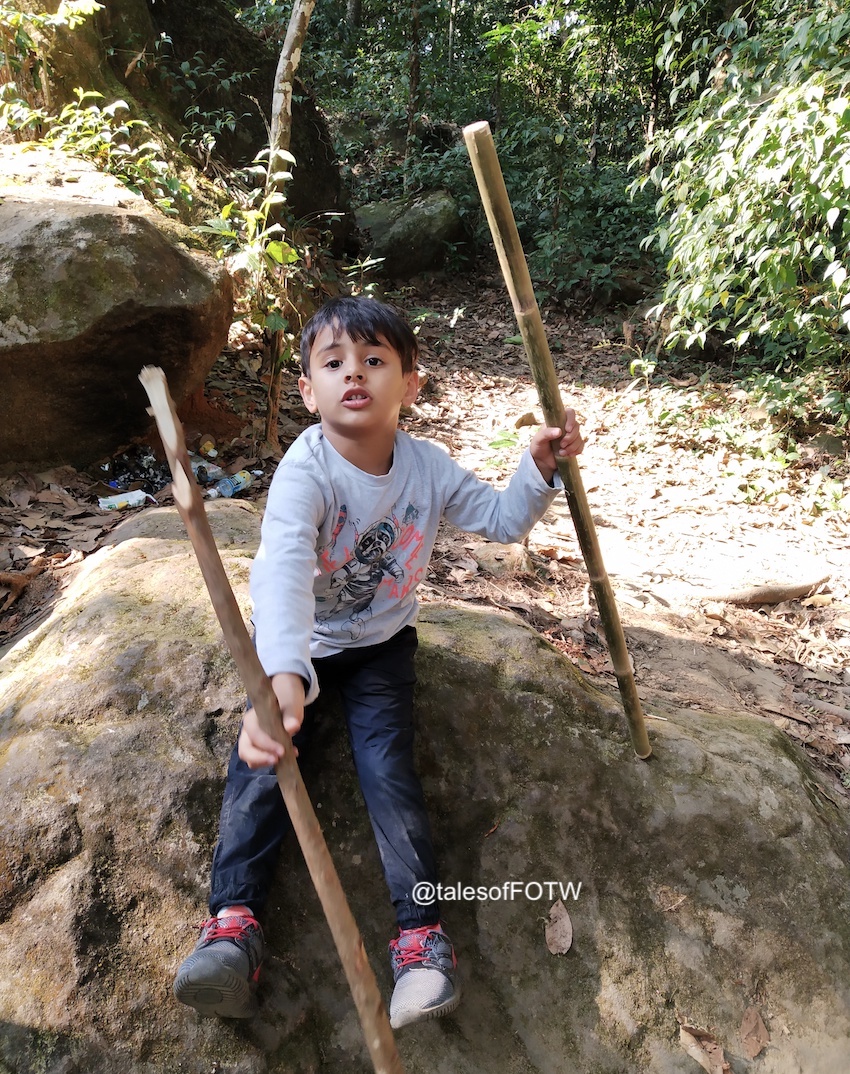 FOTW Suggestion :
Honestly, we are not fitness freak couple, but yes we travel and walk a lot. We completed the whole trek (including return) in 5 hours with a 4 year old kid. We took lots of breaks, soaked ourselves in the natural adventures and fun at various spots, which made our journey somewhat easier.    
Climbing up the stairs and returning back is really laborious, but this place needs that attention and grinding for sure. While on the return trek, sadly, We saw many groups, who returned back just after the trek of 15-20 minutes.
FOTW Tips for Double Decker Living root bridge:
Use Cherrapunji as Base camp instead of Shillong as you will end up saving at least 3-4 hour on-road time. We used Make My trip to Book " Cafe Cherrapunji" for 2 night stay  and saved INR 500 more just by using CouponzGuru . Get some deals for your next trip:)
Start as early as you can, sun rises there at 6am, you can start at 6:30 or 7am, earlier the better.
Go Light, carry least things on your body and with you. Water bottles, fresh juices, Maggie is available. Believe me, you won't need much to eat or lots to wear.
Guides are available, you can take one, as the route can be little confusing. Our driver trekked with us (who had been there thrice before), so we didn't opt for one.
Take ample small breaks, enjoy the nature. 2-3 streams pass by, stop, dip your legs and enjoy the pristine aura. You'll get recharged for sure. 
Opt for Bamboo sticks (you can get them at the onset of Trek, just near the parking). They are helpful while climbing back.
Smaller the group, better the probability that you will do it.
If you have kids, keep singing, chat a little, show them the surrounding flora, to divert them from the the feeler of "tiring activity".
Accept the fact that your muscles will pain for around 1-2 days, after which all will be back to normal.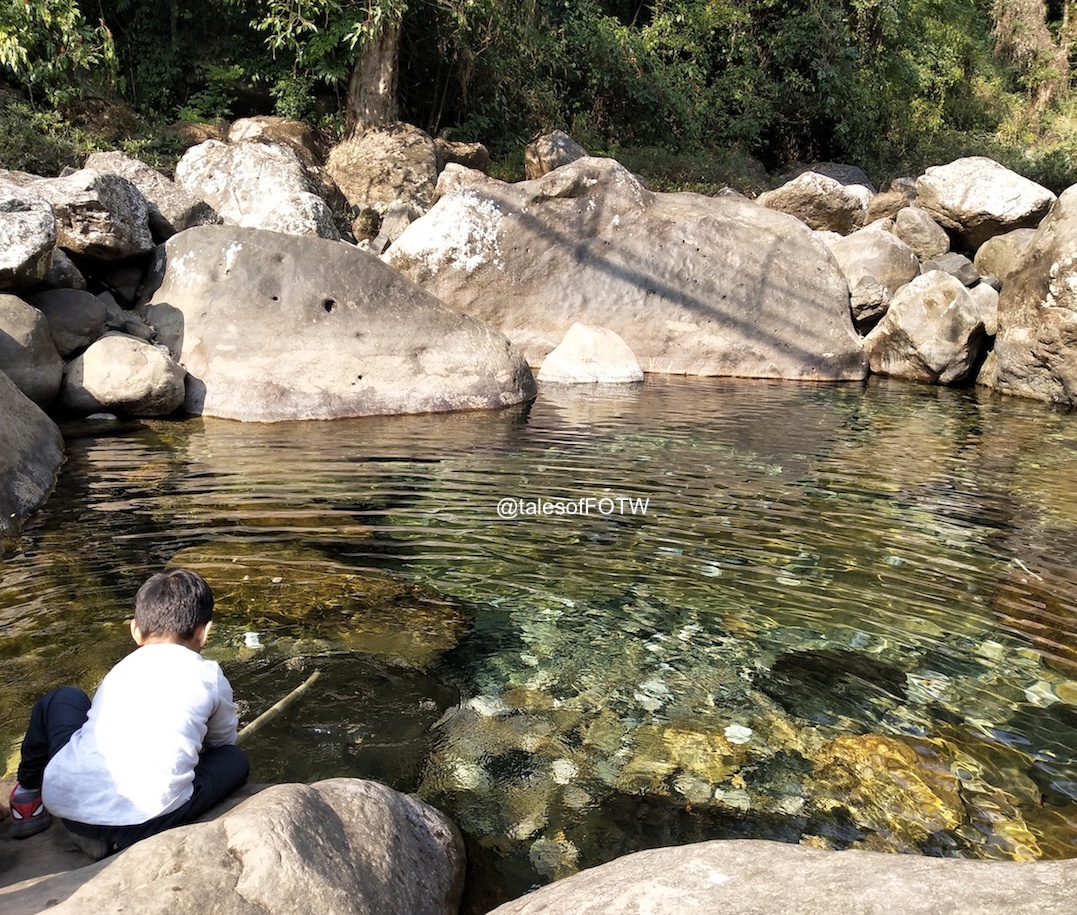 The next day, we went to Mawlynnong Living Root Bridge as well, its post will be up soon. But believe me, once you have trekked Double Decker Root bridge, you'll not find anything more beautiful.  
The sun was setting in, it was a Hurrah moment for all three of us, as a family! We cheered, sat in our Car and drove straight towards Cheerapunji for some good food at Jiva Resort. Meanwhile, it took just a min for Arham to enter into his world of dreamland!
Happy Trekking, Team FOTW
Follow our Travel stories and posts at Instagram!