Travel Challenges : Mosquito bites?
We are a travel and adventure fanatic family and our readers know that. Be it monsoons or summers or winters, no weather has deterred us from our voyages. Be it treks or desert safari's or admiring historical museums, our exploration along with our kid has made us learn more and more from the beauty of this world.
Travelling with a small kid definitely throws across numerous challenges, but nature heals them into peaceful wins. Capturing the orange-red sunsets while eating Ice creams with the shorts and flip flops sounds a a perfect vacay mode, but ouch! Those bites worsen up the dusky experiences and night time garden barbeques experiences. One such challenge impacting the serenity has been the Blood sucker "mosquitoes" for us, during our journeys. They are really pesky and have been accused of many night torments for us and our child. 
Non-Toxic Mosquito Repellents :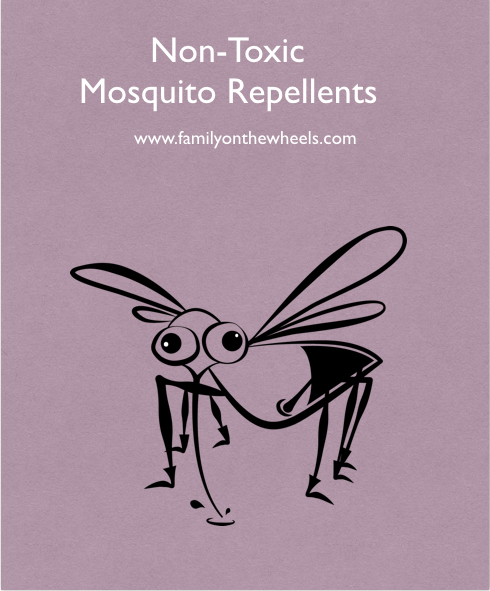 While the market is buzzing with numerous mosquito repellent machines, we have always tried to find solace in the Natural things and so Non-toxic Mosquito repellents is our obvious choice. More so for nights, to have a sound sleep, putting up all those chemicals on or near to kids doesn't goes well with our eco-friendly thoughts. Then comes the necessity of non-toxic mosquito repellents in the picture.
Though most of the repellents come with the chemical DEET, which is the major ingredient responsible for our protection against mosquitoes. DEET is safe for kids and adults, as per EPA (Environmental protection Agency), but we need to ensure its usage as per EPA's guidelines . But, if given a chance, we have always opted for more greener solutions.
Mosquito repellents actually doesn't kills mosquitoes but they make the bearer less attractive to mosquitoes. Certain smell, cologne's body warmth, along with exhaled CO2 attracts a female mosquito for a blood meal. And these repellents makes it hard for mosquitoes to smell us, thus protecting us against their bites.
Natural methods for protection against mosquitoes can be :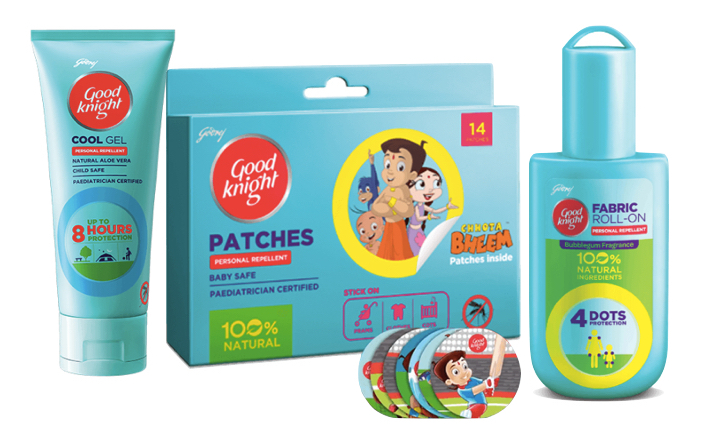 No Standing water, clean water puddles, pools and tanks.

Try to be indoors during the dawn and dusk times, when mosquitoes are quite active.

Wear full sleeves clothes, more so in mornings and evenings and during day-time (in mosquito breeding season).

If you have a garden, grow mosquito repellent plants as

Lavender, Marigolds, Citronella grass, Rosemary, Basil and Mint.

Use Non -Toxic Natural repellents made with Citronella, Eucalyptus Oil, Lemon as Goodknight's

 

Fabric Roll-on and patches.
Did you knew that Goodknight Fabric Roll-On and Mosquito patches are made up of 100% Natural Active Ingredients like citronella and eucalyptus oils, which have mosquito repellent properties? 
Efficacy of Natural Mosquito repellents :
With their efficacy of providing protection for 8 long hours, Goodknight's natural, non-toxic repellents are #FOTW's favourite. These products are also declared safe by paediatrician for children aged 2 months and above. The best part being these repellents need to be applied on clothes rather than on body. This does not even leaves any greasiness on our body. This fabric application of personal repellent makes it a more obvious choice for kids. Further, repellents as Goodknight patches are more fun for kids due to their amazing designs of Chhota Bheem. For newborns (0-2months), these patches can be applied on prams, cots and it provides protection for 8 long hours. Sounds a win-win situation? 
While using these patches during the night, one can ensure a perfect, undisturbed sleep. And it is must for the freshness to start the next day's explorations!
So keep travelling and keep personal non-toxic mosquito repellents with you!