Its none other than Leh, The paradise of India !
This Part I of our Leh trip covers – Heaven of India: Delhi To Leh & NUBRA Valley!
I had always dreamt to go on a biking trip on the world's largest motorable road, but fulfilment of this wish is yet awaited. Due to lack of holidays, we planned our expedition to Ladhak by boarding Delhi – Leh Flight. It was just 2 hour flight, but the climate of Leh is highly unpredictable so landing was not so sure. 
As we peeped the window, huge snowy mountains greeted us. But, ping ping & here came the pilot's voice – "Ladies & Gentleman ,We are expecting a lot of turbulence & difficulty in landing at Leh, so we will be waiting for another 10-15 min & give another try to land if weather permits. Ahh!!! Something seemed to strike badly. We kicked off our adventure hovering over the clouds in Leh. Oh ! All the passengers kept guessing the probability, it became a fun air-zone. But as fate would have it, in another 15 minutes came a ping…"Ladies & Gentleman, Sorry to say, but the condition is worsening for landing & we will have to return back to Delhi". Oh No!! I swung back to my seat, hiding my face under the pillow as it would be only the next day that we could restart on our flight.
I felt as if my dreams were shattered, What if similar conditions prevailed the next day as well?Well, amidst some serious speculation, we reached the hotel arranged by the trip manager & spent a full luxurious day out!
Intense & sombre discussions were wearying out all since the next day breakfast, till boarding the plane. Same time, same altitude, my ears did not wish to hear any announcement. We did not, & in next few minutes, we were pleased to know that we were landing. After all, the weather was clear. My happiness knew no bounds as we grounded & emerged from the Airport. What a beautiful sight! Dim sunlight peeping from the clouds, cool breeze blowing our hair. Huge mountains, some snowy and some barren as roads…WOW! I exclaimed with immense delight.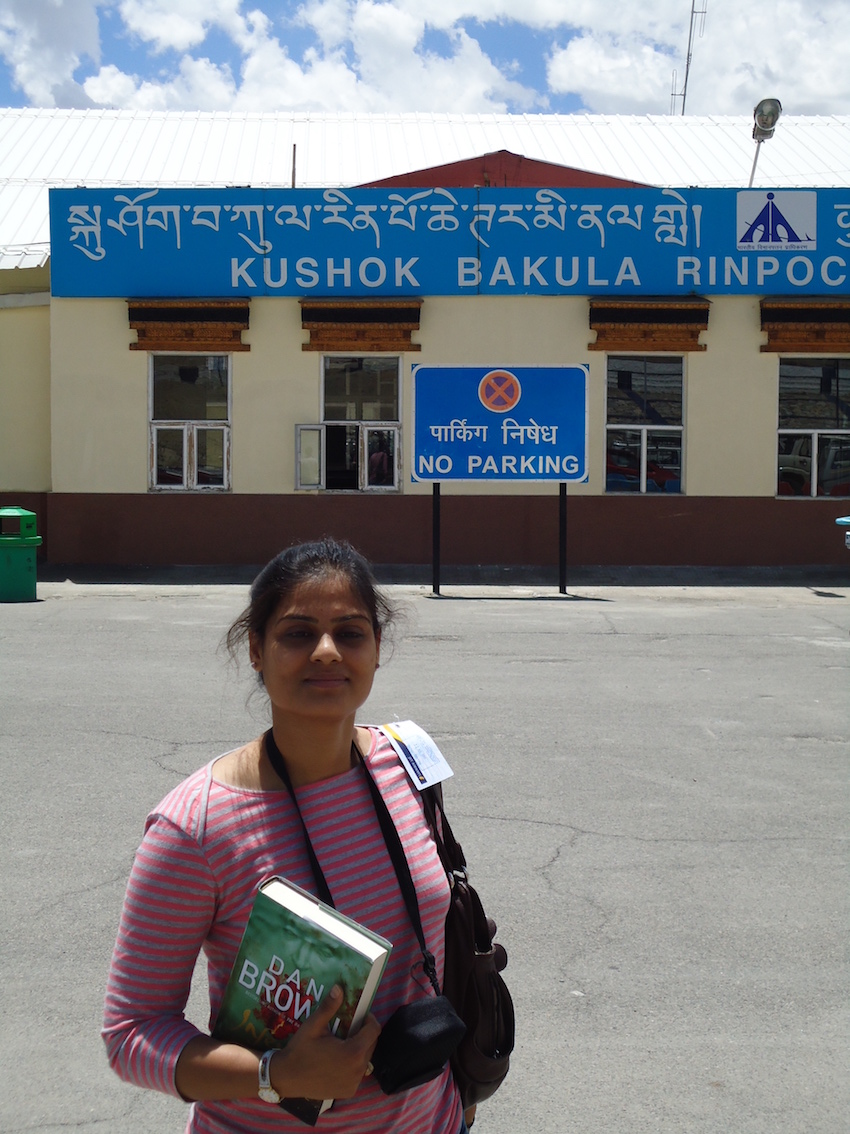 Luxurious Day1 to unwind the life!
Since we landed on 11000 ft altitude, it was strongly recommend to take complete rest on the first day, so that one can acclimatise to the high altitude of Ladakh. People do feel low oxygen pressures, resulting in giddiness, headaches so it is even suggested to take Diamox. So ,it was another day at luxury, watching the beautiful scenes unfolding in the skies . Sometimes bright sunlight, sometimes cloudy, drizzling, foggy, all in a day. Sitting besides the hotel grown vegetation, studying the local lifestyle of people, having hot home style lunch sitting in the sun, made it a perfect day to unwind amidst the gorgeous nature. This itself seemed so pleasant & unsullied, that the thought of excursion to Nubra, Pangong, Sangam, just threw me out of my gear!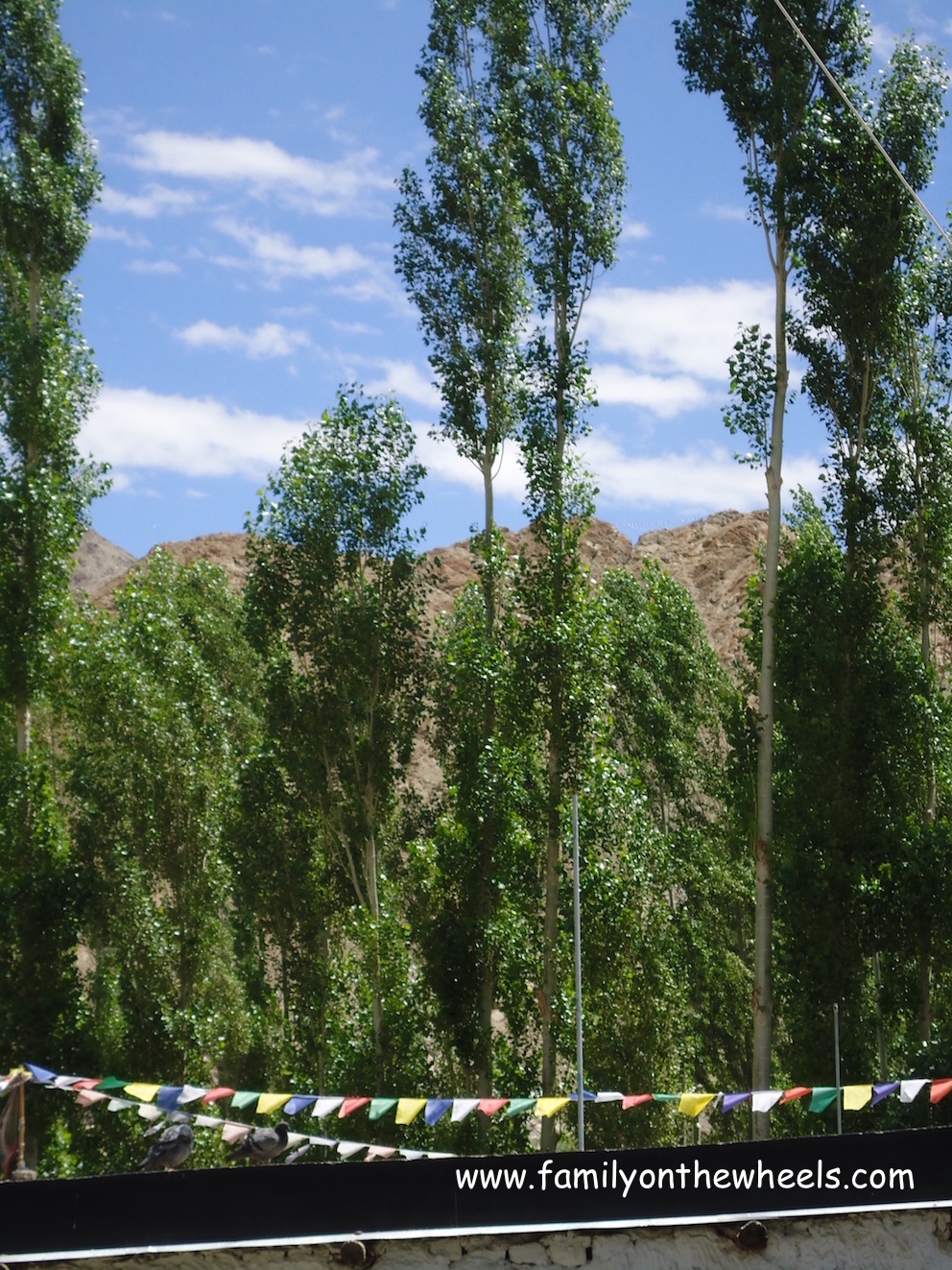 Excursion for Nubra
Afresh & whole heartedly we welcomed our voyage to Nubra the next day, via Khardungla pass, which is world's Highest Motorable Road. The travel time is approx. 5 hours from the city of Leh. Well, every bit of the journey has a sense of rejuvenation in itself..Huge Karakoram ranges, some completely dry while the huge ones covered with snow. One side of the treacherous path was covered with trees & the other completely barren. Such a twist of nature at every moment. It was partly cloudy and partly sunny but as soon as we reached Khardung la pass, it started to snow. Gosh! I was in love.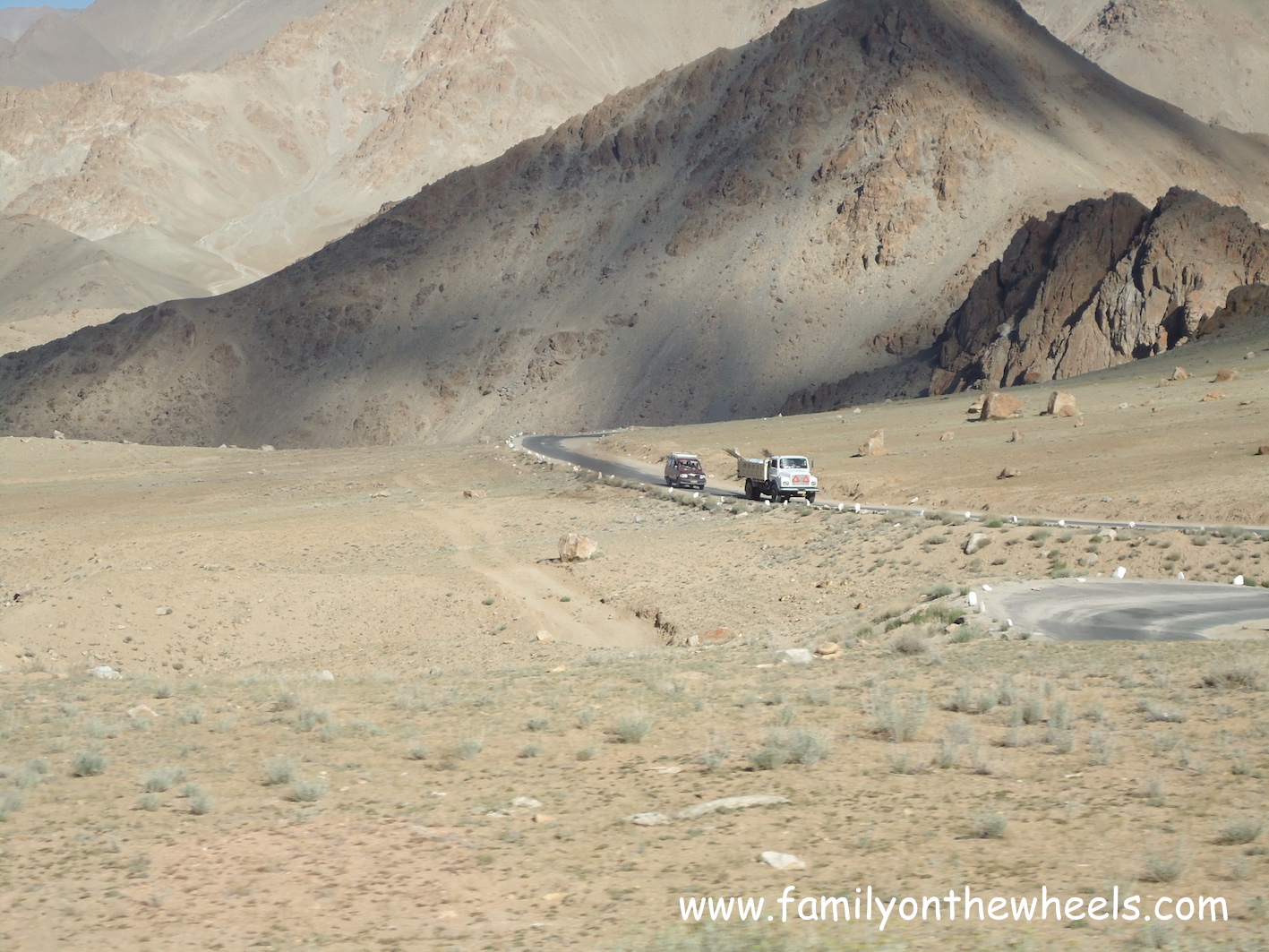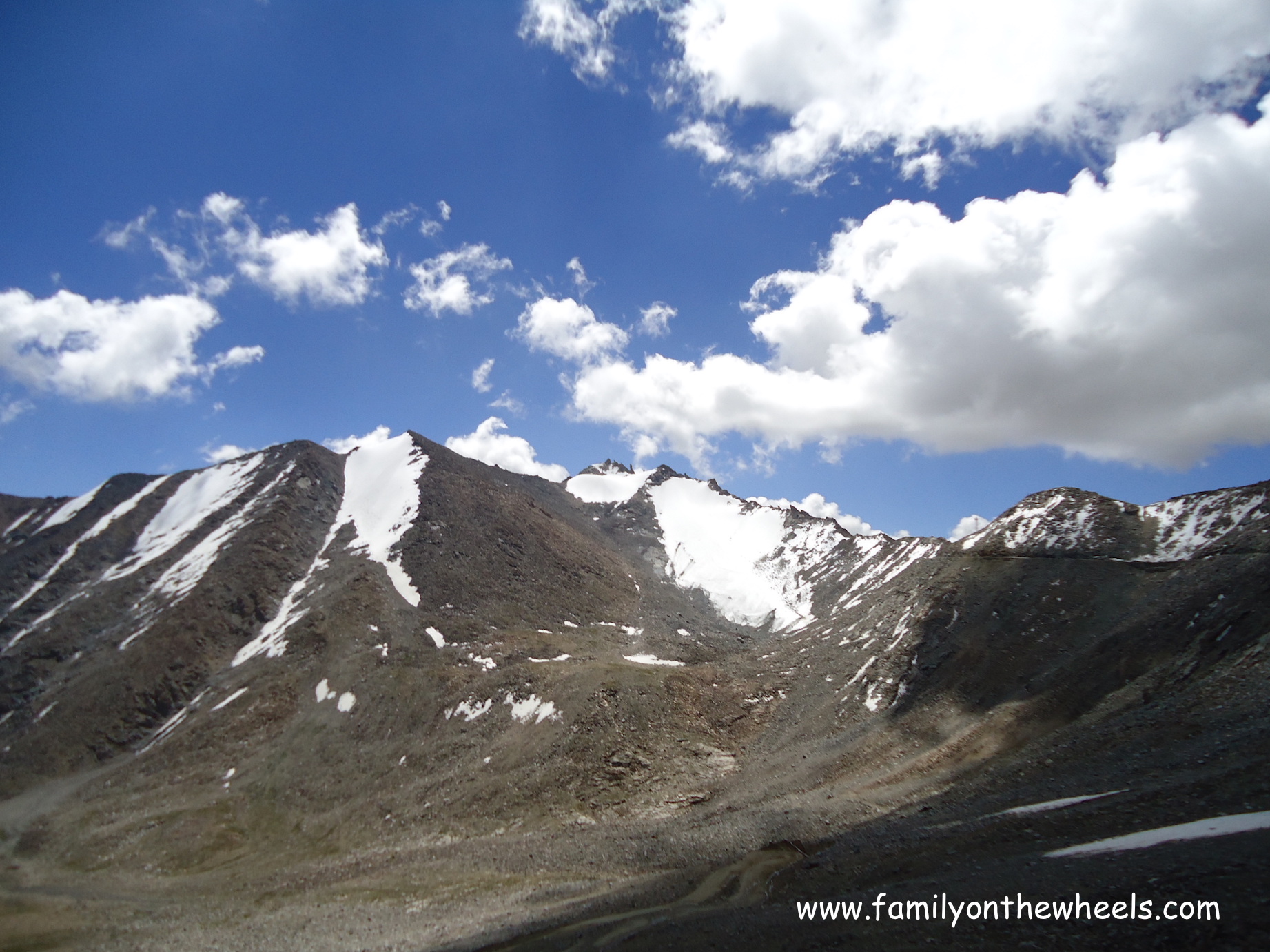 The road is maintained by the BRO – Border Road Organization & is usually on frequent maintenance during the monsoon due to landslides.  The curvy bumpy ride made us feel a little dizzy but soon cool breeze chilled us apart, reason being, Khardungla was approaching. At an elevation of 5359Mts or some 18k Ft high, It was something to experience. Chilly, nerve wrecking cold breeze, all pullovers tightly pulled in. And hey, the snowflakes added the glee as we rushed out of our car. We stopped for more than an hour at Khardung La pass. It was so cold, that the water on the road was frozen. We found ourselves breaking the fresh formed ice out of that water. This little stretch was rocky, snowy but it was an ideal location to feel the chilly winds, sip special black tea & savour on hot Maggie out there. Both the sides were covered by huge mountains with ample snow to trek on and play Ice ball games. That was indeed fun! We again started our journey for Nubra via North Pullu.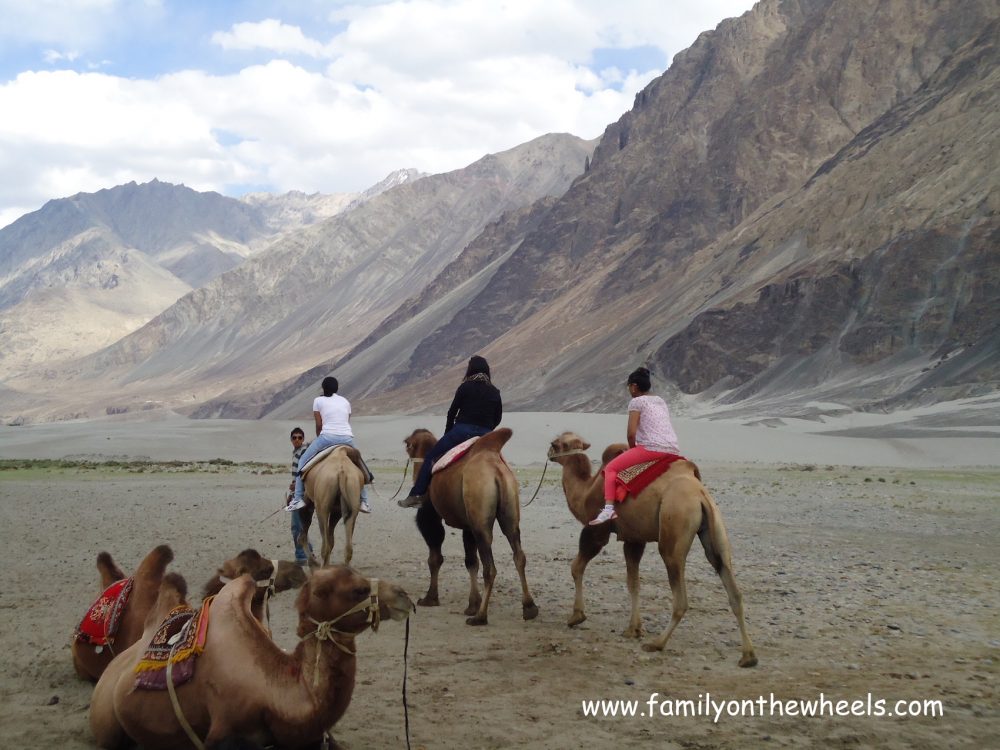 Nubra is a lovely valley formed by meeting of Shyok & Siachen river separating Ladhak & Karakoram ranges. It will for sure give you a great sight, an altogether different sight of Leh/Khardung-La. At about 10k Ft high, this valley was actually "Valley of Flowers". So pristine, clear, beautiful. It famous for Bactarian Camels of Hunder.
Ever thought of Sand dunes at such an altitude & cold place? Yes, that's a cold dessert. The first thing we did post reaching Nubra Valley was jumping at Hunder for astounding Bactrian (Double Humped) camel ride along the dunes. Ride on the cold desert was a first time experience. One side enormous mountains & Grasslands seen on the other end. I was ecstatic to see nature unfold with so much of beauty.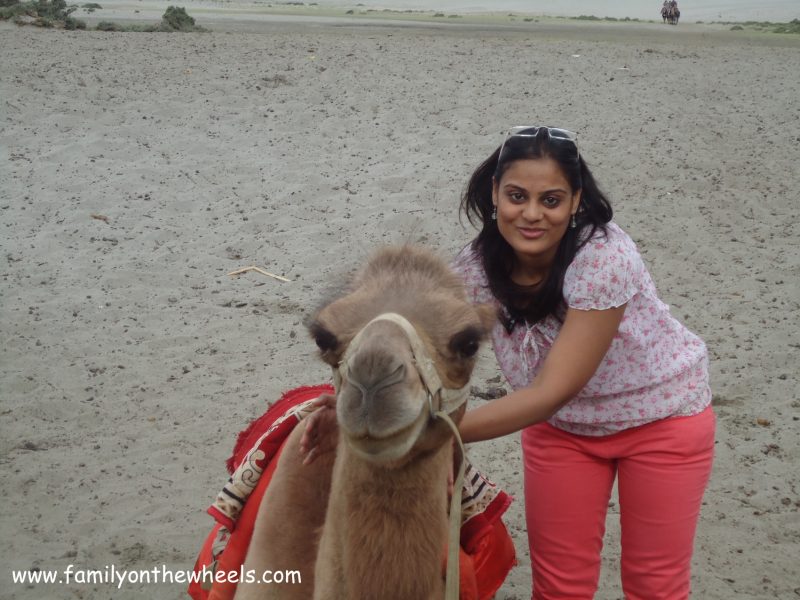 Self Exploration
Every moment was a bliss in itself. From the ride, we came to our Camp "Apple Cottage" which was again a calm, serene camp amidst nature. It seemed as in nature welcomed us with folding hands. We explored the camp for some time and then decided to walk through the roads leading to nowhere. Exploring the place all by ourselves while chatting with the locals and watching sunset was fascinating. As guided by locals, a walk of some 3-4kms, led us to grassland, crossing which a stream of river Shyok was flowing. Removing our shoes we just sat across to feel the tranquillity within.
We saw a fisherman on the other side catching fishes in the stream for his survival. In front of us he gathered some 7-8 fishes. We tried our hands at the same, although we had no success in catching the fishes. We had a small chat with him, listened his way of life, their sources of earning.  We could just interpret that Work – Eat – Enjoy life, was the only funda of their life, way apart from out life at the Metro! They wanted to earn just to fill their stomach and noting more. So satisfied these locals were.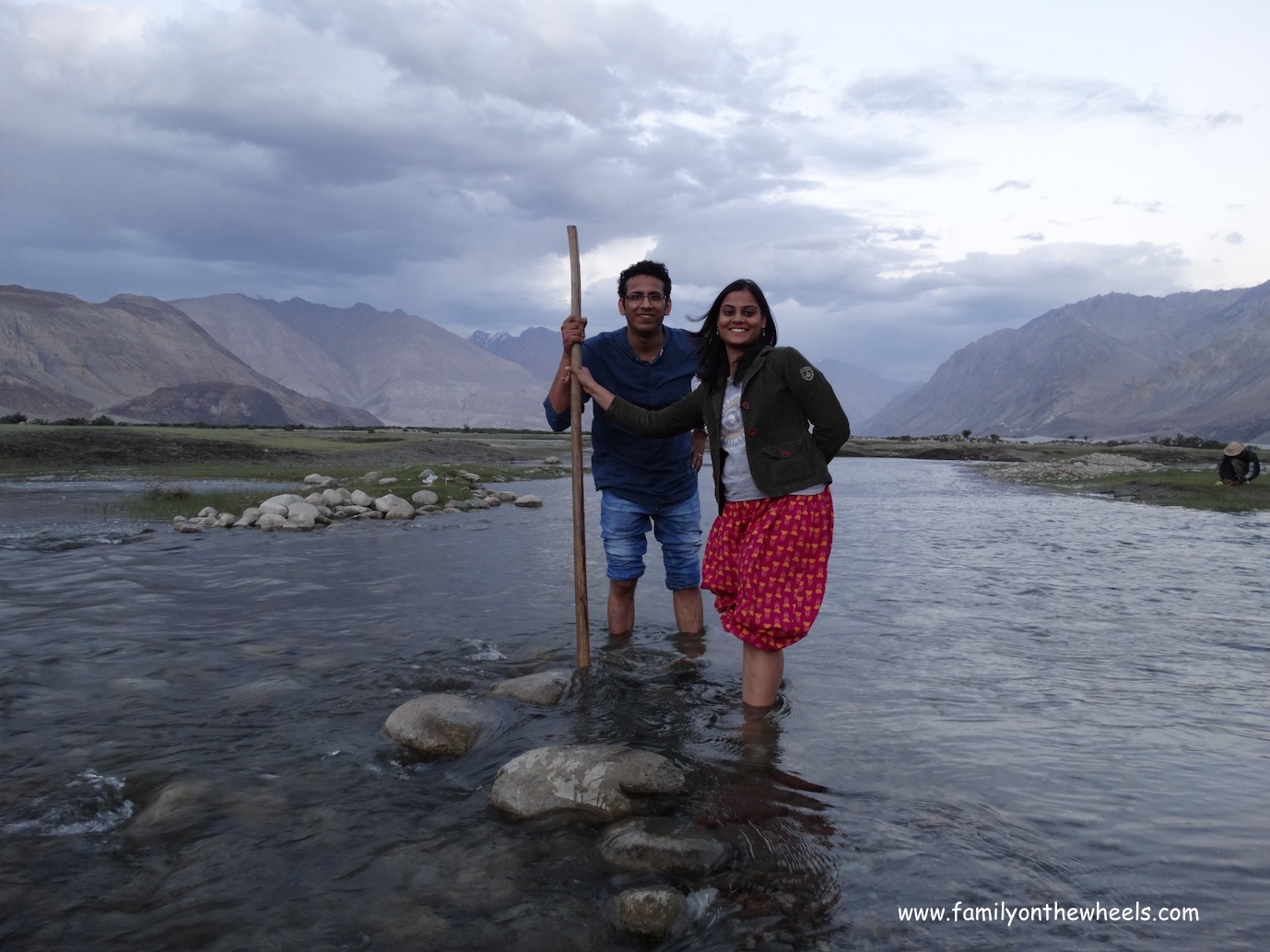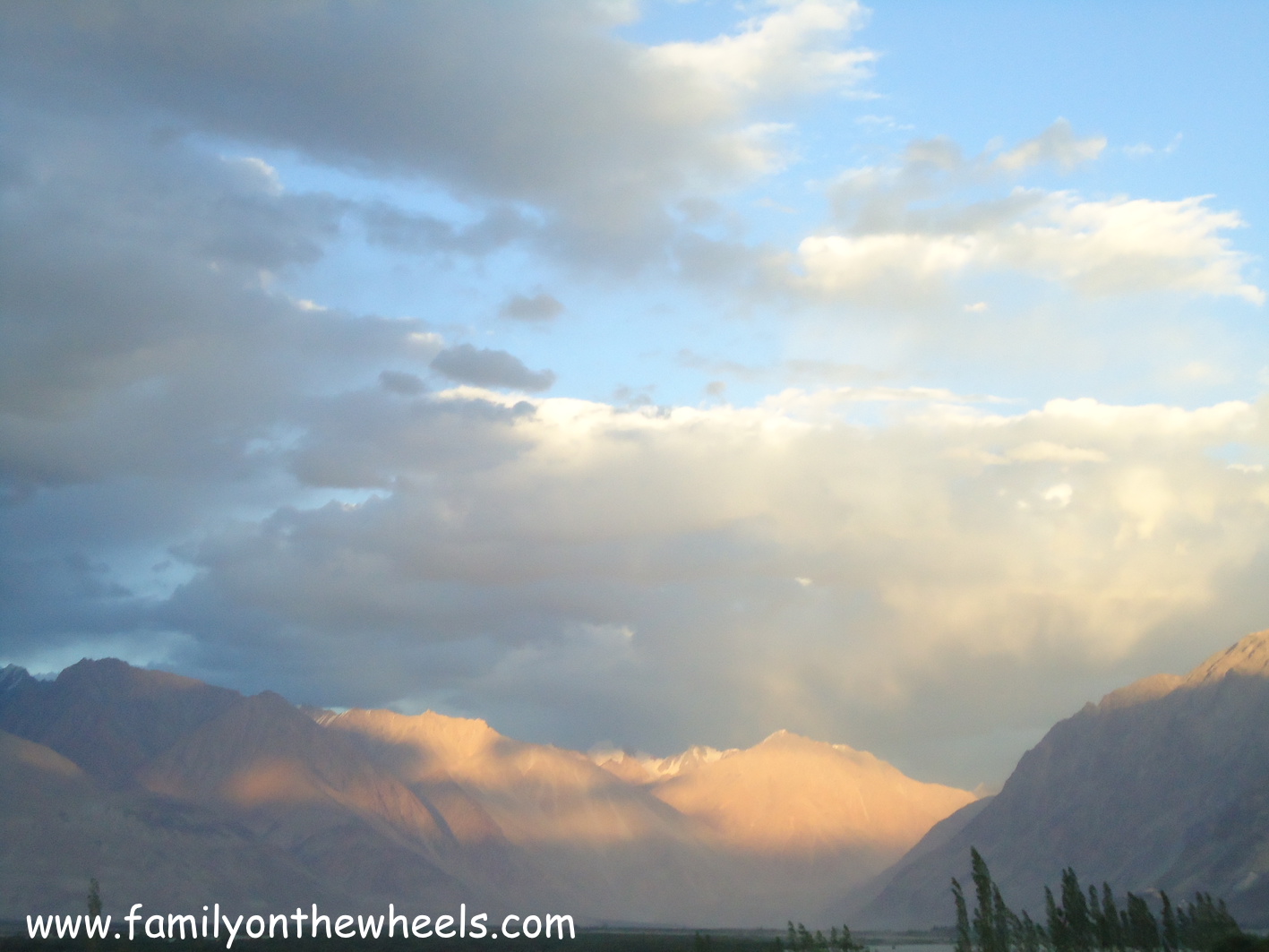 Night had begun to set in, when we finally decided to return to our camp. There were no locals then & the path had gone lonely, it was very difficult to trace and reach back.Tired & happy, we grinned, had dinner, called it a day & had a peaceful cozy sleep in our tents. There were more days full of super adventure as Pangong was waiting for us.
Keep glued, more parts are coming soon for this vivacious place. Till then, why not register by Email and get the post directly in your inbox? Follow our stories on Instagram as well!
I am taking My Alexa rank to the next level with BlogChatter