Munnar and its Tea gardens!
Munnar, the most beautiful hill station of Kerala, is all about its rolling tea gardens, Ayurvedic spa's and spotting Elephants. Close to 130Kms from the airport city of Cochin, Munnar is located at approx. 5200ft above the sea level and is surrounded by the western ghats.
To explore this beautiful landscape offering tranquility, team FOTW (familyonthewheels), opted for the services of Savaari car from savaari.com. We had a full trip to Kerala, the God's own country, originating from Cochin and covering Munnar, Thekkady, Alleppey, Kovalam, Trivandrum all via Savaari Car. To be honest, every single minute in the car, along with the friendly driver, was a family fun. We stopped at nowhere's of the lands just to sing to the amazing natures, we danced to the tunes of birds in the misty points. Since the driver was a local, we got immense knowledge about the culture of Kerala. The car was well maintained, clean and never gave us the jerks during our traverses. Well, that's the beauty of Travelling, Exploration without a stop and we're happy to have Savaari car besides us to help us in that!
Though there are ample view points in Munnar, but the best way to explore its beauty is drive and walk on the random paths. Go for small small trekking, run amidst the tracks surrounded by the tea gardens, breathe the freshness and smile at the panoramic views that Munnar has to offer. That's what we did, along with wandering on the defined points as well. This scenic hill station, is not only full of tea gardens, but it also encapsulates bewildering waterfalls, clean, mesmerizing lakes, and some well maintained beautiful gardens. 
Interested Read : Thekkady – Periyar national Park
Best time to visit Munnar :
Munnar can be visited all year round, the winter months of November to Feb are considered best as the fog engulfs, it becomes more pretty. The temperatures may fall below 10 degrees, hence, don't forget to carry woollens.
March to May are the summer months, though summer, it remains pleasant to enjoy the pristine beauty. June – Sep, are the monsoon months. Though less travellers visit then, but if you need some tranquility, less crowds and just nature, with amazing green looks, then do opt a trip to Munnar during monsoons.
That's how FOTW started rejoicing the beauty of this estate with the onset of winters in November :
1. Enjoy the waterfalls :
The drive from Cochin to Munnar, close to 3 hours, goes heavenly soon, as soon as you spot numerous waterfalls. Stop by the sides and refresh with the gushing force of the water.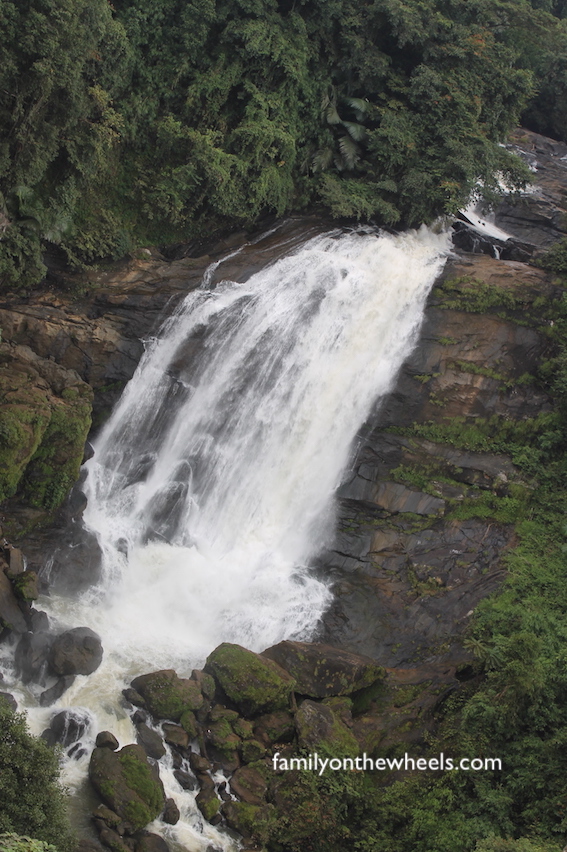 2. Spice Garden :
Kerala is all about spices, herbs, medicines, ayurveda and thus a visit seems incomplete unless we get to see the spice gardens. As we traversed closer to Munnar, our driver asked us to take a stop at the spice garden. Though I was reluctant earlier, I must say, every tourist should visit spice garden. Starting from medicinal plants, types of pepper, tasting of raw pepper, getting glimpse of the raw cocoa, touch me not plant , ashwagandha and numerous medicinal plants was mind boggling. A guide is always there to accompany you and show what all plants & herbs they have along with their utility in various diseases. Looking at the cardamoms which were yet on the green branches, and how they are processed was really informative.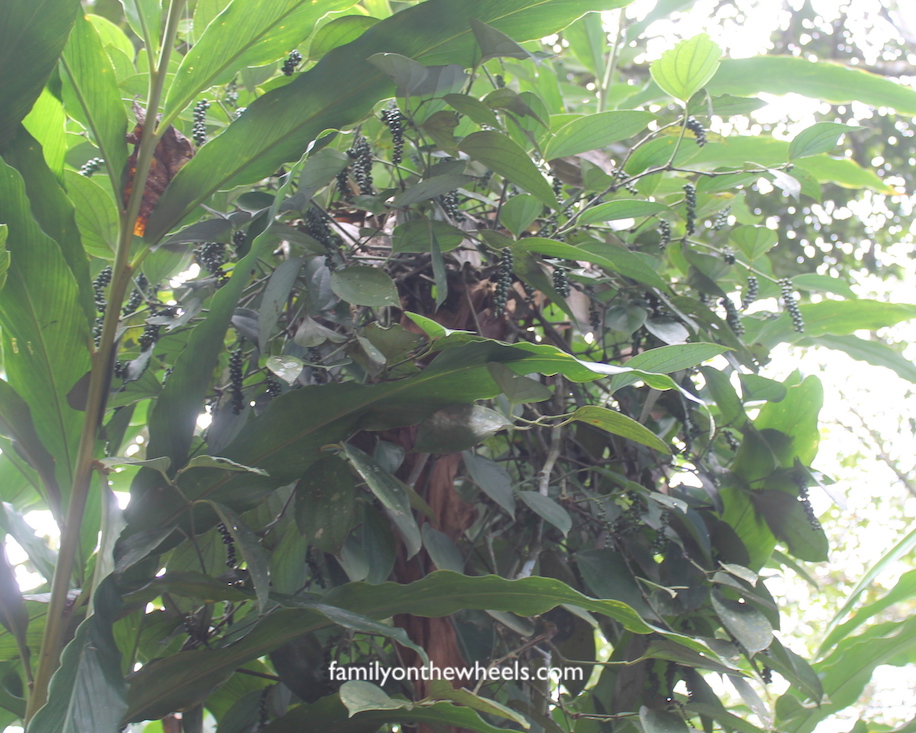 It also has a shop in their premises, to buy pure oils, spices and many medicines. Well, little sceptical, I still got nearly one packets of all spices. And I must say, it was a huge difference in the taste of the processed spices we get in cities and the spices we got from here. The purity was proved with their fragrances and tastes. 
3. Run, walk, explore :
Its all about Tea estates. You might not be allowed to enter the privately maintained Tea estates, but there are ample others to just stroll around, admire the rolling hills, look closely at the gardens and the people who work daily at these estates. Every morning you'll find locals, cutting various levels of the tea and collecting them. Be it fog or rains, this ritual remain unhindered. Stop the cars, move out, smile, photograph these amazing moments you'll never get to see in the chaotic city life.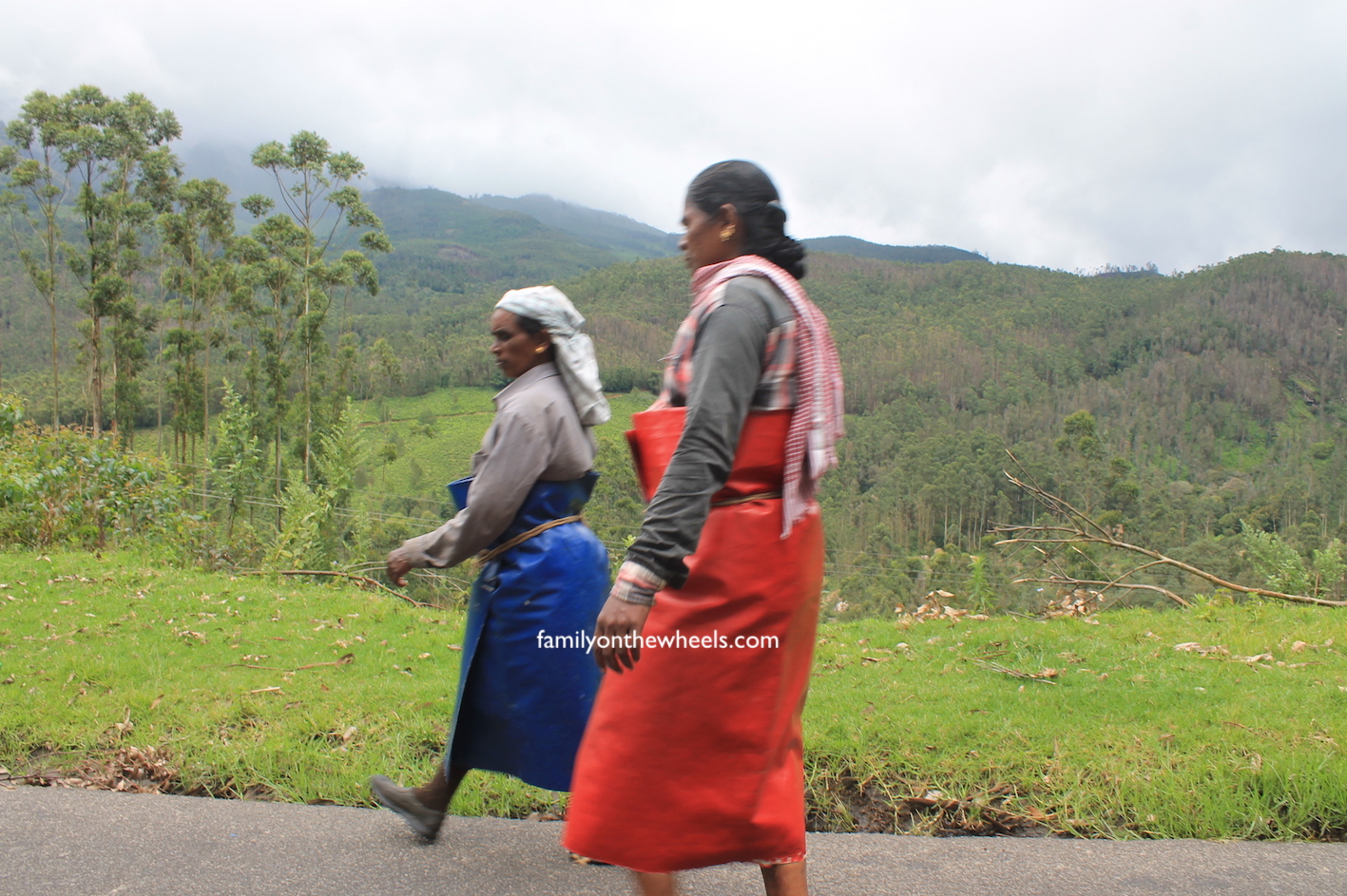 4. More scenic drives and stoppages :
Mattupetty Dam :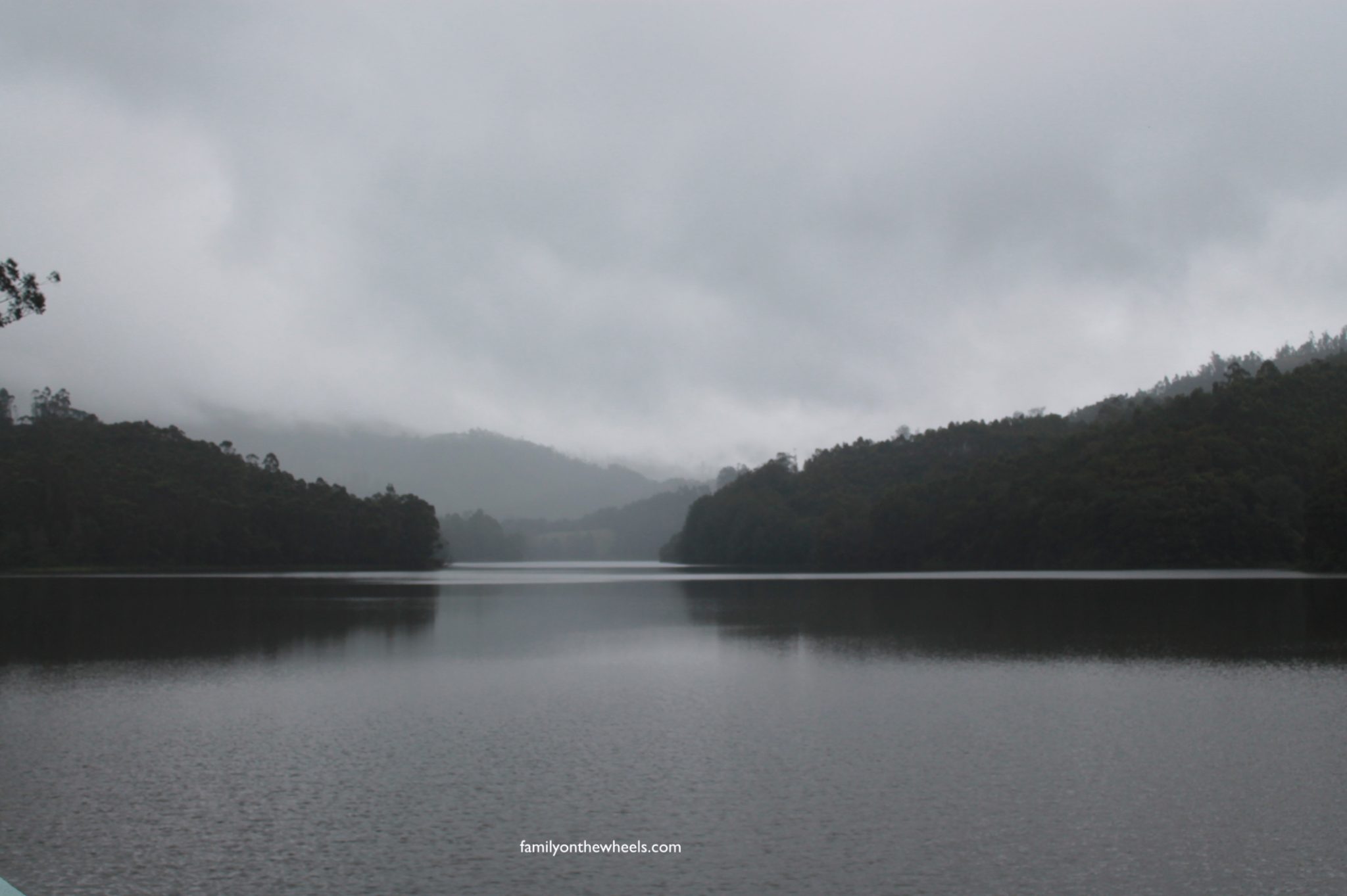 Stroll around the serene dam gobbling hot Maggi and have some peace of life. Located close to 13kms from the heart of Munnar, we had some amazing views of the lake surrounded on sides with the lush green trees with the backdrop of mountains. Kids there can also enjoy horse ride along the lake belt. At some hours of the day, the still lake goes green, with the reflection of green forests and tea gardens on the sides.
Approx. 2-3kms from this dam, there is a Indo-Swiss cattle farm. We asked for the entry, but got to know that tourists are not allowed here. It would have been a great capture sighting the high yielding cattle's in this farm.
Echo and Photo Points :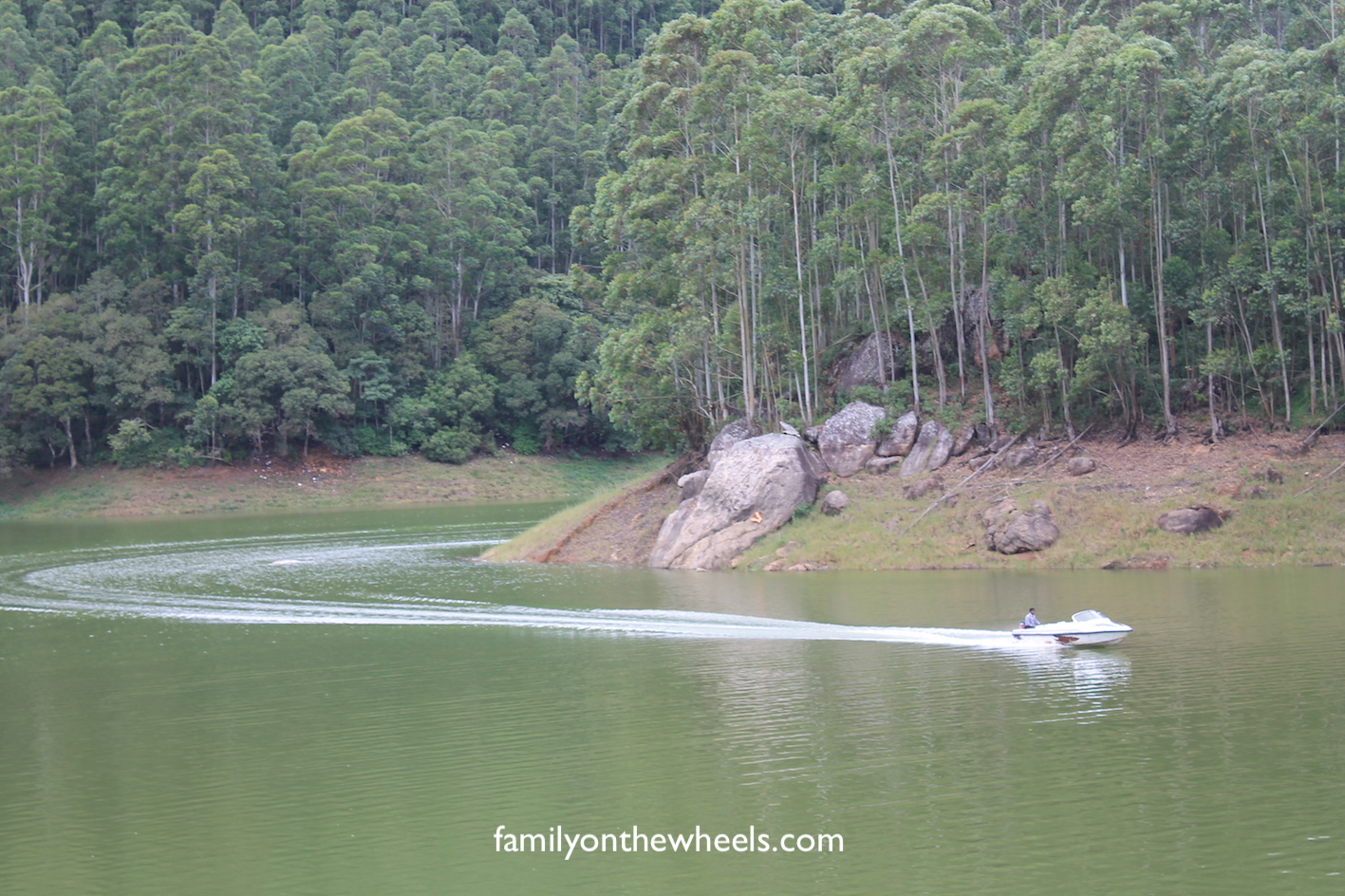 Close to 6 kms from the dam, there lies this scenic place, with a stream in between and long green woods all around. We spotted 2-3 horses drinking water on one side of the stream, and it was a lovely sight of the green stream. It gives you ample chance to hone up your photography skills and try to get some  echo. Kids really have fun shouting out various names at their highest pitch and getting back the echo form the far off woods. Enjoy some family time here.
Few Kms from this point, we found that there was a sign board stating "elephant crossing zone, be careful". Our river told us to halt and overlooking the valley, we were amazed to see wild elephant family grazing peacefully down below.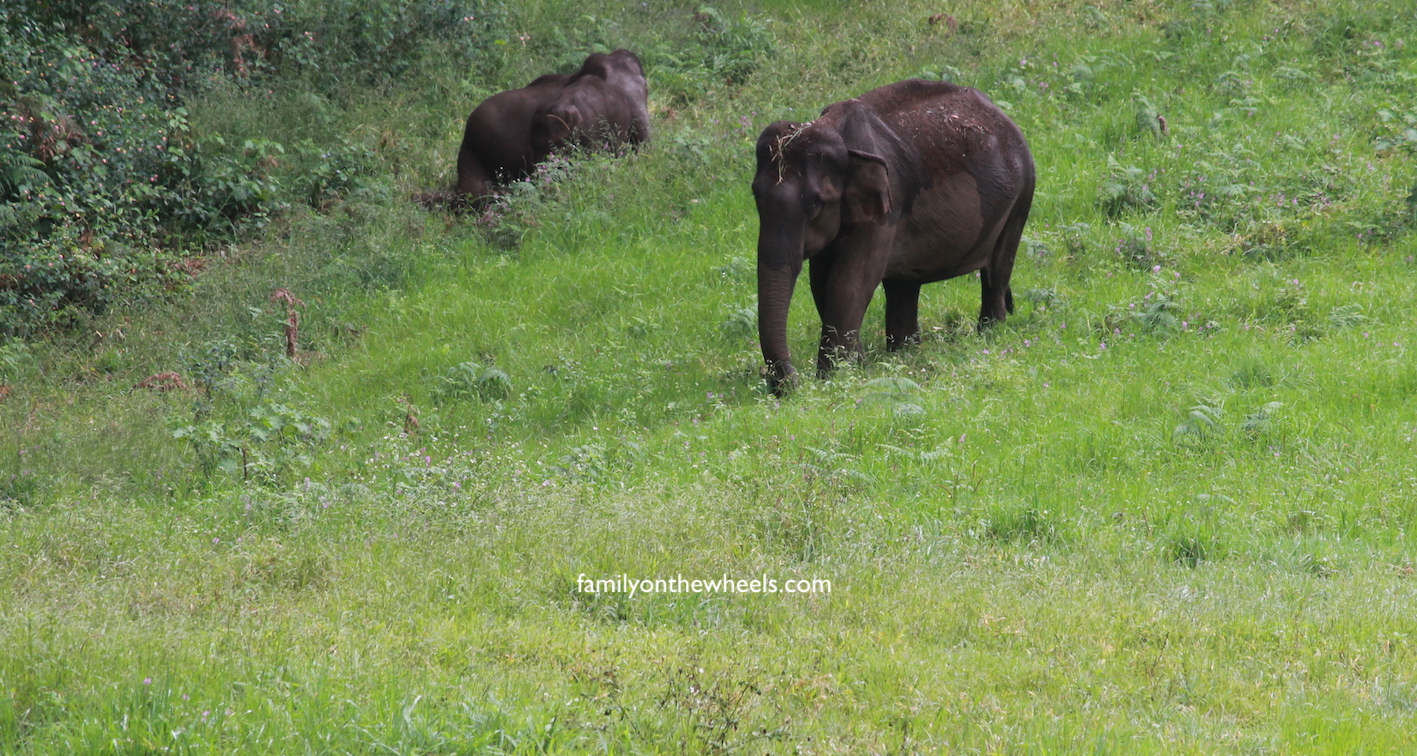 Kundala lake :
Approx. 7kms from the Echo point (20kms from Munnar city), this is again a pretty peaceful lake, which also gives the option of shikara ride, during the tourist season. Even horse riding around the lake seems lovely, sipping some pure hot coffee or amazing flavoured tea.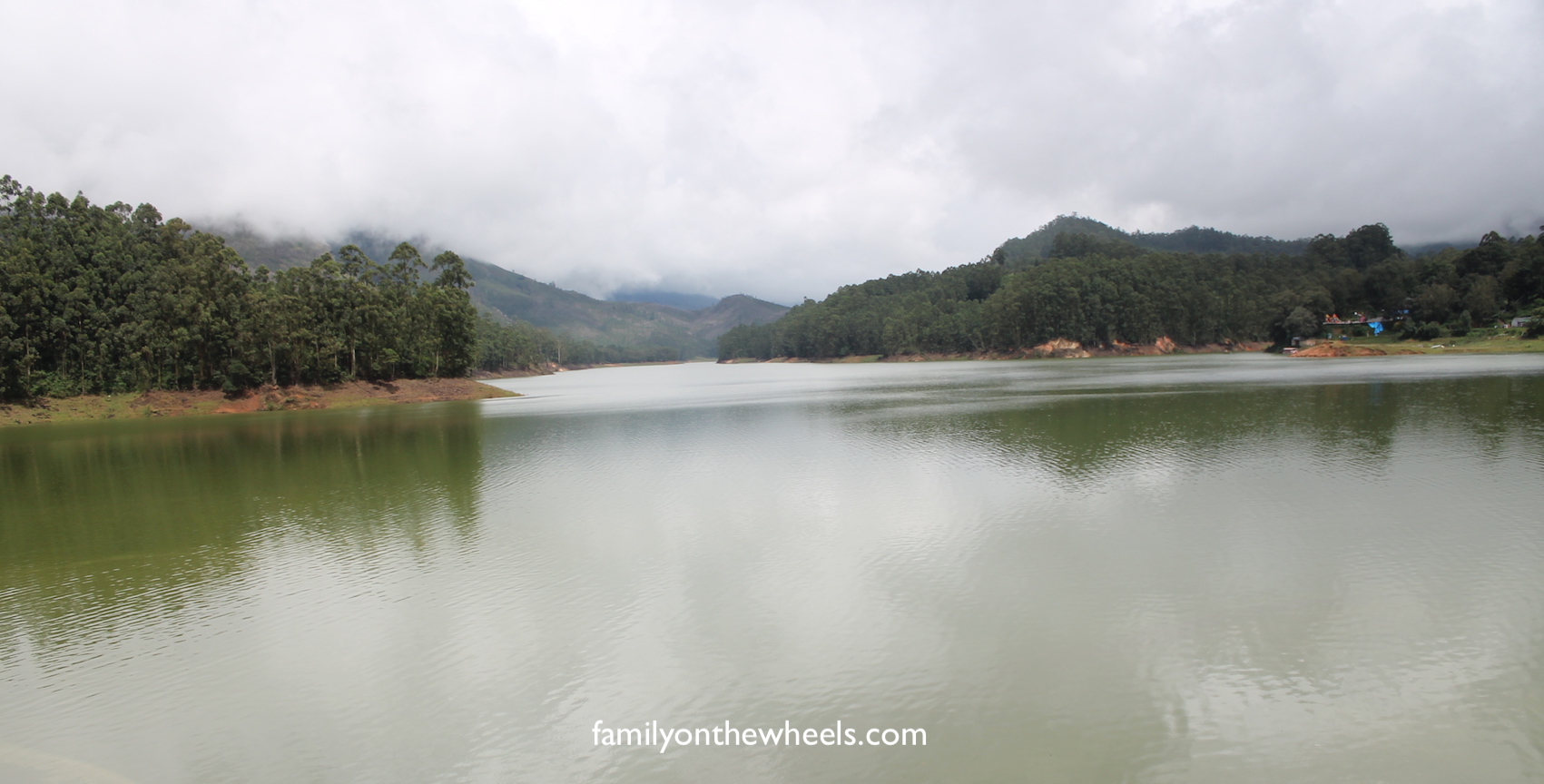 4. Did you know how the Tea is processed?
No, I didn't either. And thus, Munnar Tea Museum (managed by Kanan Devan Hills plantations), just 4kms from Munnar is perfect place for enrich ourselves.  We can look at the way tea is processed, various stages of tea, various age old and recent machines used for tea leaf processing. It goes exciting enough, after looking at the beautiful green tea gardens of Munnar. You can bring back some finest tea produced in the country here. Remember , Monday's they are closed!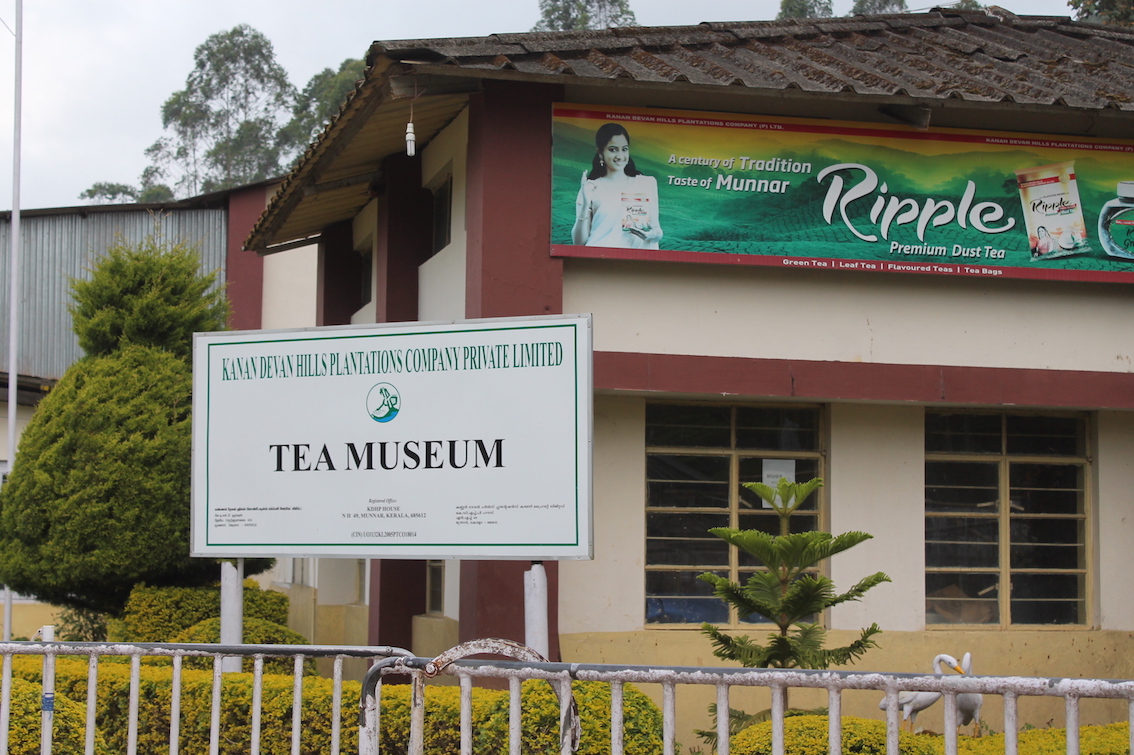 5. Gardens & Parks :
Close to 4kms from the Tea Museum, lies the Blossom park, which is full of beautiful flowers. Kids can have a fun time there, playing amidst the lush green lawns, climbing on the small rocks. Mountains laded with clouds and fogs adds more to the beauty of this place. It is just for relaxation and admiration.
There is also one Rose Garden, though we gave it a miss. It is a small garden with lovely variety of Roses.
Rajamalai (Eravikulam) National Park : Close to 13kms from Blossom park and a habitat of Nilgiri, read about Rajamalai National park here.
6. View Points to admire immense nature :
Pothamedu Viewpoint : Hardly 5min from Blossom park, this point offers the panoramic view of Munnar, its valleys are lush green, acting as a refreshing treat to eyes. It usually remains misty, but incase it is clear, you can also get the glimpse of a river from there. Park your car, have some quiet fun there.
Top station :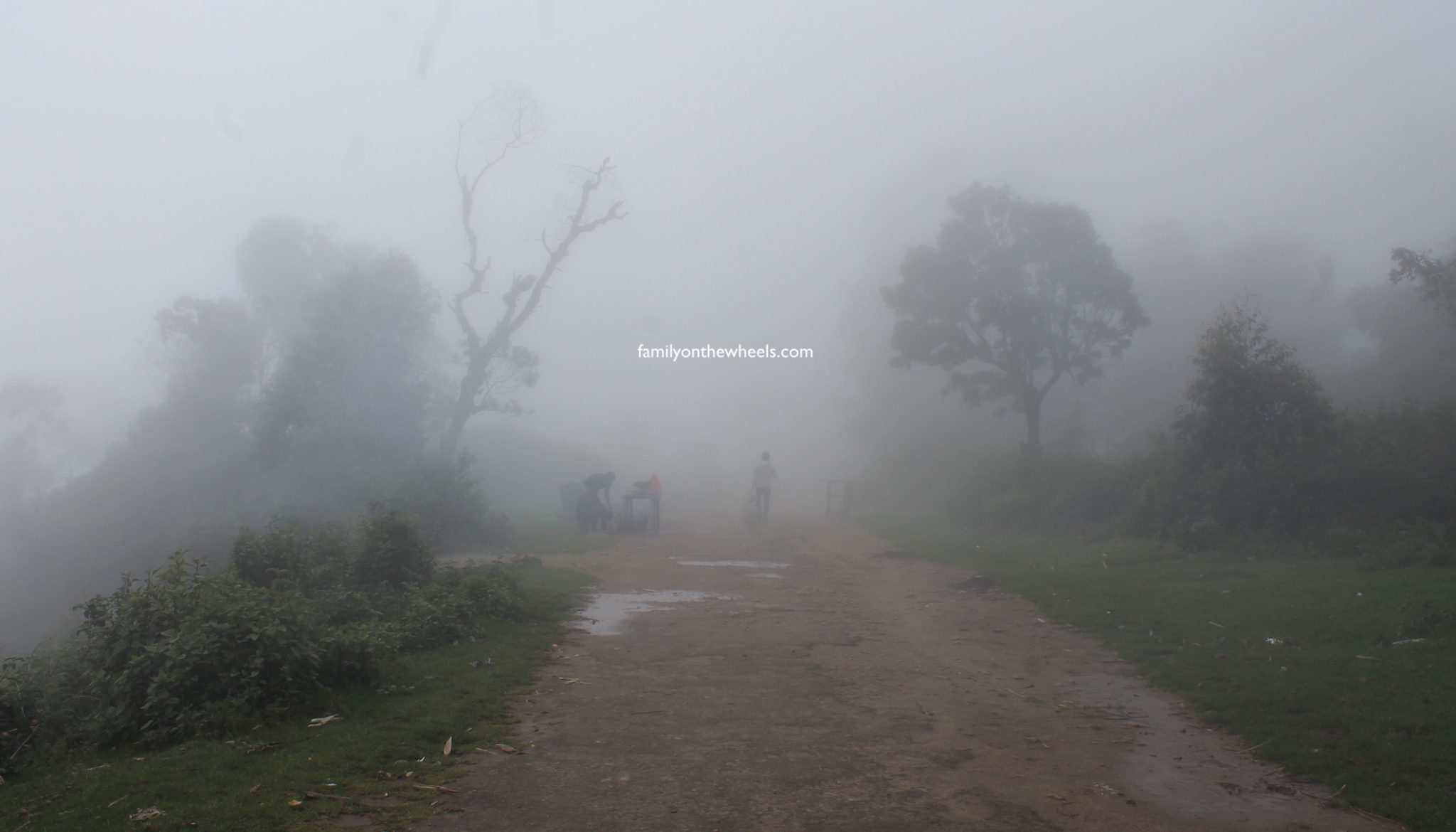 A heavenly place overlooking the Tamil Nadu border, it is the highest point in Munnar. It is approx.30kms from Munnar, but easily accessible. And just like us, you might not see anything apart from the heavy clouds, fog and drizzles. Well, that's the beauty, this place gives a panoramic view of Western Ghats and valleys in Tamil Nadu. If you bang on here in April or May, when it remains clear, you'll be bewildered by its views. If you are travelling in 2018, you might be lucky to see Neelakurinji flowers here, which bloom once in 12 years. It has some small tea shops, try some different flavoured tea. Buy some local fruits from there.
Chellarkovil View Point : Well, this point is more close to thekkady, you shall find it between Munnar and Thekkady. Read about Chellarkovil View and waterfalls.
Munnar has many ayurvedic spa centres, FOTW recommends spa and massage like Shirodhara, for a blissful calming experience.
FOTW Tips for travelling with Kids to Munnar :
Though most of the route stretches are good, but since its a mountainous region, motion sickness is very obvious, even in kids. Incase you are prone to it, avoid intake of milk before the start of trip and take medicine atleast 30min before the start.

Spice Gardens in Munnar also have Elephant bath and rides. Though we did at Thekkady, Kids can have the same experience of Elephant ride, bath here also.

Kids will love watching Elephants, try spotting them at the Elephant zones, which your driver will be aware of:)

Allow kids to have fun in the gardens and small hillocks.
Till then,
Happy travelling,
Team FOTW!