A Stopover at Pisa : From Florence to Pisa!
Well, its so rich in the history & wonder world, that anyone visiting Italy, specially Tuscany, finds it as an incredible piece of engineering!#FOTW was going to Cinque Terre from Florence (Firenze) and so we had to stop over for some 3hours at Pisa and adore the work here which is full of history.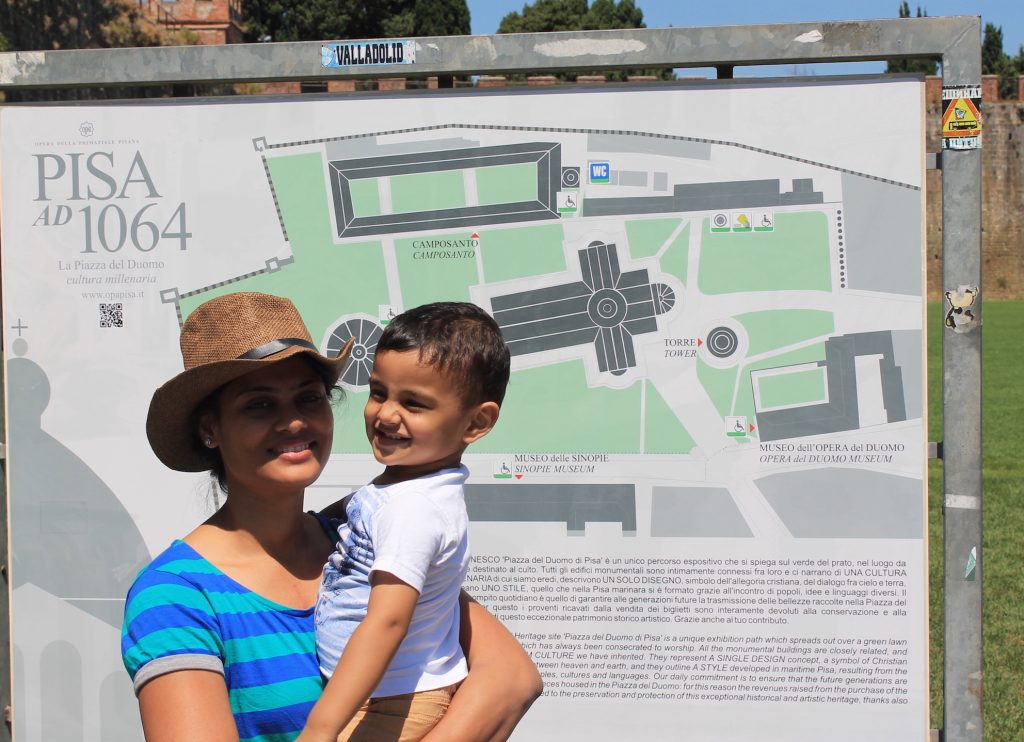 Reaching Pisa from Florence :
There are numerous "ItaliaRail/Trenitalia" trains running from Florence's Santa Maria station to Pisa Centrale, of just 1.15 hour duration. This convenience poses Pisa as a quick stop over when in Florence or while on the way to Cinque Terre. The ticket cost to us for this travel by Trenitalia was Euro 8,40 per person.
Once you get down at Pisa Centrale, walk some 50m and there are numerous buses running to transport you to Leaning tower of Pisa. Usually buses are super crowdy. Pay the bus fee (close to 1-2 Euro) & set it rolling to take you through some narrow lanes to the Pisa tower in 12-15minutes (just 2kms).
Tickets at Pisa :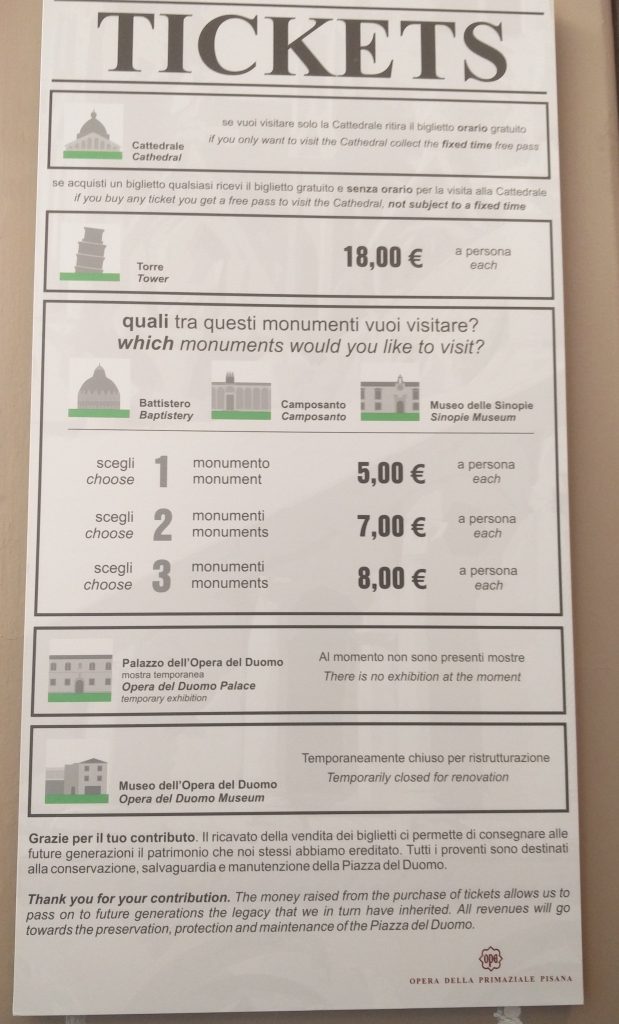 Summers are really hot and waiting to get the tickets offline can really be treacherous, as the Sun and then the crowd, both gets you insane. Specially if you are travelling in the main season, which is from April- Aug mid. If travelling with a kid, #FOTW suggest you to go for Skip the line & book online tickets for Pisa. 
You can alternately purchase tickets from the inside the Pisa Museum (Sinopie Pisa Museum) on the right as soon as you enter the complex. For the whole of Magical square you have options of 1 monument or 2 or 3 or 4 of all the four (except leaning tower), which you can opt basis your time as –
2 monuments among Battistero, Camposanto Monumentale, Museo dell'Opera del Duomo, Museo delle Sinopie – 7 euro
3 monuments among Battistero, Camposanto Monumentale, Museo dell'Opera del Duomo, Museo delle Sinopie – 8 euro
#FOTW chose for 2 monuments, since Museo dell'Opera del Duomo was closed for renovation. A separate for Leaning tower (booked Online) , all of these were covered it in less than 3hours.
Square of Miracles (Piazza dei Miracoli) :
When you arrive at the large complex, Piazza dei Miracoli, one indeed feels miraculous by the sight of amazing architectures. This square houses four masterpieces and one museum in itself:
1.Cathedral :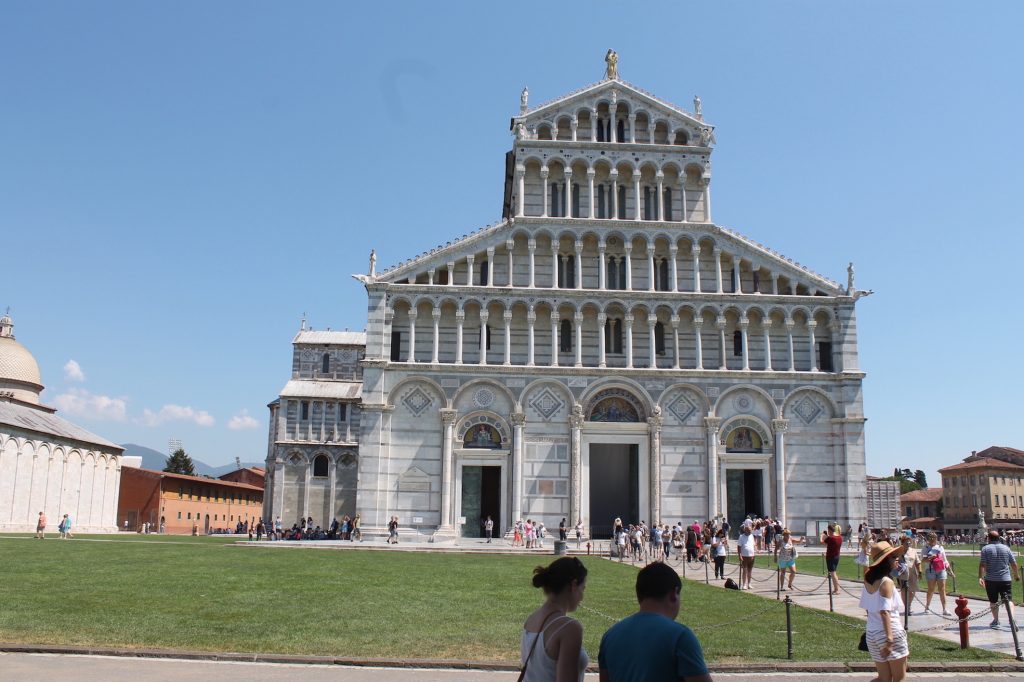 Cathedral has a free entry. The first building to be created in this square was this Cathedral of Santa Maria Assunta. It is a white marble Basilica and boasts a unique Pisan – Romanesque architecture. This artistic Cathedral is for sure, not to miss while in Pisa as per #FOTW.
2. Baptistery :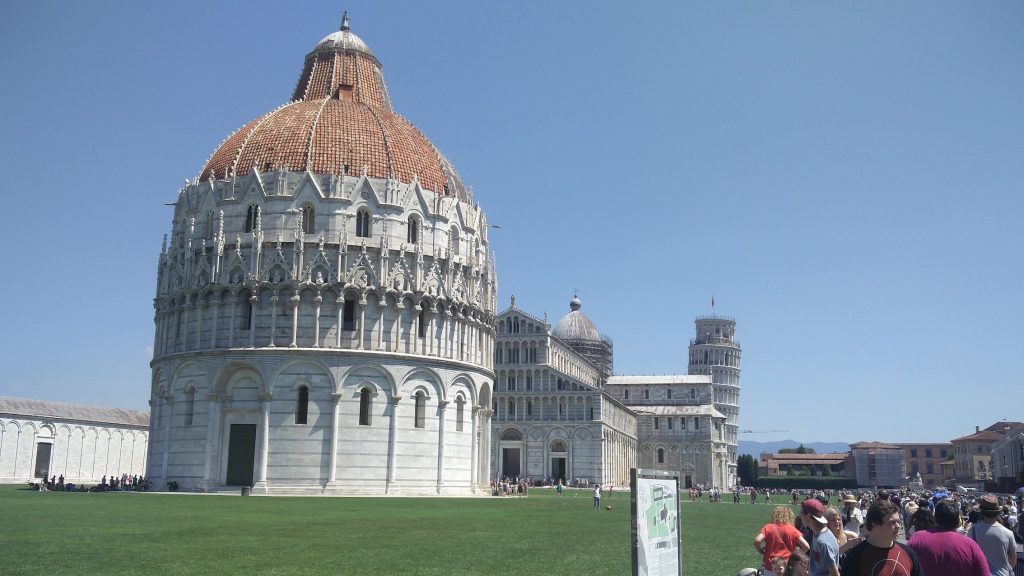 It's said that it is the largest baptistery in Italy. This scintillating building has a conical dome at the top and some really amazing artistic work inside pertaining to New Testament scenes. FOTW loved capturing these scenes & we couldn't stop praising this white marble architecture. It's worth every penny spent.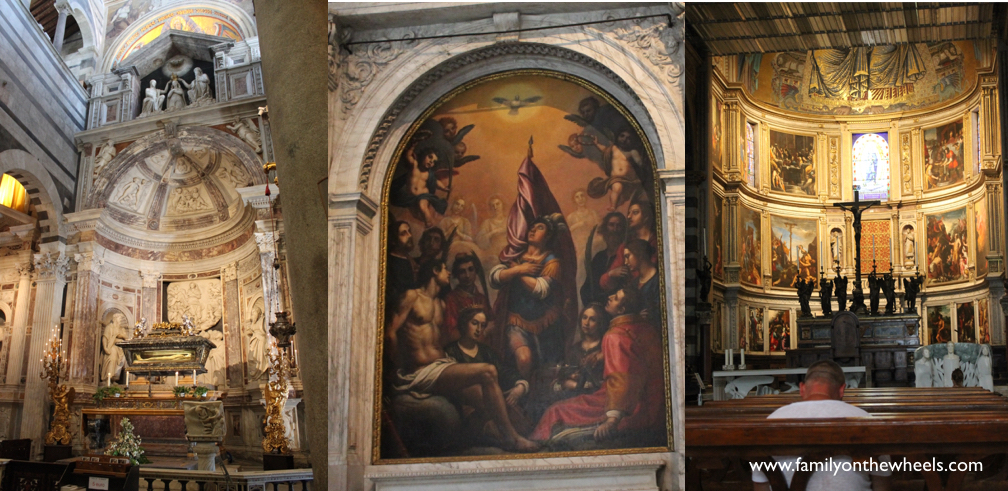 3. Cemetery, Campo Santo :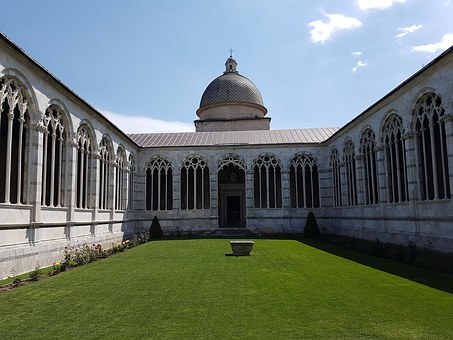 Into the centre, there comes an elongated passage which opens into a courtyard. On the floor of the walkaway, there are the graves of patricians of Pisa, and on sides are some inscribed stone coffins. Though it was destructed during the WW, it still has been restores much to the originality.
Incase, you have time crunch, then #FOTW suggests, this Cemetry can be missed.
4. Leaning tower of Pisa :
This is what calls all here, to give this tower some support & get clicked;),lol. But yes picturing yourself helping the tower to go straight is the most common sight you'll get to see & rather want to click for self.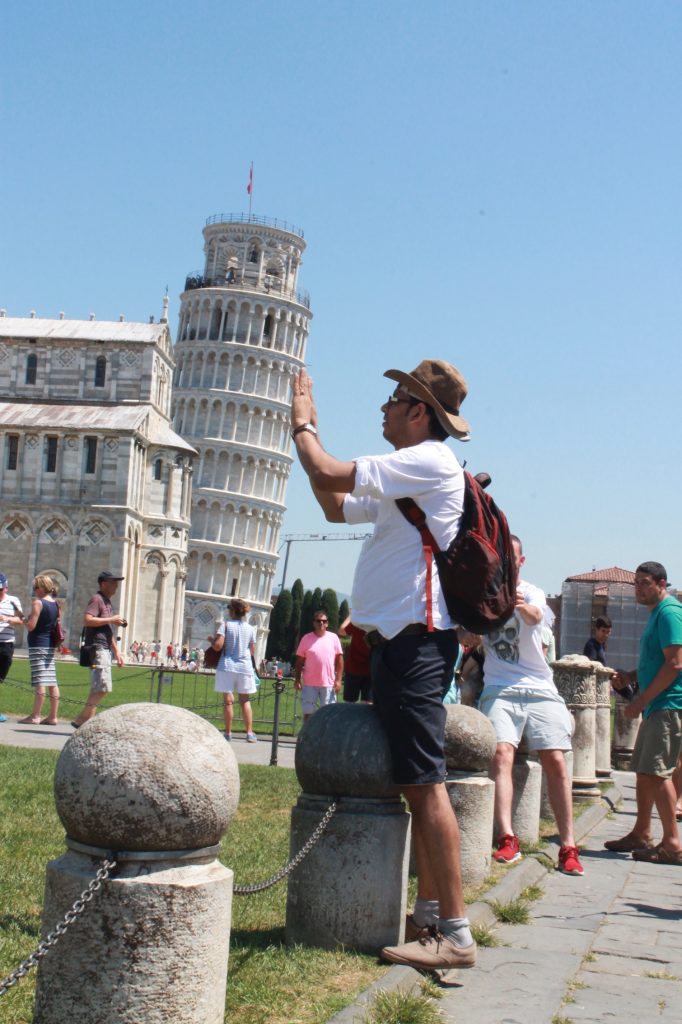 It has a rich history & is said that it started to sink & tilt even before the 3rd storey was completed. Architects tried to balance it by increasing the height of south walls, but that too proved ineffective. Post which its construction was halted for 100 long years. Work was resumed but the 3.9 degree tilt is still there and is stable enough. It is said that the tilt is due to the soft subsoil & it is not the single leaning tower in Pisa. There are two others in Pisa's Borgo Stretto.
The best part is the view it gives when climbed upon the tower which is close to 60m. There are some 7 really huge bells at the top but they have not been rung as they could lean the tower more. This is indeed a UNESCO World Heritage site.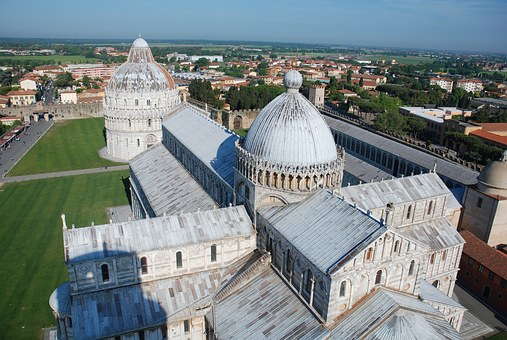 #FOTW Recommendation :
1.Get your self online ticket to climb to the top & have some really fresh air with good views. One gets 30 minutes to climb up & get down the 294 steps. It may seem tiring but you are greeted with some lovely views of the Pisa & Magical Square from the top .
2.Ticket to climb to the top of Leaning tower is approx 15Euros, and buying them online can add some 2Euros extra but it is worth every penny to save your time standing in queue to get there.
3. For safety concerns, child under 8years is not allowed to climb the top of Leaning tower, so only one of us went to the top while the other was baby sitting in the small gardens below:). The stairs are really dangerous for such small kids to climb & FOTW supports not taking them.
4. Also if you have more of time, you can book half day Pisa tours by Viator or any other operator to have a look at other sites in Pisa.
5. Museo dell'Opera del Duomo :
A really lovely curated museum with much less crowd. #FOTW could not explore this since it was closed for renovation. We got to know there that it houses a good treasury collection, embroideries, sculptures, paintings, ivory statues. Incase you have time to cover and is open, don't miss this out.
6. Sinopie Museum :
FOTW just saw little of frescoes. It contains restored frescoes which were originally in the Camposanto. This is basically the main ticket office to see the major attractions of Miracle Square, hence it was not much worth visiting. They run the film with the history of Leaning tower & its tilt, but there was too much of noise and it absolutely made not much sense. If someone is crazy for frescoes then do visit this Museum.
Opening hours:
Check out the exhaustive, month wise opening timings here .
We covered all of this in approx.3 hours and walking out we did shop some souvenirs (small statues of leaning tower). We got a really big umbrella for 4Euro to protect us from excessive sun we encountered on this August day:)
Cecina at Pisa for Food Lovers –
Try out Cecina, it is thin Gluten free flat bread made of chickpea flour, water, oil, salt and black pepper. Can be eaten all alone or with any sauce! A speciality of Pisa to relish.
Planning for Rome or Venice or venetian Islands or Capri?
Any queries for fellow travellers? #FOTW would love to help you out.

Connect with FOTW socially right here to get some amazing posts and more of our Travel Photos!