China as a Tourist!
Being an Indian, a reason for a trip to china would have been "business and exhibition". If me and my husband would not have stumbled upon an exciting opportunity, China would have never been in our list for a voyage! This exquisite wonder came across for Beijing & Shanghai. To make it more special, we got a chance to be a part of "International Event – Jackie Chan International FAN club",to celebrate Jackie Chan's 60th Birthday at Beijing.
Without any thoughts juggling over, this was a certain motivation & a life changer trip to meet our childhood hero & a noble soul!
Thrilled, Instant VISA application was given, baggages packed, we started from Mumbai to Beijing via Hong Kong. Even 10-11 hours flight was a comfortable one, as the thought of meeting JC kept us overwhelmed throughout. I just gleamed with joy, when JC International team welcomed us at Beijing Airport & we flooded all the wishes for his Birthday.
Welcoming at Beijing
We gleamed with joy when JC International team welcomed us at Beijing Airport & we flooded all the wishes for his Bday. Those were recorded to be broadcasted.
It had to be a special event but hardly were we aware about the enthusiast jamboree of some 500 odd fans gathered at Capitol Hotel premises from all over the world. Wow, that was fascinating.
Got a warm welcome by the team at hotel, presenting us with JC goodies, lunch boxes & guiding to our rooms before starting for the JC concert in evening at Beijing Stadium .

Tagged to specific bus nos.(No. 6 for us),some 17 odd buses awaited at hotel premises. It was a great group in the bus with a mix of so many nationals..Indians, Mexicans, Brazilians, Ukrainians, Sigaporeans, Egyptians & so many more enthusiasts!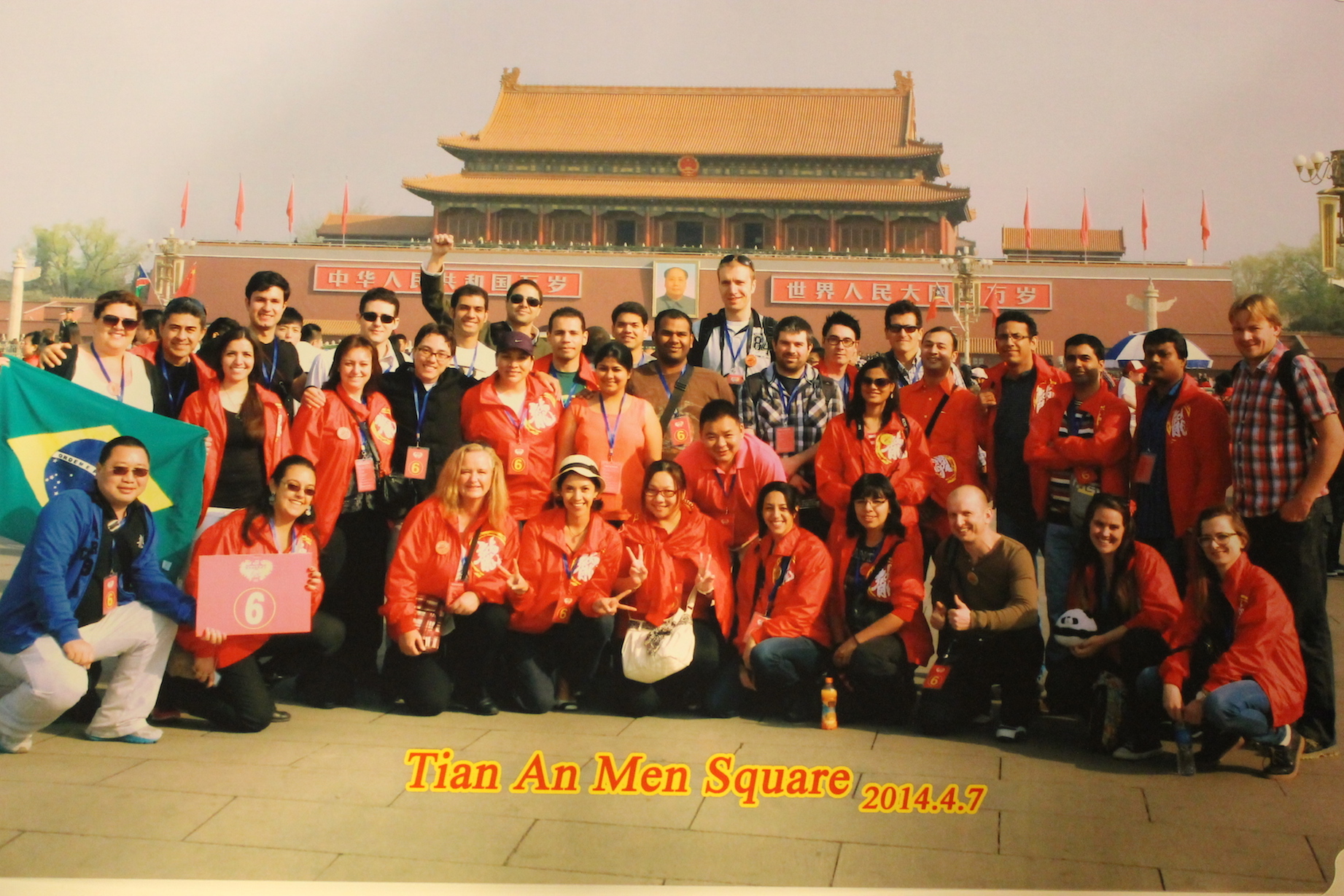 We'd gonna enjoy a superb cultural remix for the next 4 days.
Day 1 Event :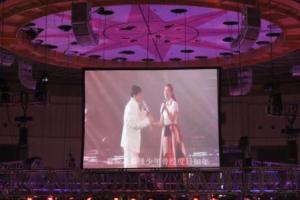 Evening saluted us with the most popular & loved singers as JC, COCO D & many more(from China ,Korea, Singapore ,Thailand) [email protected] International Peace Harmony Concert attended by thousands of fans across globe. Hardly did we understand the words (as none of the songs were in English but all regional languages) but that did not restrict us from applauding to the striking thunderous beats of the beautiful music & presentation. Enjoying this concert, rather some heart throbbing music for the next 4 hours left us spell bound & super excited for the forthcoming days .Concert ended with cake cutting ceremony by JC (next day was his Bday).
Day 2:
Early next morning was marked by delicious breakfast & we started for sightseeing. The traditional buildings with amazing curved sculptures of which I had fallen in love with, were waiting to be explored.
Fascinating railway museum, Aero-postle made their way to the stunning "Forbidden City". A complete exhaustive city to be covered on foot with enriching history & lives of the Emperors of China made us feel like a fantasy world.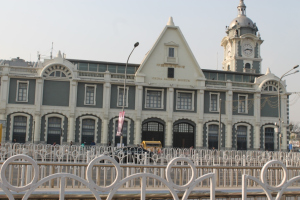 Forbidden City:
It was the imperial palace for twenty-four emperors during the Ming and Qing dynasties. It was first built in 14 years by 1 million workers. Ancient Chinese astronomers believed that the Purple Star (Polaris) was in the center of heaven and the Heavenly Emperor lived in the Purple Palace. The Palace for the emperor on earth was so called the Purple City. It was forbidden to enter without special permission of the emperor. Hence it was named as 'The Purple Forbidden City', usually called 'The Forbidden City'.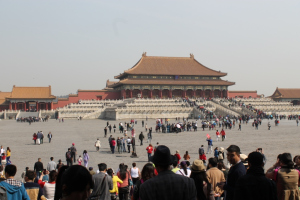 Rectangular in shape, it is the world's largest palace complex and covers 74 hectares. It is divided into two parts. The southern section, or the Outer Court was where the emperor exercised his supreme power over the nation. The northern section, or the Inner Court was where he lived with his royal family.
A tour of Forbidden City on foot for 3 hours was heel tiring, but with a feel of "not to miss & worth visiting".
Celebrating JC's Birthday:
This tiring had all vanished with adrenaline rushing, the moment we started for "Marriott Hotel" to rejoice the exclusive celebration of JC's 60th Birthday with him.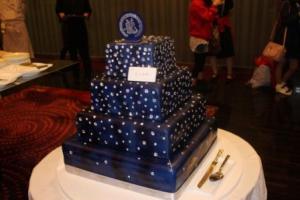 Super Excited fan's, we enjoyed the 30min ride beating drums, singing songs. Our teacher cum host of the day – "Mr. Mohammad" from Egypt promised us to teach an "Egyptian Song" – Kaboria. Amazing extravaganza was created on the board!!
Read our experience celebrating Jackie Chan's birthday

here

.
From here, over enthusiastic troop of Bus No. 6 moved to a specialty Restaurant "The Pecking Duck"( although it was of not much interest for us being veggies). The entire Fan club relished the delicacies & live cooking of the specialty dishes. We definitely got a chance to pounce upon some yummy desserts & fruits in the end:).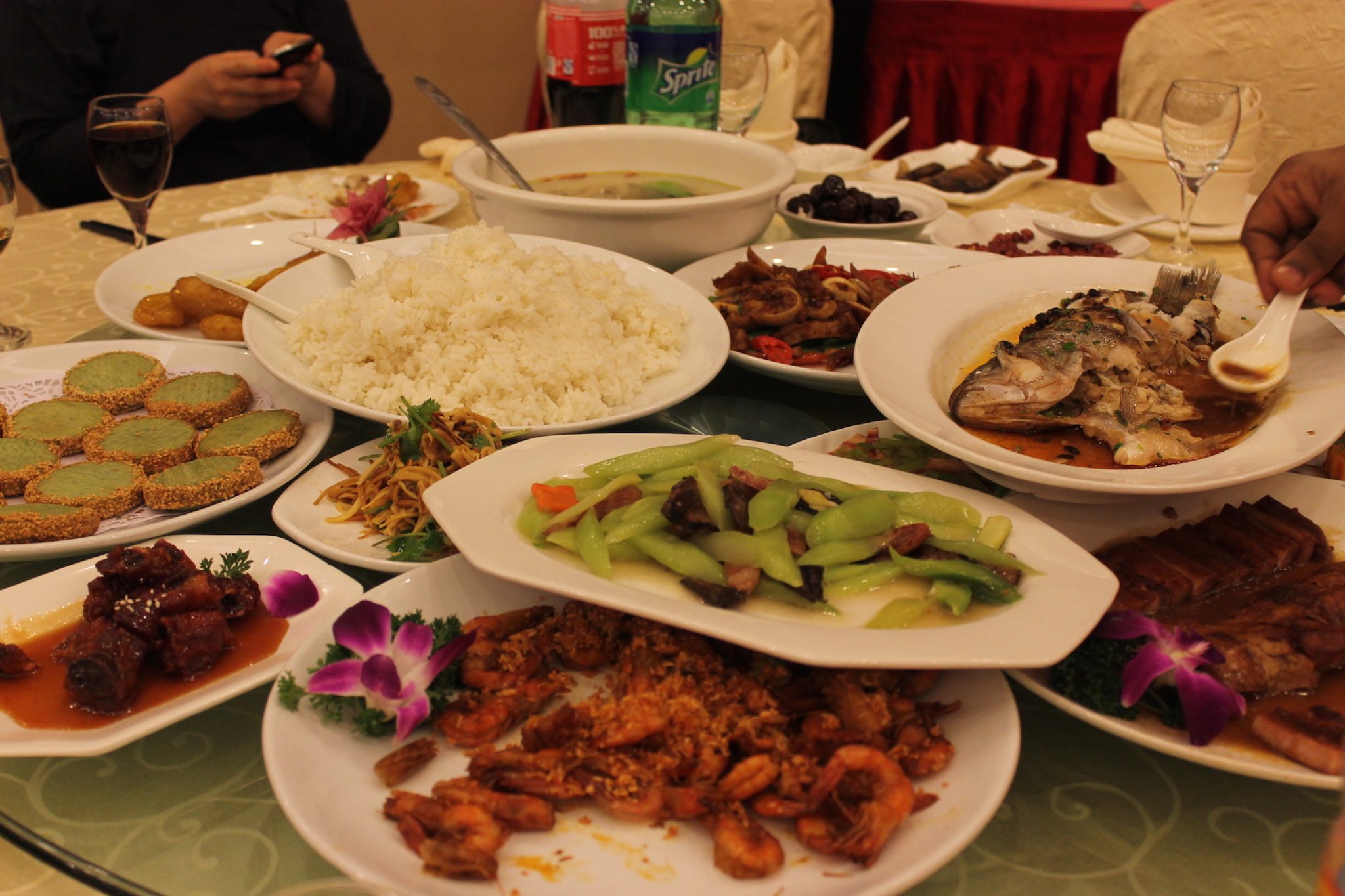 This day ended on a very pleasant note.
Day 3:
This morning we had to move from  Beijing to the Pride of China – Shanghai via Rail.
Experiencing bullet train was wonderful. In seconds the speed picked up from 0 to 307 Kmph. Vrooommmm and we were flying on the railway tracks, it felt. It was a very smooth ride & we enjoyed dancing, chatting, photographing beautiful landscapes. 1200 Kms were covered in less than 4 hr, awesome.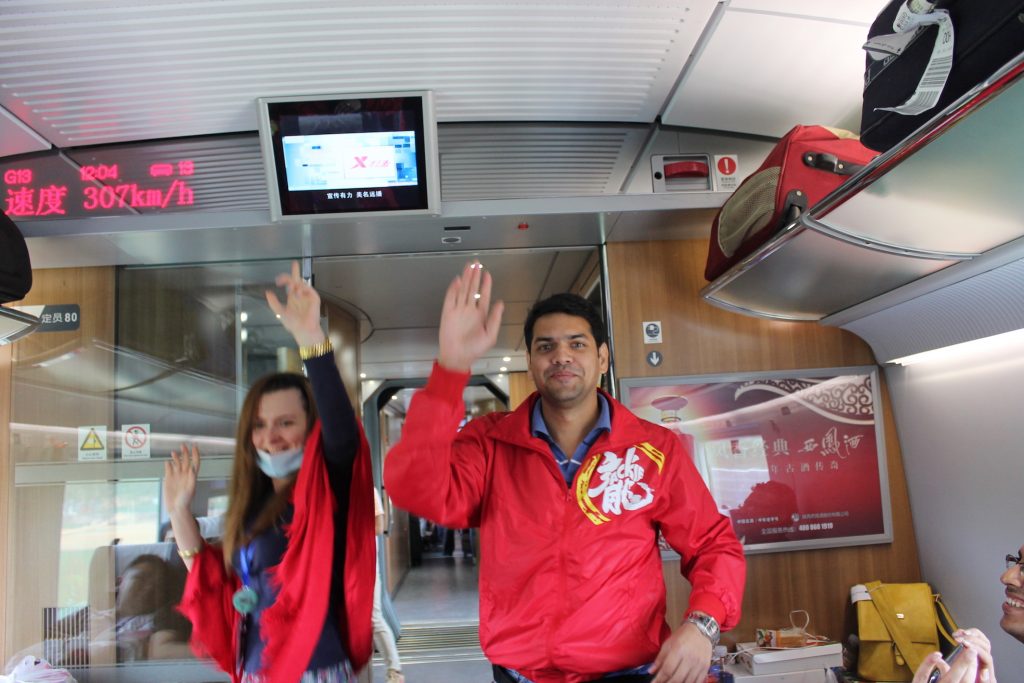 Arrival to Shanghai was marked with a modern town, superb infrastructures, sky scrapers, 4-5 bridges on bridges over a single road and lovely pillion riders.
After a break of 3-4 hrs for the lunch & rest, we had to start for the most amazing place of Shanghai "The Bund". A calm, serene, waterfront with superb architectural antique buildings on both sides. All the more, to hover around this place in night is a bliss in itself. Colorful lights reflected from the amazing buildings in the waters. Some resembled architectural work from Arab, European,Turkish countries, some on one side & some on other side of the river.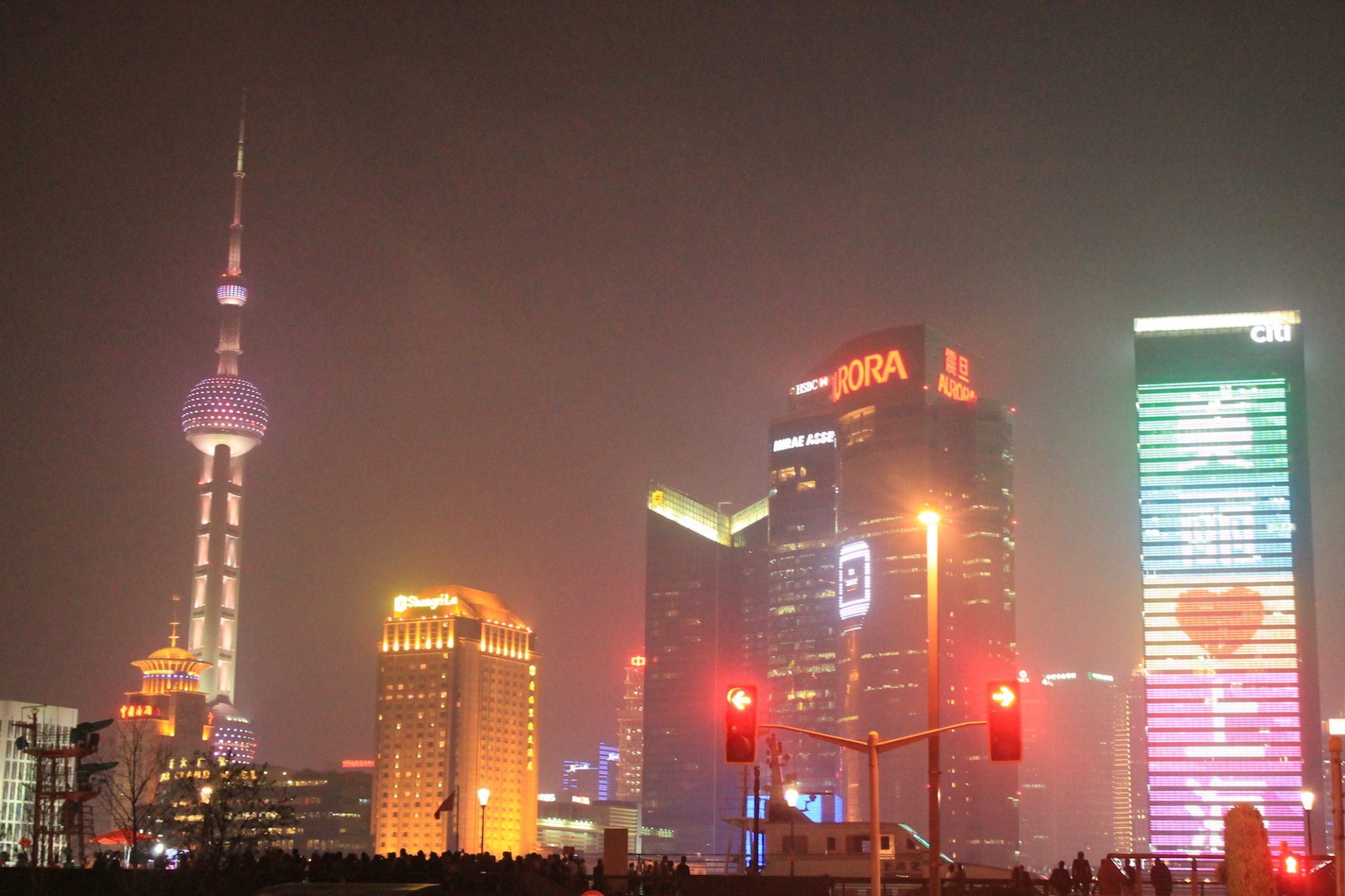 Strolling on this road with wintry breeze can never make one tired. A river cruise can be opted in beautifully designed ferries, amidst cold windy & sparkling night. the Bund, was indeed a treat to our eyes.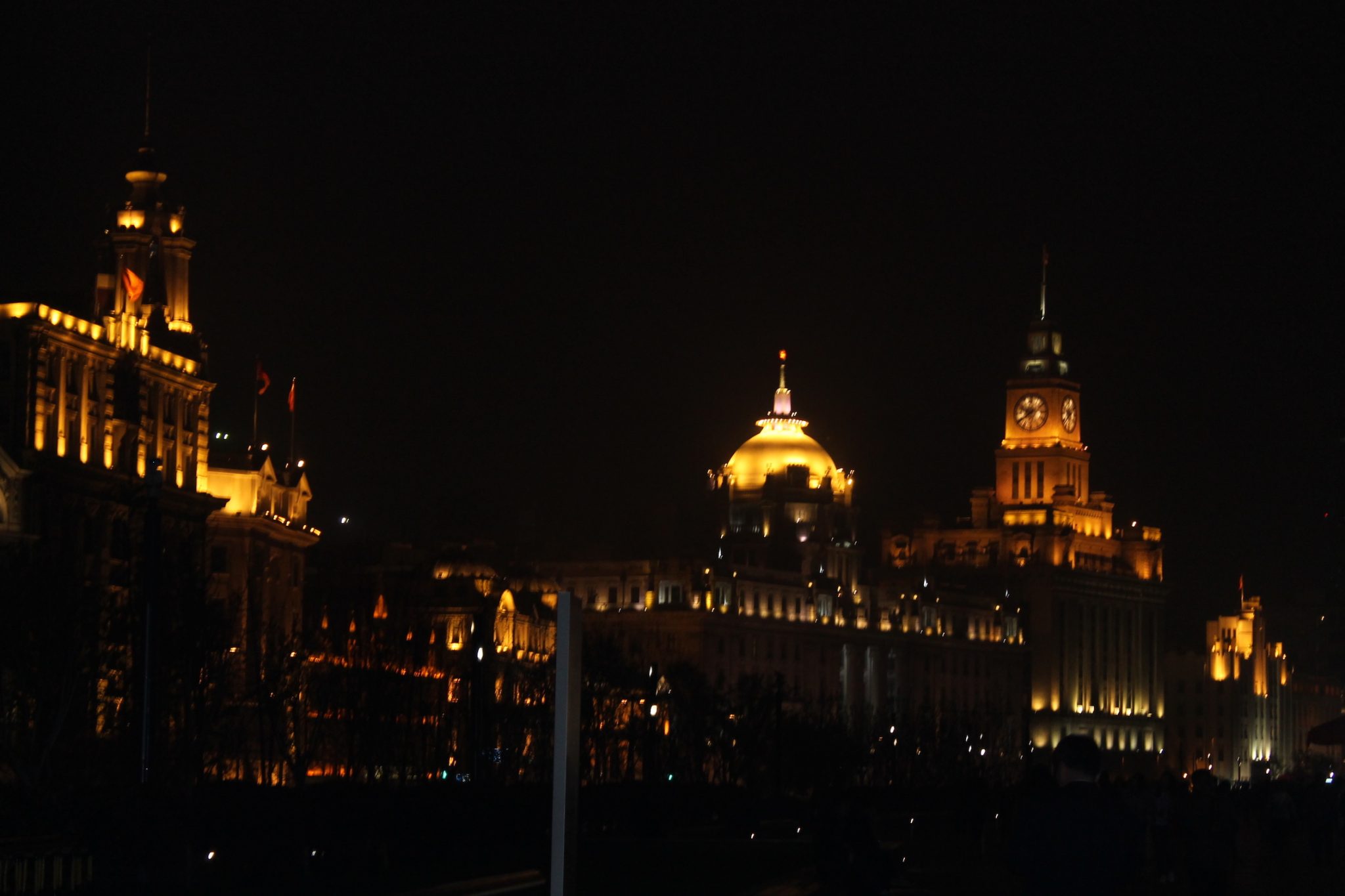 Day 4:
With all the freshness getting carried forward, this day started late. Opting for lovely morning walk, an hour of sun bathing gave a relaxing therapy to us!
We had to head for out next venture i.e. JC "Love Peace Museum" . Once you enter the JC Art Gallery till the time you move out (approx. 2-2:30 hrs) every master piece of the gallery will bring a naïve surprise & an exhilaration of "what an amazing work" for sure.
It would have been a big miss of the innovative creative art for anyone assuming it as a normal routine museum.
Signifying his personal and stardom life, his tens of thousands of props, costumes, posters, all shared a small story. The Stills, Stunts arts, numerous photo shooting options were terrific.  It also presented his social work for children across the world. All of this museum is too less to narrate here. It definitely demands a visit for this great innovative museum!
These 2:30 hrs passed too quick & to our utter surprise, we were again getting a chance to meet JC personally close to his gallery.
A re-meet with Jackie Chan assured!
Couldn't believe, but yes a pinch assured me that JC had come to Shanghai that day & he might come to meet & bid us Bye.
Post couching on the Shanghese Cuisine ( for the first time we got completely veg meal on demand) ,we headed to see JC's movie "Police Story6" on large screen in a hall arranged for us.
Post 1 hr or so, security started to increase, which sensed that JC was about to arrive. Jackie Chan had made  a sudden presence. OMG ,clapping ,shouting ,unable to control the terrific feelings ,fans trying to pounce on him, it was a maddening moment.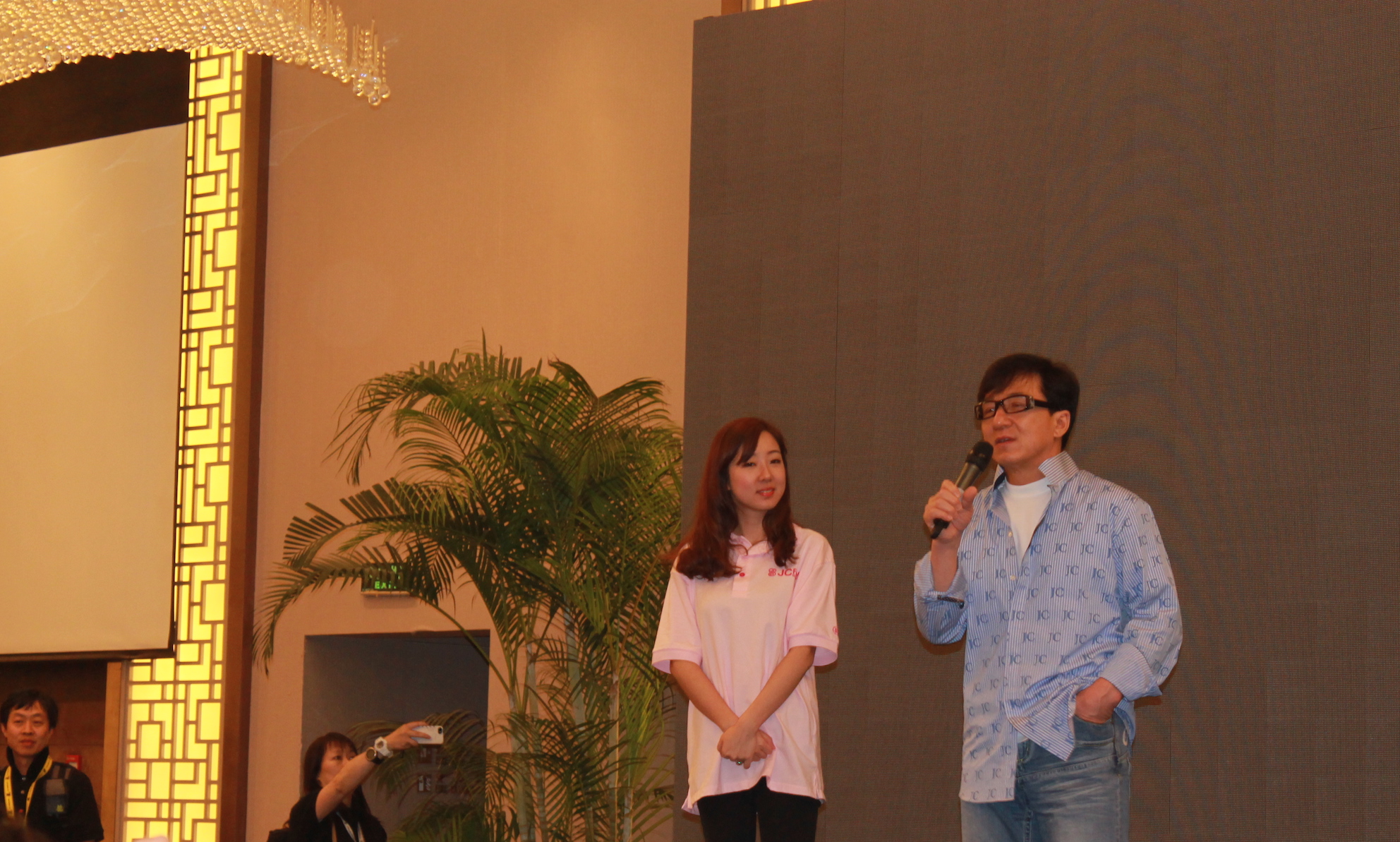 Jackie Chan wanted to give us all a "Thanks note" along with his message of social work for kids & others. Although it was just a 30 min meeting, but every moment was relished.
We got free by 6:30 and our bus planned to move for shopping spree on "Nanjing Street" .
A big street for all shoppers starting from the most branded ones to average showrooms. From all kinda food stuffs ,we just couldn't resist upon seeing the Pizza Hut & dabbled upon the yummy cheese pizza with smoothies & returned back to our hotel post some shopping.
Time for Adieu!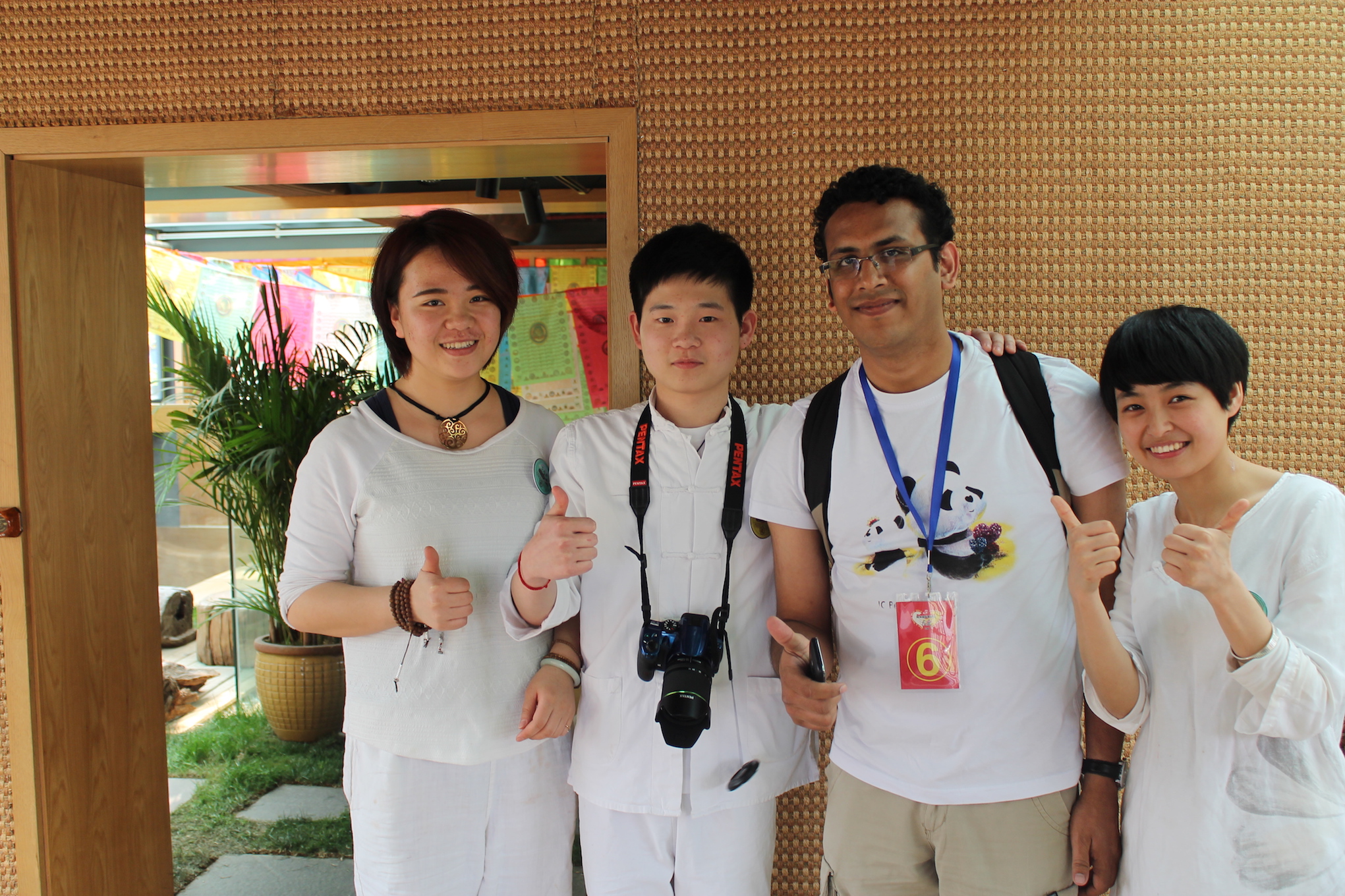 Next day we all had to return back to our destinations, some starting early morning & few till late evening, all divided in slots as per their flight timings.
It was a moment to bid "Adieu" to the wonderful people, specially to our Bus no.6.
Scarcity of Vegan food, language differences were faced, but this never actually got us stuck due to a strong positive aura & happiness buzzing all around.
Taking back great memories,"Kab Kab Kaboriya ….Az Az Azure … song along with us back to INDIA!
Till then BBye!