Venice – The city of Canals and Masks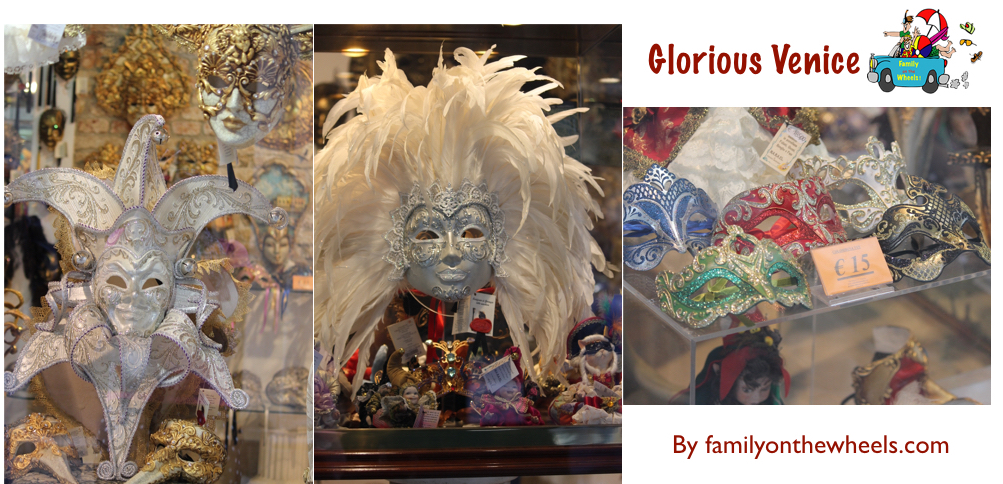 When the city like Venice calls travellers, it can often get bewildering what to see and what not to. Hence the best way to explore places like Venice is to walk through the lanes & explore city on gondolas. Walk every little corner of the streets to find something worth clicking and of your interest. If not this way, grab some thick shakes or fruit yogurts, wear a mask and begin the exploration. It is that easy friends! And yes, beware you'll not find Venice in peace, coz after all it is a beautiful city full of pleasant sightings, lovely bridges and ample of sea, thronged by millions of travellers.
Reaching Venice from Milan :
For us, Venice was the 2nd destination in our Itinerary to Italy. Reaching Venice from Milan was super comfy with the high speeds train taking approx. 2.30 hours to drop you at Santa Lucia (Venice's central Station). Trenitalia took close to 60Euros PP for this ride!
We reached Venice by 12 noon and as soon as we came out, it was a wonder to view the Grand canal, with a Vaporetto[water bus] stop in the front and Scalzi bridge to the left. Forget taking the train or the subways here, its the vaporetto that's gonna take you around this marvellous city full of canals.
We had booked "Casa Martini hotel" here which was just 10 minutes via Vaporetto, but we preferred to walk away those 750m to get the glimpse of the city. The walk in the narrow lanes, full of eateries and drinks bustling with the tourists opened into a canal to drift us to our hotel. Casa Martini is located in the midst of the market and from where one can very easily have access to the major sights of Venice.
Venice by Walk
After getting some good food of Pizza and drinks at the eateries on a close by square, we started to walk from the market full of fresh veggies, sea food, masks, gelato, shakes & yogurts towards Rialto Bridge.
The walk is really beautiful to know more of Venice, its streets, to sip some yummy shakes while passing by various small canals & bridges. And the best is to stand on top of a canal while savouring yourself & see the passing gondolas. Why not plan a small ride on the Gondola yourself? Yes, that's what we thought when our kid provoked us for this "Boating":).
Joys of Gondola's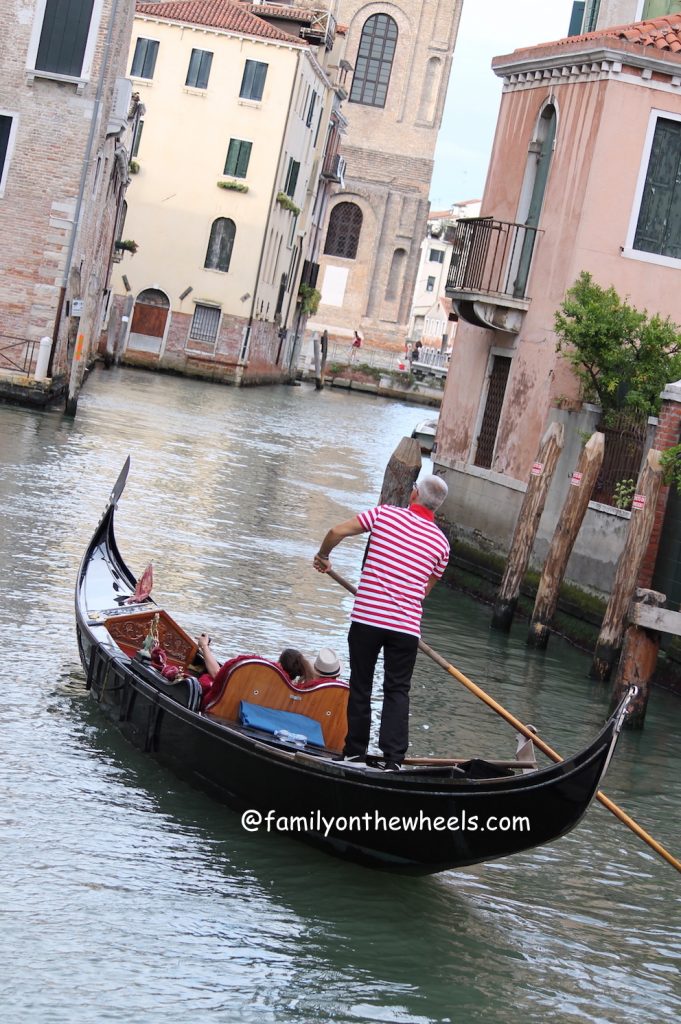 You can get Gondola's on many of the small canals for 30-60minutes ride of the city giving you some amazing views of the narrow city built in the water. Enjoying a Gondola ride, will cost some Euros, but it is worth to get those city & landscape views.
Post ride, we were on foot again to cover a small distance to reach Rialto bridge on the Grand Canal.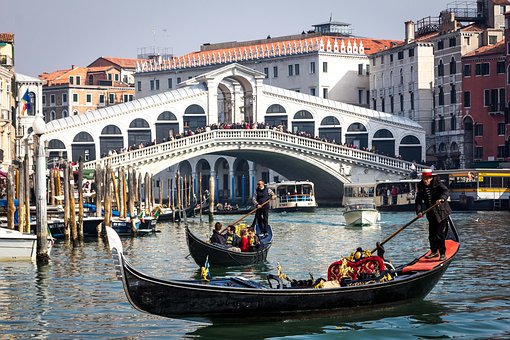 To say, Rialto bridge is the most visited attraction of the city. Last year August, It was getting renovated, though we could go to the top of it to have the sight of grand canal. Grand Canal, as the name says, is the biggest canal covering the Venice city from Santa Lucia to the Saint Marks basin, close to 2.3miles long. Local people say that it is approx. 5-6 mts deep. At Rialto, you'll see all sorts of water modes – private boats, vaporetti (water bus), gondolas. So just choose the way you wish to ride your way through the city, basis your budget. Private boats are usually very costly & Water bus passes are the best to help you discover Venice & its Islands anytime. 
It was an evening for us & we spent sometime sitting on the banks of Grand Canal @Rialto. With numerous eateries, dessert and juice shops, you'll find the booking counters to plan your trip yo venetian Islands of Murano, Burano & Torcello or Lido and some more right there itself. Detailed maps, guides are there to help you plan the place & timings to reach some beautiful sites.
Exploration continued..
We took 2days pass for water bus rides and planned our next day morning trip to the venetian Islands there itself. For the night we booked a water bus ride to Saint Marks square.
Saint Mark's Square (Piazza San Marco):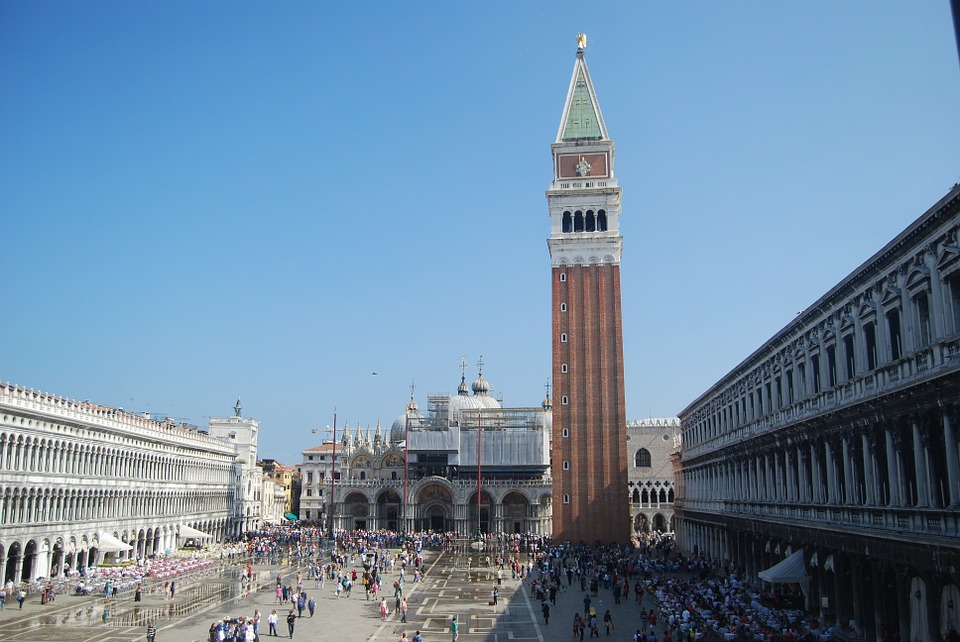 Venice's largest & a beautiful square, but full of tourists on every corner. To help us soak into the beauty we planned a night trip to this square & got obsessed with the stunning sea views & some delicious food. This square gave us the feel of a joyous place (often referred as Drawing room, lol) to chit chat, sip drink, eat food, shop some street bags & masks or if not get clicked by some curious artists.
The lining of the square is really marked with some beautiful historical sites as St. Marks Basilica, Doge's Palace, Bell tower. Since it is a hub of start of many water trips & mostly touristy, most of the fore front restaurants are lil expensive for a budget traveller. We went inside the streets & found a small lively eatery who served us delicious Ravioli & yes, our kid loved it.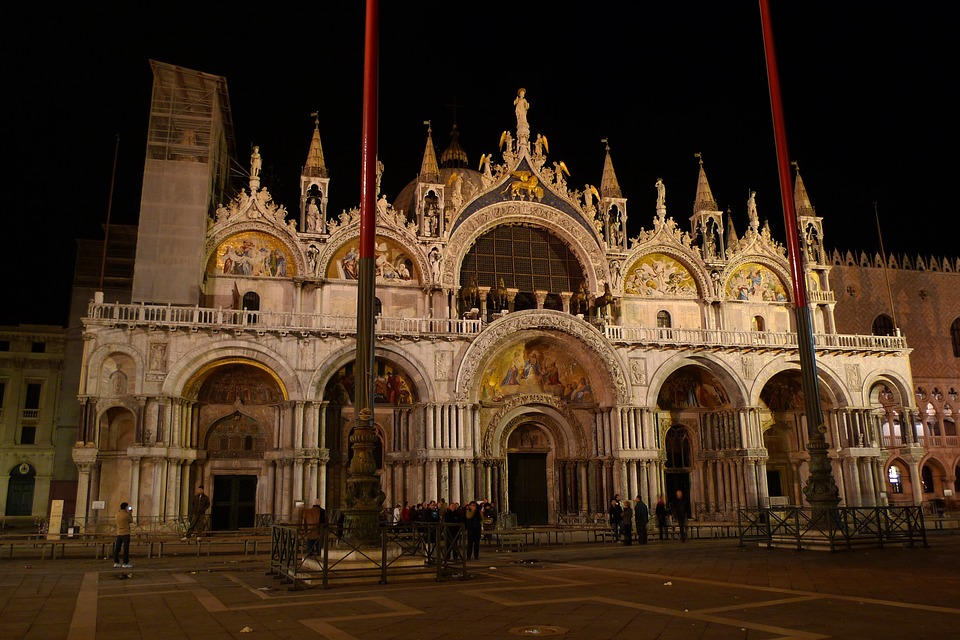 The best part of night visit was the peace to sit besides the sea & praise the square which looks so beautiful in the night lights.
There itself we took the waterbus & went for a night sighting of Venice on the sea! This was the most splendid time we had sitting on the deck of the waterbus & enjoying the amazing dark – light views of the city. Check for yourself!!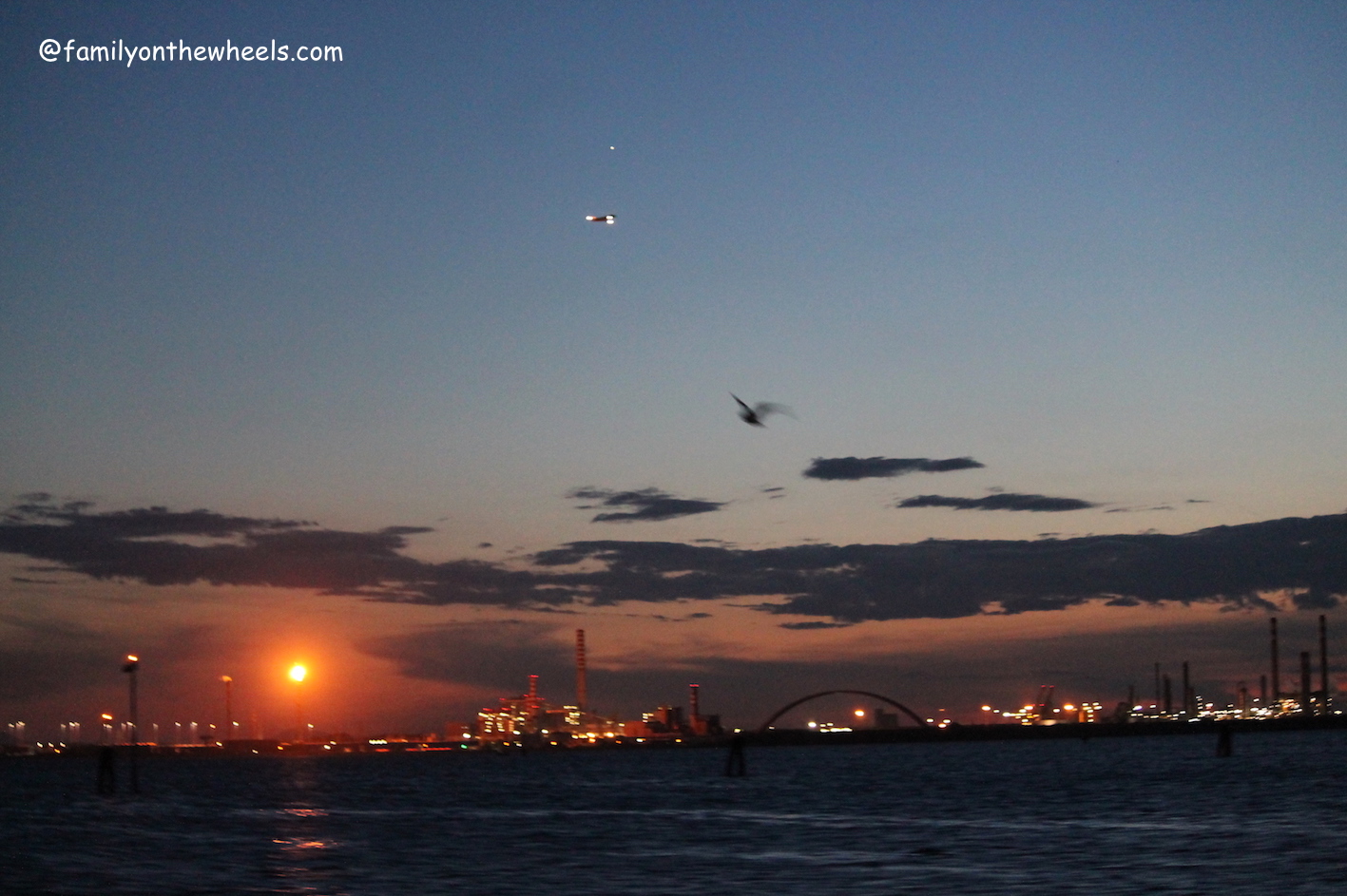 The beautiful next morning!
Reaching back, the next morning was adorned again by going to the St. Mark's Square to have a look at the grandeur's of Basilica, Doge's museum & Bell tower (FOTW did not go inside the Bell tower)
Doge's palace :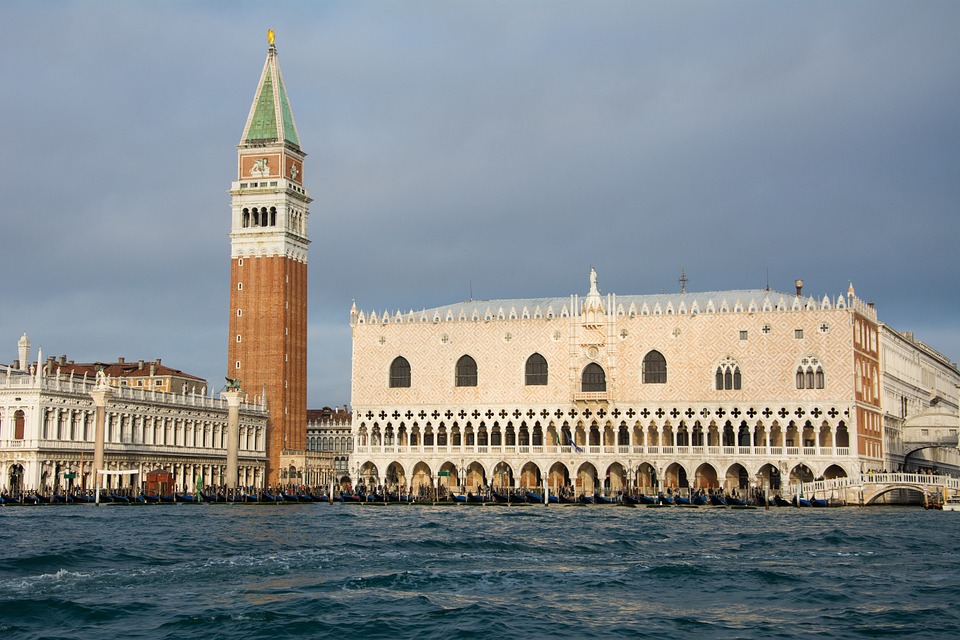 It holds a magnificent history along with an artistic spirit in itself. The lines get long as the day goes so try to reach early to have a glimpse. This Gothic building was the residence of Doge, An erstwhile ruler of Venice and now is a form of Museum. With spell binding grand halls, fantastic interiors, exquisite paintings by some of the venetian masters, this will for sure leave you praising the architecture.
Visiting time : 8:30 a.m to 7:00 p.m (5:30 p.m in winter months), Last visitor is allowed entry one hour before closing.
Admission : The ticket lines are usually long, so save time by buying San Marco Square Pass (usually 4 museums covered) by Viator/other online mode for an easy entry.
St. Marks Basilica :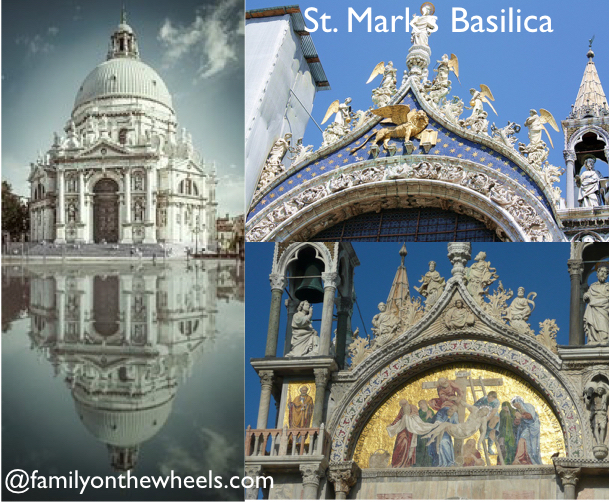 One of the most historically rich sites & a must visit is this Basilica. You'll be all praises to view it while coming via the waterbus, as the site looks immensely beautiful. The first basilica here was built way back in the 9th Century. It has an interesting story structured on the mosaic ceiling. You'll fall in love with the huge golden mosaics, intricate architecture, precious objects and sacred images that this Basilica has.
Visiting Time : 9.30 am – 5.00 pm (last admission is by 4.45 pm), Sundays & Public holidays it is 2:00 pm-5:00 pm
Admission : Get "Skip the line" tickets online at the low cost of 2 Euro (Free for young children upto 5years). Remember, skip the line is worth every penny. Wait of 30-45 minutes outside is too treacherous for adults as well as kids.
Campanile Bell Tower :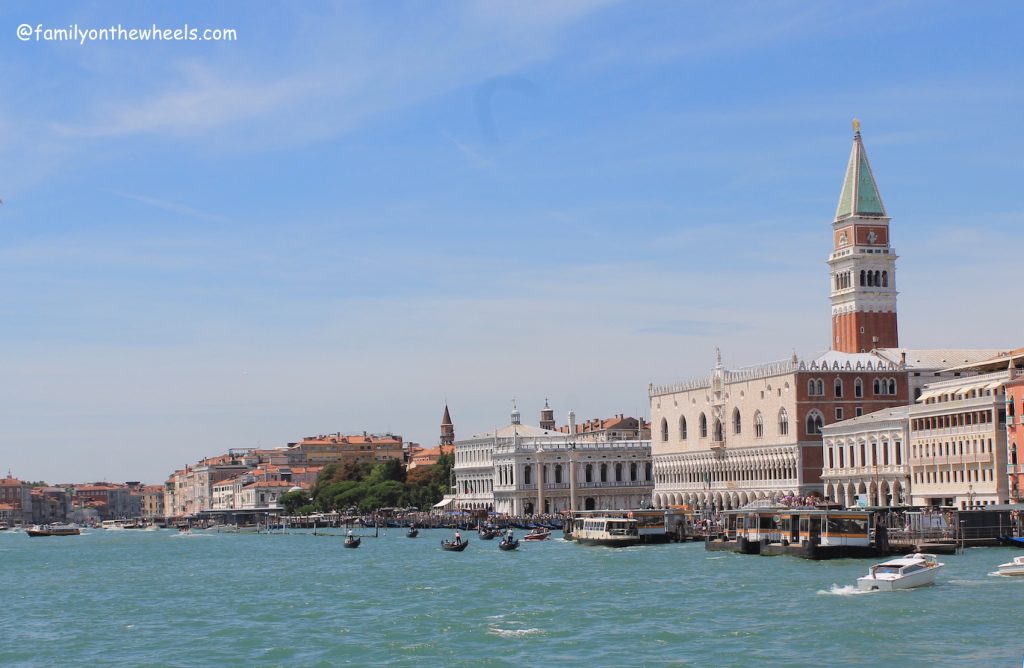 Even this dates back to 9th century was was re-built in early 19th Century. Italy's every major city has these "Bell towers" which along with a history & architecture have an amazing terrace views of the entire city . This one had views from 98mts height. Since we covered Bell tower in Milan, hence we did not go to the top here. You can definitely reach to have a grand view of Lido & entire Venice.
Timings : They vary basis different months & season, but mostly 9am to 7pm in the Summer evening is a perfect time.
Admission: It costs around 8Euros per person to reach the top & get the amazing views.
Post this it was a time to start for venetian Islands, an incredible ship ride to venture little villages. 
Catch posts on Burano, Murano & Torcello by FOTW!
FOTW recommendations for kids :
St. Mark's Square is heavily crowded, hence if you plan to visit its architectures, do take the tickets online. Avoid waiting in the lines when the sun is hot during day
Do experience Gondola, kids will love it
Gelato's are not to be forgotten, with some yummy flavored yogurts for them
Get them some masks for fun
Keep Sunscreen & hats ready during summers
Hold infants, toddlers, pre schoolers tightly while photographing on the top of Rialto bridge
In case your kid freaks in crowds try exploring the Night beauty of the city. Nights on sea can be cooler for kids, so take proper precautions.
Happy Travelling, Any queries, just contact us. FOTW will be glad to help you plan your trip!