A date with Nature, Wildlife, Art, Cuisine, Ah Melbourne!!
I could hear my heart thumping heavily on one look  of Melbourne. A city with immense adventure in the form of fauna encounters, water activities, Ballooning, serenity on the banks of river, a lavish treat for the taste buds, a power nap while sun bathing, unwinding on beaches.  And yes not to miss the stunning Art galleries, Museums & Gaol. A city swearing to ensure we're on cloud nine ?.
There are more than 160 travel attractions in Melbourne, but we need to be selective basis the taste. We being adventure, food and nature enthusiast's wanted to augment our experience with numerous escapades and have terrific experience of the most liveable city" City of Melbourne".
First let's get some Facts :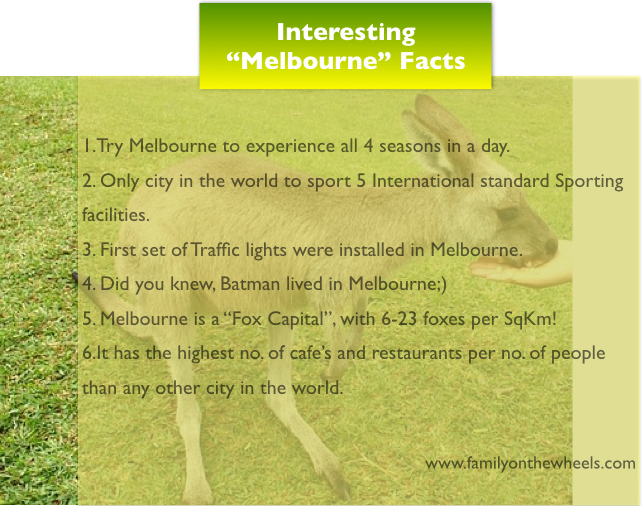 Few Iconic Melbourne Attractions, which are not to miss for any wanderlust-er :
A Mandatory Deal : Phillip Island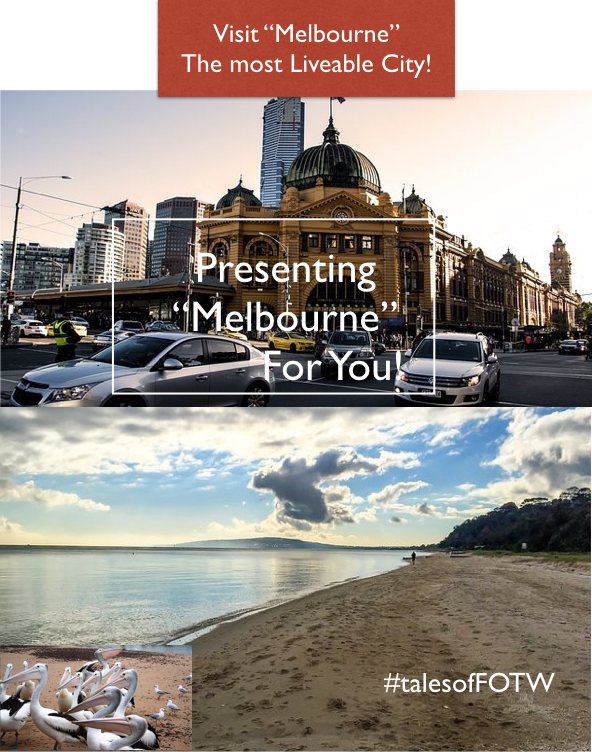 [An Australian island about 140 km south-southeast of Melbourne. Named after Arthur Phillip, the first Governor of New South Wales. It forms a natural breakwater for the shallow waters of the Western Port.] – Wikipedia
That's an island with a difference!! Wine, Chocolates, Flora, Fauna & many more.Try some best local wines & taste some yummy chocolates at the chocolate factory. Get amused by the beautiful art gallery. Go artistic with hands on with your chocolate to drive you crazy. Strolling the Phillip Island Wildlife Park gives you numerous encounters and you might here,"Oh! That's a little Wallabie to my right". Here you can get close & show love to the lovely Koalas, hand feed wallabies & giant red kangaroos, see gigantic Emu, Cassowary, Cockatoos & numerous 100 odd species, some of which are seldom seen.
Penguin Parade is undoubtedly an Eye catcher, when penguins return back from their day's work (obviously of Fishing?)
Whale Spotting :
I'm sure that won't be generous of one to just hang around & relax, sans exploring one of the best likelihood of spotting a Whale. Well there are specific times in a year when the whale migrations happens. Who knows one could be lucky to spot Humpback and Southern Right Whales in the sea or in the air. How majestic, these sightings are mostly between June – Aug.
For the Bikers:
A replica of Phillip Island Grand Prix Circuit is there for you. Have a look at the stunning Grand Prix circuit & try out your hidden skills of racing. Hope to see another Schumacher in "You".
The Great Ocean Road : There's nothing more illustrious than this piece of Nature –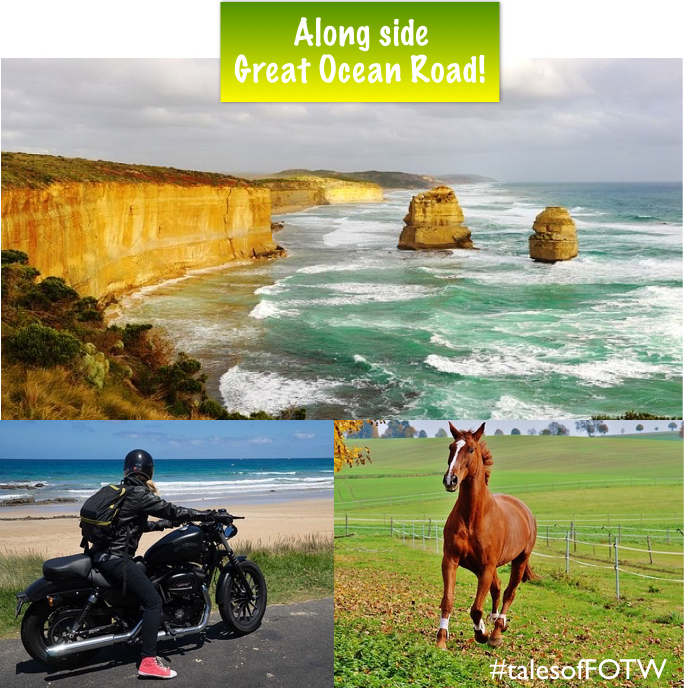 [An Australian National Heritage with a stretch of 243 Kms of road along the south-eastern coast of Australia between the cities of Torquay and Allansford . It was built by soldiers returned from World War-I & is dedicated to the ones who laid their lives. It is the world's largest war memorial] – Abstracted from Wikipedia
Modes to capture Panoramic view –
Great Ocean Road (GOR) entails the views of spectacular scenery along it. One can explore the beauty, not just by walk but also by hovering above the water in the copter ride & photographing this amazing coastline. One can also opt other modes as surfing or on the back our friend –Horse for more adventure.
Exploration presents immense beauty with ocean on one side & rainforests on the other. Tall trees, stunning waterfalls, cliffs, grand canyons, wild life, marine sanctuaries & water sports, isn't that enough? It is full one day plan to adore GOR.
Water Fun :
With water all around, this place offers an opportunity for Paddling, Canoeing, Kayaking, Jetskiing, Boating, Scuba diving, along Otways National Park & other Rivers. Have a look at the marine life richer than Great Barrier Leaf, numerous Ship wrecks and stunning reefs .
Another item on the itinerary would be swim with the dolphins and seals at Queenscliff, snorkel at marine sanctuaries & have a view of the abundant wildlife through Otways, Lake Elizabeth. Explore lavish waterfalls, 10 waterfalls within 10 Km radius on the track of lorne. Exciting?
Once this amazing landscape has been travelled around, time now calls for a trail along the lush green rainforests & beaches exclusively on Horse. I mean Horse riding, won't that be a fantastic idea to view exhilarating contrasts of nature? Hear out the lively theatre, music in the surrounding villages for a peaceful evening and calm night.
Whole heartedly saying , with such a bouquet @GOR ,everyone will definitely fall in love with this place.
Harmonious Yarra – Ever flowing river –
[Arising from the Yarra Ranges, it is the largest settlement that the Yarra flows through.It flows 242 Km west through the Yarra valley which opens out into plains making its way through Greater Melbourne before emptying into Hobsons Bay in northernmost Port Phillip] –Abstracted from Wikipedia
Sit besides the river at night & look at the beautiful city lights as the cool breeze swaps. Sip a hot cappuccino with barbeque. What tranquility!!
One can even stroll along the Yaara in a boat to visit Melbourne park or Royal Botanical gardens. A day visit to the Yarra valley, famous for some of the oldest wineries producing finest sparkling wines, handmade cheese, fresh fruits, compels one to make it a stop.
For the love of Art :
Didn't knew that Yarra Valley's changing seasons inspired many painters? Yes, it is home to the oldest galleries & art lovers who have captured the beauty in their works.
It even has adjoining 14 Golf courses & is a home to several fishes as Jelly fish, Perch, Muray Cod, Catfish. Even one can find Dolphins in South Yarra! Get lucky to catch upon one. 
Love for Natural Foods : Mornington Peninsula
[A Peninsula located 40Km south-east of Melbourne & surrounded by Port Phillip to the west, Its Native ecology can be pondered upon at Mornington Peninsula National Park. The peninsula was formed by the flooding of Port Phillip Bay after the end of the Ice Age] –Abstracted from Wikipedia
A quiet, calm & food lovers perfect paradise, Mornington Peninsula will mark its arrival by rolling hills, lovely mansions with a history, orchards and numerous vineyards.
Why not pluck & pick your very own favourite berries and cherries from the orchards & have them sitting besides the oceanic view from the beaches?
National Parks :
This region brings in itself 25k hectares of the National Parks, having a marvellous mix of rocky coastline to calm wetlands. It even entails wild bush lands to connect with the Flora & Fauna. Marine National Parks are good luxury to discover the marine life. Read all of Melbourne Zoo's and Marine Parks
This place offers various beaches to swim and unwind. With exciting activities all day round, try one of the hot springs to attain harmony in the end. One can even try hand playing Golf at one of its seven Golf Courses!
Interests worth executing –
Cruising all the way
Roads are not the limits! They will never have an end, but why not to make a start to get in love with this fascinating city on water?
Bliss are the Melbourne River cruises. Cruise offers an options of holistic city view, River gardens, Port & Duklands. This cruise would present stunning view of Melbourne City Skyline, Shipping channels,Trade centres, one of the most famous Royal Botanical Gardens, Melbourne Cricket ground, Federation Square, Olympic Park & many more.
Go out for Water sports & Ballooning
Wanna surf along the most scenic Great Ocean Road with perfect onshore winds best suitable for this escapade? A craving we all desire. One has the option to Learn surf, enjoy hidden walk way, hear out the mysterious stories & ponder on some lavish local food. Even Moonlight Kayak is a dazzling option to have iconic view of the city heart.
So post Cruise, aren't you planning for some aerial views now? Aren't you getting that adrenaline rush? It's not just enough until Ballooning & scenic flight is experienced.
Helicopter Ride
It would be thrill to explore from mountains to the river, from city heart to the sea beds. Wandering on Philip & French Islands on a helicopter and then dropping by to have some romantic lunch is something beyond awesome. Sky is not the limit here, you can also experience a lifetime thrill of controlling the copter all by yourself. Simply mind blowing!!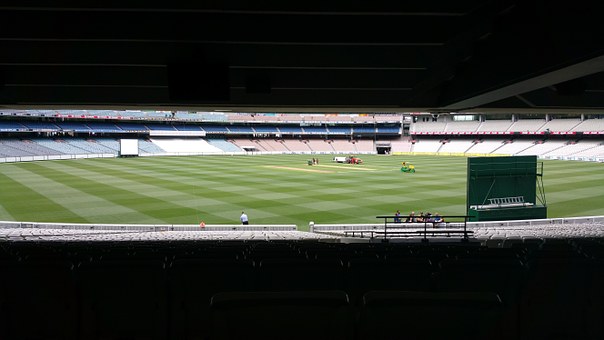 A look at the Melbourne Cricket Ground (MCG), Federation square, Gaol (making yourself a prisoner for a night)would act as Icing on the cake when you visit.
Best time of the Year :
Autumn (March – May) : This season is famous for its blend of 4F's – Festival, Fashion, Food, Flowers! Don't miss Food and Wine festivals during this season.
Have fun trotting the beautiful Melbourne! This was from #FOTW's vision!