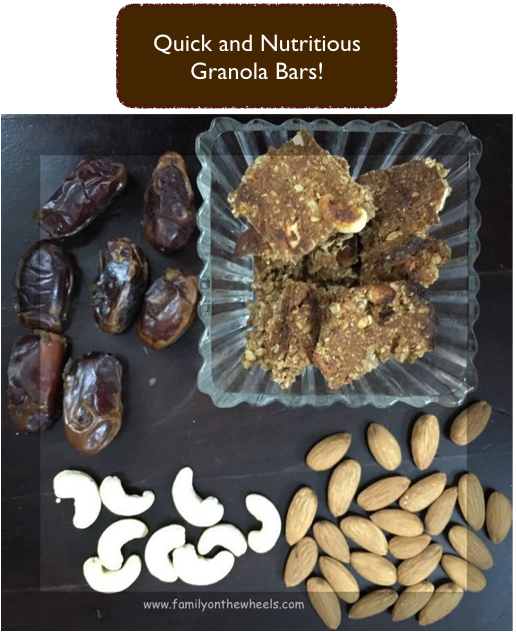 Nutritious Snacks while Travelling
Most of us are on the go, and travelling either to offices or meetings or field visits. For us, we are on the wheels every time with our 3 year old kid, since we are crazy to explore this beautiful world and meet people. We love indulging in the lap of nature to get a calm and happy soul.
Travelling cannot get us distracted from our healthy and nutritious regime. To get up every day at 5am and be ready with with full energy for the complete day, there has be a super healthy regime in our lives. More so, we lay special emphasis on Iron requirement, since that has been a major deficiency in Kids and Women. Apart from various things we as a family maintain, I wanted to highlight nutritious, super handy granola bars we love.
Granola bars are a family favourite and my son always has a box ready in his bag, lol. So, just wanted to share really a super quick bake/no bake recipe of granola bar's for my readers to help you get that nutrition while you travel. Forget those oily Chips or Bhujia's, coz these bars will take over them due to their delicious taste.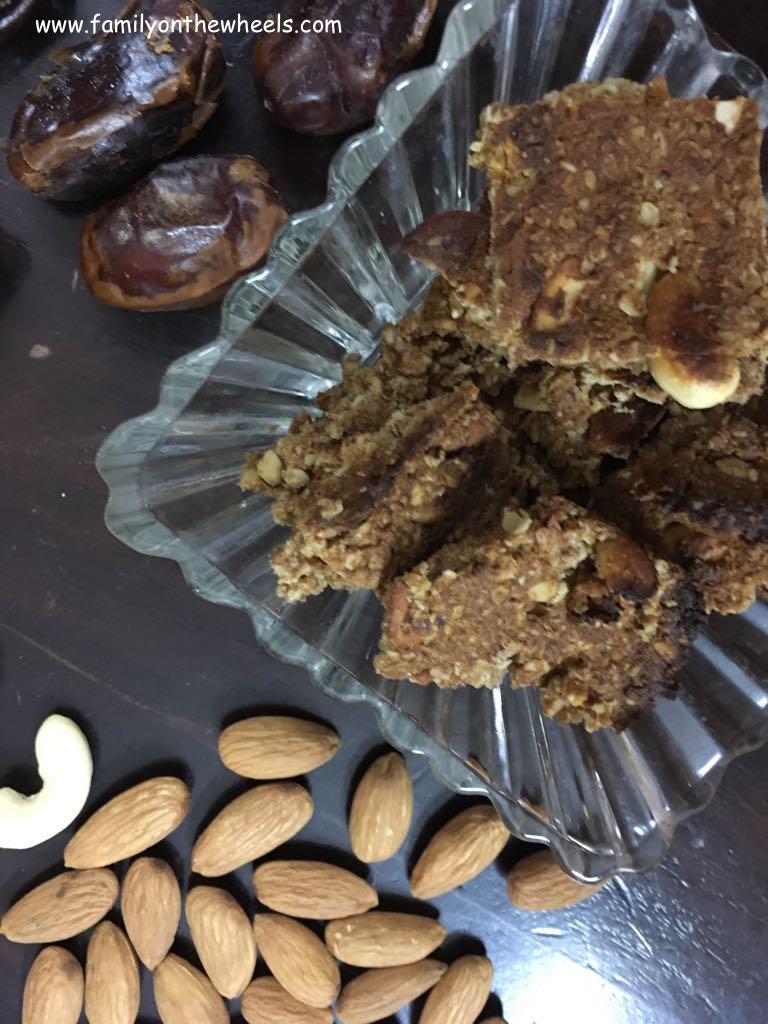 Quick Granola Bars recipe :
Preparation Time : 10-12 minutes
Baking Time [Optional] : 20-30minutes
Main iron ingredient : Dates, Almonds
Requisites for 5-6 bars :
Dates : 8-9
Almonds : 5-6
Rolled Oats : 6-7 spoon
Muesli (Fruit and nut) :2 spoon
Vanilla/ vanilla essence : 1/4th spoon
Peanut Butter : 2-3 spoon
Cardamom : Grounded, pinch
Cinnamon and cashew (optional) : Grounded pinch, 5-6 cashew cut into halves
Organic Sugar/Honey (optional) : As per the taste.
Granola Bars Recipe :
We had quite big sized dates, you can add 3-4 more in case of smaller ones. Wash the dates and put them in Mixi Jar (grinding jar). Add Muesli and 2 spoon oats(instant/rolled) to it. Grind and mix it well with each other.
Add peanut butter, cardamom, vanilla essence, cinnamon powder and almonds to the rest oats. You can add organic sugar/honey basis the sweetness you wish to derive. I did not add any sugar since dates and peanut butter gave it sufficient sweetness. Stir it thoroughly and add the grounded mixture from mixi jar to it.
Stir it for 2-3 minutes and then add it to the baking tin. Line the tin with some oil for greasiness. Press it thoroughly and ensure a flat thick layer in the tin. You can either refrigerate it here or go ahead for baking. It can be baked for 20-30minutes, until the sides are slight brown.
Let it cool and your crunchy yet soft bars can be diced and rejoiced with evening tea or can be your perfect companion while travelling.

Nutritional facts:
Dates and Almonds are rich in proteins, fibres, Vitamins and are a good source of Iron. They keep you energized for the full day. Dates are also great as blood purifier. Hence this blend is indeed a energy booster for kids and women who are seen mostly at the edge of Iron deficiency.
We are promoting Iron rich recipe's with the help of Livogen, to make women aware of the serious Iron deficiencies and interesting ways to inculcate Iron in your diet. Have a look at the lip smacking recipe's on Livogen's page.
Happy Munching and Travelling!