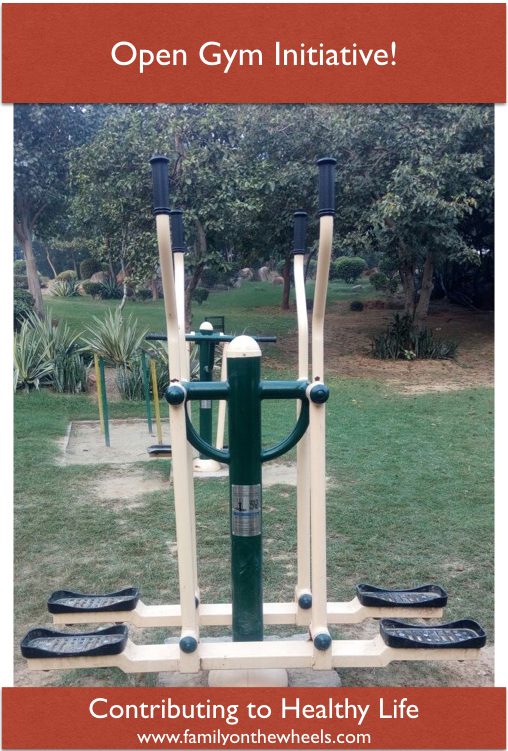 The Open GYM Initiative :
46 year old, Ms.Ratna, never missed her morning schedules which comprised of brisk walk in the nearby garden. Though, she opted for walk only, she always wanted to improve upon her arms and thigh strength. And she now feels that the SDMC and NDMC of Delhi have really done a great job by installing Open Gym's in most of the parks across Delhi.
She says "I wanted to add some strength training for my abdomen, arms and thighs but I limited myself to brisk and normal walking. I did not wanted to opt for the local Gymnasiums which ran in closed blocks with loud musics and lots of advanced gym instruments. Rather, I did not wish to enter the gyms, where mostly youth dominated. But now, it gives me immense pleasure that I've been able to add some strength exercises in the nature, free from loud music and yes free of cost".
Open Gym initiative has been a boon, not just for Ms. Ratna, but for many more women, men, elderly people, students who wanted to have a great exercise regime without spending tons and in a pure natural environment.
These open gyms have been set up in majority of the parks spread across Delhi. From the parks on main road to the one's in the colonies they are easily accessible for all now. Their presence in Talkatora Garden, Lodhi Garden has further added to the significance.
That's my son working out in the Open Gym, when I was done:)
USP's of Open GYM initiative by Delhi :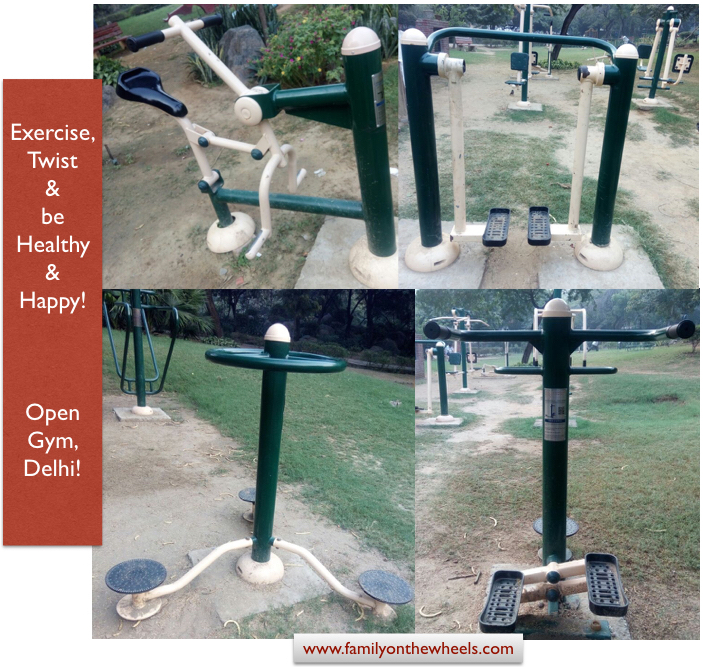 Each open gym has apparatuses varying from 8-14 as:

Elliptical exerciser

 : For Joints, strengthening Cardiac, leg strength

Rowing machine

 : Muscle Building, limb strength

Pull Chair

 : Strength of Upper limbs, helps in enhancing flexibility, good for joints and elbows

Leg Press

 : Strengthen Lower limbs, good for muscular atrophy, Rheumatoid Arthritis

Twister

 : Strengthens Lumbar and abdominal muscles,  better flexibility, good for hip joints

Shoulder Wheel

 : Building up muscles of upper limb, shoulder joints

Double Cross Walker

 : Flexibility, Leg movement

Air Swing

 : Arm and abdominal muscles , and few more such apparatus are installed.

No requirement of electricity, that's the best part, they all can be operated manually.

Instructions are well written on the apparatus and they can be easily used without any trainer or instructor.

Range is varied to support abs development to leg shapers to waist reductions and many more. They can suit to almost all people looking for light exercises to specific body toning as well.

Open to all , from a child to a senior Citizen, this no restriction is a great boon to many people of Delhi.

FREE to use, anytime, every time. It gets convenient for House wives and professionals to exercise as per their suitable timings. Some can be seen exercising at 6pm, while professionals can be seem beyond 8pm as well. I've even witnessed many people exercising as late as 10pm, when the society kids play while elders exercise. That is such a great way to allow everybody to keep their body fit.
Completely in the lap of nature, no closed exercising under AC's and no loud music. Exercising in open, looking at the greens and trees, hearing the birds chirping or looking at kids playing itself are mood elevators. I personally love the aura built around it.

You can make many new friends. When people have their timings fixed and they daily practise exercising, I've seen so many new friends in the making. So now it is also helping in expanding the social circles.
Why do I feel that the open gyms are a boon to Indian women :
Well, they are boon for men, elders, students equally, but we have laid special focus on Women, since we need to raise awareness to help engaging more of women community. We want that every women needs to leave her house and responsibilities for some time a day, and lay focus on her soul and her health.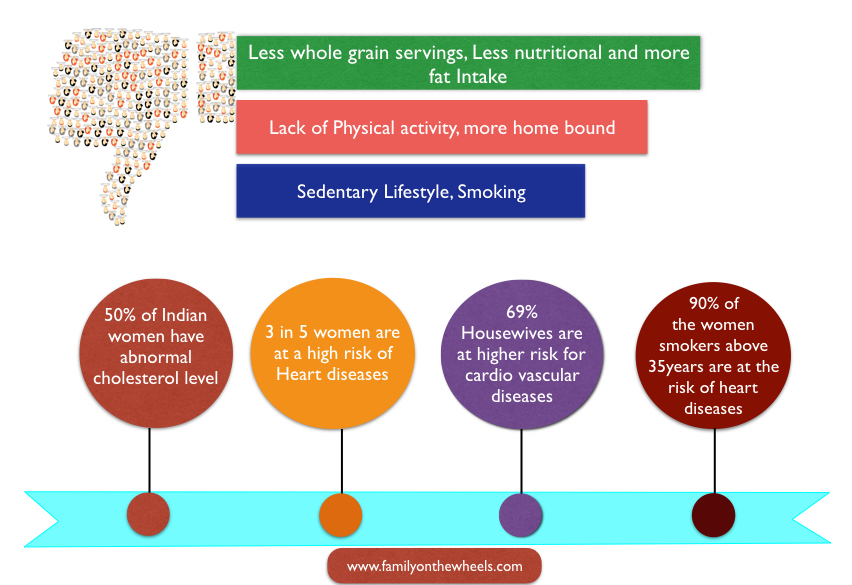 A recent survey(results were shared in Sep 2017) says that nearly 50% of Indian women have abnormal cholesterol level which puts women at a risk of Heart diseases.

3 in 5 women are at a high risk of Heart diseases (even for women as low as 40years of age)

Women living in north India had high levels of Triglycerides and cholesterols compared to South India .

Risk of cardiovascular diseases in high in housewives as compared to the working ones. 69% of the housewives in the age bracket of 35-44 years are at a risk, against 67% working women.

In Indian women, Heart attack is the No.1 fatality concern. rather it has an aggravated impact post menopause in women as compared to men. 

You should know that 90% of the women smokers above 35years are at the risk of heart diseases.
The reason for these stats :
Women do not take ample care of themselves when it comes to food and nutrition. More than 70% women consume 2 or less servings of whole grains a day. They indulge in quick eating and finishing the left over, which results in access accumulation of high saturated fat ad unwanted food.

Lesser fruits intake

Smoking, increasing sedentary lifestyles, has also contributed to the deteriorating health.

Lack of Physical activity has been seen on an increasing trends specially among House wives who are not exposed to Gym or exercising culture.
As women hit thirties, the metabolism slows down and fat starts building around the body. Even wrinkles begin to set in the skin, major bone loss begins. Hence there has to be sufficient calcium intake along with regular exercise to maintain the Bone density. A balanced diet full of fibres, fruits, vegetables along with exercising is a must to keep these Cardiovascular diseases at a bay. Strength training atleast thrice a week is really very effective as we enter 30's.
As the menopause sets in while in 40's, there are tons of emotional turmoils, depressions, and weight gains due to sudden hormonal imbalances. Shedding those extra kilos get difficult and chances of Osteoporosis enhances. And that is the reason, why for many women, this Open gym is a boon to help keep these diseases away.
Every women was aware of the importance of Exercising, but the reasons not to opt were many. With the ease of Open gyms, I see house wives wearing their shoes and getting ready for exercise. This is a positive sign to help our women improve their health. This has also led to the awareness and I really feel happy promoting them for a super life of the #superwomen of Delhi!
This practise should be replicated in major cities across India, but along with this there should be emphasis on enhanced security of the parks also. Apparatuses should not be misused for the benefit of all.
Lets all put our hands together in #CelebratingSuper to make many such initiatives for our Dear Delhi with Vodafone !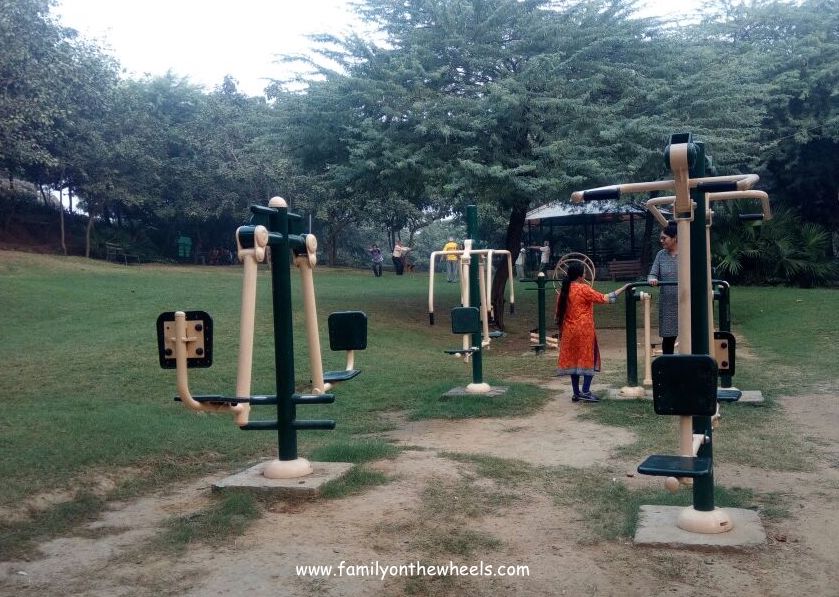 Love,
Happy Exercising!!